Much before gully boys were spitting "buntai" and "boht hard" into a mic, there was one man who was rapping about Mumbai and its streets. His name is Jaaved Jaaferi. The man, who turns 56 today, influenced '90s kids with his music, moves, and inimitable commentary. Remember Takeshi's Castle?
After Zoya Akhtar's Gully Boy, gully boys are everywhere. They're invading everything from our Instagram feeds to our mornings with their Mumbai-meets-Bronx style and sensibilities. The other day, I spotted the neighbourhood bhajiwala wearing an "Apna Time Aayega" T-shirt while hawking sabzi to middle-class housewives. Almost a year after the song became a war cry for everyone with any aspirations, Divine, Naezy, and all their numerous progeny continue to hold our attention as they spit a bar or two telling you that their gully is "boht hard." In a way, gully rap has managed to open up a window that gives us a peek into the lives of our drivers, househelps, and the countless nameless, faceless people we take for granted every day. 
But much before boys were spitting "buntai" into a mic, there was one man who was rapping about Mumbai and its streets. This was a time when our songs were mostly about love and separation. That man is the underrated actor, comedian, dancer, and voice actor, Syed Jaaved Ahmed Jaaferi, popularly known to the world as Jaaved Jaaferi. 
In the Bombay of the late '90s and early noughties, Lucky Ali, Shaan, and Bally Sagoo gave us mellow music to smoke hash to, while Alisha Chinai and the Colonial Cousins gifted us soundtracks for teenage crushes and heartbreaks. But it was Jaaferi and mavericks like Devang Patel, who offered us a taste of what would later come to be known as desi rap. Just like the Sugarhill Gang, Slick Rick, Run-DMC, and A Tribe Called Quest overseas, Jaaferi and a few others pioneered a sonic and lyrical style that was a breath of fresh air in a soundscape choked by overtly sugary lyrics.
Back in 1998, "I am Mumbhai," Jaaferi's ode to the city in Kaizad Gustad's Bombay Boys, was one of the first rap songs to come out of Bollywood. The lyrics, deeply rooted in the cultural specificities of Mumbai still stand true. In the video, Jaaferi plays a melange of Bambaiya characters – a Mawali bhai, Marathi kaka, Catholic uncle, and a transvestite, a regular feature at the city's traffic signals. "Mumbhai" captures the city's soul like few other songs do:  
Mumbai ekdum danger place
Where you survive if you got the pace
You've gotta be fast, you've gotta be tez
You've gotta be shaana to win the race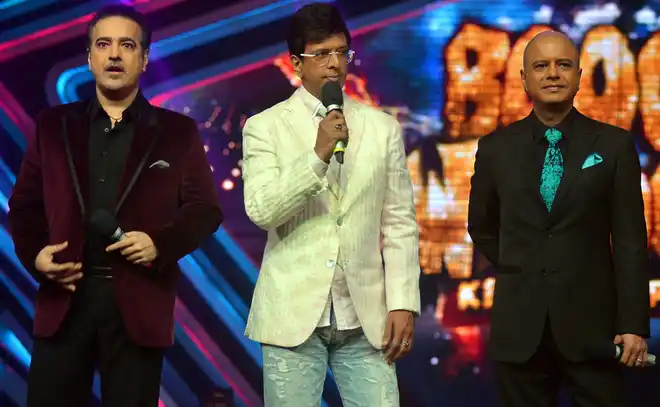 Boogie Woogie and Takeshi's Castle brought to TV in the noughties what it was missing – fresh, simple, unadulterated, and literally un-adult-rated, fun for everyone from eight to 80

R&N TV Productions
"Mumbhai" remains Jaaferi's most popular song to date, and one of the first mainstream Hindi rap songs that has achieved cult status. In that sense, Jaaferi is also a man of many firsts: Boogie Woogie, the dance reality show fronted by the Jaaferi brothers – Javed and Naved – was the OG TikTok of sorts, a place where people showed up to bust a move for their 60 seconds of fame, regardless of talent or their background. It was a launchpad for many aspiring choreographers. For Kings United, a dance crew that inspired the movie ABCD 2 and won NBC's popular reality show "World of Dance", Boogie Woogie was where they found their confidence. Its crew leader Suresh Mukund received a nomination for an Emmy in the "Choreography for Variety" category this year. Boogie Woogie then set the precedent for dance reality shows, which are now a staple on Indian TV.
The rest of us '90s kids, who were not as talented as Mukund and gang, took inspiration from Boogie Woogie to pop it, lock it, and drop it like it was hot, on the annual day stage at school or a family wedding. If Govinda taught us the latkas and jhatkas, Jaaferi taught us swagger. I remember 1985's Meri Jung for nothing but the catchy "Bol Baby Bol", in which you can see him jiving like a pro. As a pre-teen, I remember making mental notes of steps and trying to pull them off at a Christmas dance.
The whacky, fun Jaaved Jaaferi you saw IRL was the Jaaved Bhai you saw on screen.
At the helm of everything out of the box during the '90s was Jaaferi, the man who blew our minds with his mad skills. The extent of his legacy spread out to different facets of pop culture. Who can forget Jaaved, the prisoner from the Maggi hot-and-sweet ketchup ads? Or his hilarious running commentary underlined with a tapori inflection in the Hindi version of Takeshi's Castle? My cousins and I would rush home a little early from tuitions, running through a maze of chawls, taking a shortcut through the back of a butchers shop, dodging the arterial spray of a freshly slaughtered chicken, past a desi bar stepping over a passed out patron, and over a makeshift bridge of ply over a naala, just to catch Takeshi's Castle reruns at 5 pm. We'd joke about this being practice for when we finally made it to Takeshi's Castle and have Jaaferi commentate on our antics.
Boogie Woogie and Takeshi's Castle brought to TV in the noughties what it was missing – fresh, simple, unadulterated, and literally un-adult-rated fun for everyone from eight to 80. Back then it was all crash zooms and saas bahu drama à la Ekta Kapoor and Jaaved Jaaferi walked a higher path. There was no put-on persona. The whacky, fun Jaaved Jaaferi you saw IRL was the Jaaved Bhai you saw on screen.
I've met the man twice briefly. In both these meetings, I could surmise that he had a quiet, confident air that immediately put you at ease, a far cry from the manic energy and coke-tinged nasal twitching of our celebrities. Jaaferi or JJ, as those close to him address him, struck me as a man who'd done his time in the sun, and was now chilling in the shade to avoid sunburn. His extremely accurate knowledge of the importance of the self felt like a refreshing break from the cultish personalities some of his peers command. He knows his strengths and plays to them, chilling until it's time to shine. It's a worldview that seems straight out of a verse from "Mumbhai": "Khane ka peene ka marne ka jeene ka, chalne ka phirne ka uthne ka girne ka, tension nai lene ka, bhai se poochne ka, kasa kai, bara hai, I am Mumbhai".
Happy birthday, Jaaved bhai. Here's to taking your time in a world that can't stop screaming, "Apna Time Aayega".

Damian loves playing videogames. If all the bounties he collected slaying zombies were tangible, he wouldn't need to write such bios. Seriously though, Damian used to be a cook who wrote, now he's just a writer who cooks.