From Madhubala's anarkali to Madhuri's Ek-Do-Teen skirt, Bollywood costumes tell fascinating tales. Some wonderful, some weird, they've wriggled their way into our consciousness.
I'm not sure when my entanglement with popular Hindi films began. I'd seen some of the more refined outputs from the subcontinent in my teens and twenties: Umrao Jaan, Mirch Masala, and Sara Akash in graduate school Hindi class. But I feel sure that some intuition of the verve (and nerve) of commercial films must have preceded my first visit to India in the late 1980s.
On that trip, I remember walking past a poster of a gun-toting Rekha in a ghaghara choli and a painted hoarding of Maine Pyar Kiya in which Bhagyashree, channelling Ozzy Osbourne, looked like she was biting the pigeon in her hand.
And then there was the music. I remember the silvery voices skimming over sweeping violins, jangling guitars,  beating drums; the ripple of tablas, reverberating in restaurants and rickshaws, and from inside hutments. In one remote Uttar Pradesh village, in the ripening morning warmth, I watched a Sultana Daku performance punctuated with songs from Chandni.
My heart, since then, has belonged to Bollywood.
I soon found myself wondering who were the people who made these films — not just the stars and the directors and the music directors, but the violinists in the orchestra, the tailors stitching the costumes, the designers creating the sets, and the dancers behind the eye-catching heroine.
In 2002, I finally got my chance to get a close-up view of the making of films. Interested as I was in design, and having already completed a study of chikan embroidery in Lucknow, I decided to focus on costumes — a fitting choice, since I was to learn that all the connections and relationships that are needed to make costumes happen are like a fabric, weaving in and out of craft workshops, boutiques, malls, sets, and designers' living rooms.
Watching a film with an eye for the costumes has plenty of rewards, and I don't just mean the tired cliché of chuckling at overstated and outrageous costumes. They are there, of course, in their own way exuberant and wonderfully wacky. Who can forget Hawa Hawai's shimmering gold gown in Mr India or Lolo's nightmarish red-and-gold tasseled ensemble in Khuddar that appeared like a cross between a negligee and a swimsuit?
Nothing was easy for the designers and makers of the earlier eras, yet on screen all one sensed was exuberance and sheer fun.
But there is so much beauty and grace too and the underscoring of themes of loss and pain. Think of the sweat and dirt-stained kurta worn by Shah Rukh Khan as Devdas as he sinks into oblivion, or the lank, well-used midi-dress worn by Vidya Balan as Vidya Bagchi in Kahaani, doggedly pursuing her prey in sultry Kolkata.
At the other extreme, there are the breathtaking costumes in historical epics, captured at the height of their beauty and perfection. The drape and fall of costumes, along with exquisite jewels, were apparent even in classic black-and-white films like Mughal-E-Azam and Sahib, Bibi, aur Ghulam. But with the arrival of colour and technical improvements that allowed for the play of textures and hues to emerge, these costumes came into their own. Madhubala's iconic anarkali from the glorious song "Jab Pyaar Kiya Toh Darna Kya" has become a fashion staple that has transcended time.
Films feature some of the most outstanding contemporary handicraft the country has to offer, all made by prodigiously talented embroiderers, tailors, and jewellers. Films have always been a handbook of fashion for the audience, and where stars led, their fans followed, whether it was donning the tight churidars worn by Sadhana and Sharmila Tagore in Waqt, or the red lace dress of Madhuri Dixit in Hum Aapke Hain Koun…! But what's fascinated me the most are the stories of how film costumes were made before Indian marketplaces filled up with brands, accessories, and sportswear, when resources were few, the demands were incessant, and costumes had to be made at any hour, at top speed.
I have heard tales of chicken feathers made into boas and bags, and shoes ferried back from the occasional overseas trip, even macerated meat used for prosthetic make-up. And I have also heard about "filmy" cuts, techniques used by cutting masters to make outfits that clung, swelled, and swooped over stars' bodies. Some outfits were made with large seam allowances for actors whose weight seesawed throughout a film; fringes, tassles, and assorted knick-knacks covered up skinny arms or asymmetric bulges; and all the costumes had to survive the rigours of shooting – the dancing, the thrills, and the high-octane drama.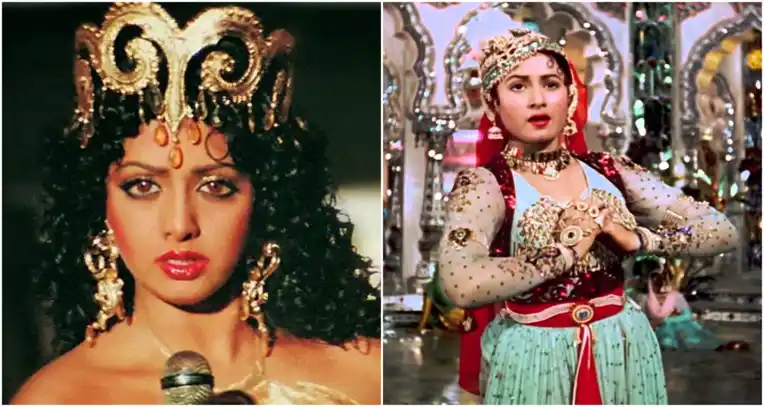 While Madhubala's iconic anarkali has become a fashion staple that has transcended time, Hawa Hawai's shimmering gold gown has been etched in our memory.
It is perhaps for these reasons that I have a soft spot for the weird and wonderful excesses of the 1980s and 1990s, the lurid jackets and dresses trimmed like lampshades, the multi-coloured leisurewear, the surreal accessories, and the jewellery dripping from necks and wrists. Nothing was easy for the designers and makers of the earlier eras, yet on screen all one sensed was exuberance and sheer fun.
And then there was a sharp turn toward realism. Many in the industry today rightly celebrate the skill of designers and tailors and dress men to evoke through costume, realistic worlds populated by compelling characters. They laugh at the excesses of the earlier decades. But why should film have to be "real" to be valued?
Indian film has blazed its own unique trail along which fantasy and reality travel together. How lucky Indian film is today to have the best of all possible worlds – from the immersive naturalism of costumes in a film like Masaan to the intoxicating beauty of the creations featured in Bajirao Mastani. Each costume holds in its folds the story of the character and a comment on social milieu in which they thrived. And yet hardly any survive to tell the tale.
Who knows if that fragile multi-layered creation in the rare shade of dhani worn by Deepika Padukone that launched a revolution in the bridal wear of 2015, will be preserved against the vagaries of time. All we may have left of it are images flickering on the screen. Perhaps, with greater understanding of what costume production involves, and what it contributes to film, some interest in saving and curating costumes will follow. When it does, we'll all have reason to celebrate.
Clare Wilkinson is an associate professor of anthropology at Washington State University. She was born and grew up in the United Kingdom. She is the author of Fashioning Bollywood: The Making and Meaning of Hindi Film Costume.