Matthew Heineman's A Private War, features an electrically charged Rosamund Pike, who undergoes a physical, emotional, and vocal transformation to play slain war correspondent Marie Colvin. The film doesn't bother itself with details, instead investing in the civilians bearing the brunt of war.
It's not often that actresses are enlisted for a role that demands them to erase traces of their arresting physicality, to relegate their beauty to the background. That is a luxury reserved for male actors, whose emotional, physical, vocal, and even existential transformations are consistently valorised – think Bradley Cooper in A Star In Born.
But in Matthew Heineman's debut feature A Private War, Rosamund Pike gets that incredible chance; essaying the complex and conflicted legacy of late Sunday Times war correspondent, Marie Colvin. And Pike –  a severely under-tapped actor – runs with it, channelling the psyche and physical turmoil of a woman who thrives between bravery and bravado in an electrically charged performance. The actress invokes Colvin with such invigorating honesty that it's impossible to keep reminding yourself that Pike is an actress playing a character and not the other way around. It's best evidenced in how eerily the British actress replicates Colvin's voice and her Long Island accent down pat.
Adapted from a posthumus Vanity Fair profile of Colvin and helmed by documentary filmmaker, Heineman – who previously made Cartel Land and the excellent City of Ghosts – A Private War, covers the last decade of Colvin's life. It begins in 2001, with her ill-fated trip to cover the Sri Lankan Civil War that ended in Colvin losing her left eye after being fired upon by government forces. And it ends in 2012, when she was assassinated by the Assad government in a "targeted rocket attack" while covering the Syrian Civil War. In between, the film follows Colvin on war assignments in Iraq, Libya, and Afghanistan – contrasting and complementing it with her affluent life in London, where she suffered from PTSD and took refuge in alcoholism.
A Private War boasts of a similar urgency that marks Heineman's documentaries, especially last year's City Of Ghosts, that chronicled the atrocities committed by ISIS through the eyes of a Syrian rebel citizen journalist group. Adopting the same unfussy and economical approach, Heineman uses the contradictions of his lead protagonist to reel in the audience to ruminate on the human horrors of war. In a biting monologue from rehab – elevated infinitely by Pike – Colvin admits, "I fear growing old but I also fear dying young" and "I hate being in a war zone but feel compelled to see it for myself." The powerful sequence tells you as much about the price Colvin pays to bear witness, as much as war itself. 
Throughout the film's taut 110 minutes, we get enough clues into Colvin's personality: There's her trademark eye-patch restlessness and nervous tics, her meticulous note-taking, and her penchant for wearing fancy bras in war zones so that "her corpse is well dressed". The film touches upon Colvin's close friendship with photographer Paul Conroy (Jamie Dornan perfectly cast against type) who was with her when she died, and a recurring nightmare of the Palestinian woman whose death she witnessed years ago in Beirut that kept haunting her. Heineman even acknowledges the one thing that has baffled almost everyone who knew of Colvin – her inexplicable obsession with placing herself in the line of danger in conflict zones and testing her psychological endurance.
"We fail when we don't know what war really does."
A Private War then implies that Colvin's bravery – when seen in the context of PTSD and the emotional toll her assignments took on her – might actually be an act of self-destruction and delusion. But the film refuses to doubt her professional judgement or paint her as someone who wasn't acutely aware and in control of her actions. In fact, it speaks of Heineman's mastery over his craft that he treats Colvin not merely as a hero who died fighting, but as a victim, whose judgements suffered because she was forced to endure the wrath of war.
Like Colvin, who in a scene claims that she cares little about war strategies, but more about human tragedies, A Private War doesn't bother itself with details, instead investing in the civilians bearing the brunt of war. Not only does Heineman cast real refugees in the film, he also ensures that every reenacted scenario with Pike and a refugee were improvised and not fictionalised. This is Heineman carrying forward Colvin's message to "make people stop and care" by putting the sufferings of millions on record.
There's a heart-wrenching sequence where a Syrian refugee – whose nephew was shot at during a rally – had to react to a dead child in a hospital, as Colvin looks on. And another, where a trapped Syrian woman confides in Pike that she can't breastfeed her newborn due to the trauma she underwent after seeing her five-year-old daughter die. After witnessing these horrors, it's no wonder why the film insists on showing how Colvin's reality and hallucinations frequently coalesce.
At a time when newspaper headlines are dominated by the cold-blood assasination of Jamal Khashoggi, Yemen's malnourishment crisis, and the continued atrocities in  Syria, A Private War is a piercing plea championing empathy, asking us to not turn a blind eye to the abject suffering of countless faceless civilians. Because like what Colvin – who turned the world's attention to multiple wars in life and death – says in the film, "We fail when we don't know what war really does."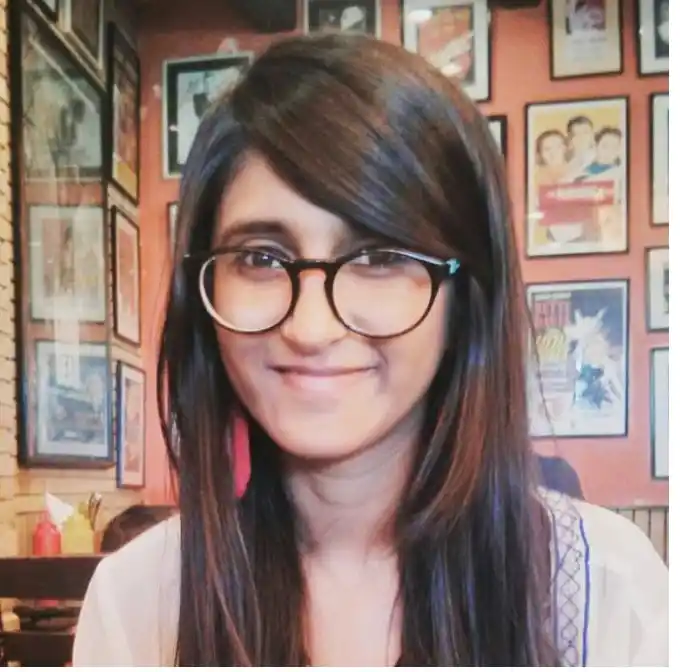 When not obsessing over TV shows, planning unaffordable vacations, or stuffing her face with french fries, Poulomi likes believing that some day her sense of humour will be darker than her under-eye circles.