Kabhi Khushi Kabhie Gham hasn't aged gracefully, but it remains a shining marker of what peak Bollywoodisms look like. Shrill, loud and emoted to within an inch of creative despair this is a film that is iconic for just how excessive it makes the art of filmmaking look. It's 100 percent Bollywood with add-ons.
K3G is more than a film; it is the quintessential contemporary Bollywood film. On steroids. It's the film your NRI cousins never shut up about. That one film whose songs are so overused at every sangeet ceremony even 20 years later that many choreographers end up humming "Banno ki Saheli" in their sleep. KJOs 2001 classic has it all; tense relationships between father and son, elaborate song and dance sequences, maternal melodrama, hormonal college kids driving around in Lamborghinis and falling in love after declarations of chandu-ke-chacha-ne-chandu-ki-chachi-ko-chandni-chowk-pe-chandi-ki-chamach-se-chatni-chataayi. You know, all the trappings of real cinema. But tongue-twisters aside, no other film quite embodies the larger-than-life Bollywood film than Kabhi Khushi Kabhie Gham…
In a nutshell, k3g's plot can be summed up as, "what if Bollywood made a sanskaari version of Succession?" Replace Logan Roy with the equally stubborn Yash Raichand – played exquisitely by a steadfast Amitabh Bachchan – and you'd also find some parallels between the erratic Kendall Roy and the eldest Raichand brother, Rahul (SRK, who else?). While it's unfair to compare the two, once you go down that rabbithole, it's tempting to especially focus on how both stories are basically about how one family is thrown into unending loops of misery because of the pigheadedness of their patriarch.
In a nutshell, k3g's plot can be summed up as, "what if Bollywood made a sanskaari version of Succession?"
On a serious note though, for those who somehow missed all the sixteen hundred or so Sony Max re-runs since it's release, K3G's plot revolves around the obscenely rich Raichand family's trials once their adopted(of course) eldest son, Rahul Raichand is forced to leave home by their ego-centric father and how the younger Raichand sibling, Rohan Raichand plots to bring them back together.
In the interest of full disclosure, I still rewatch this film at least twice a year. And back in 2001, all my homies and I wanted to do was learn the hook step to "You are My Soniya." For 90s kids who grew up as fans of Bollywood, K3G was the holy grail. It had an in-form Shah Rukh Khan at the height of his stardom, being pitted against the biggest star of the past century – Amitabh Bachchan – in what many consider to be the film that cemented his comeback even more than Mohabbatein. Add to this, Hrithik Roshan at the height of Hrithik-mania, a scene-stealing Kajol and Kareena Kapoor Khan as Poo; a role that she's perhaps most associated with along with Geet from Jab We Met. Not to mention, the Jatin Lalit soundtrack is all they needed at Kendall Roy's 40th because it's truly all-bangers-all-the-time.
A few things have changed since 2001. For instance, when rewatching the film today, I am painfully aware that the rigid and arrogant Yash Raichand isn't just a one-off fictional character – but a metaphor for brown dads everywhere. You know the type: brown middle-aged man who loves to remind everyone that he's the head of the family. Sure, the present day brown dad may not bedakhal his kids from the jaaydaat or shun his wife's desire to meet her son after eight years but he'll indulge in some very desi microaggressions. For instance, ensuring that he always has the last word in what to order at a restaurant, or regularly undermining his kids' talents in anything else apart from academics and outright dismissing his wife's opinions, or making classless jokes about how much she loves spending his money. There's a little bit of Yash Raichand's patriarchal entitlement in all our dads. Because let's face it, our dads too, would much rather emotionally distance us for decades rather than just admit that they need therapy or help.
There's a little bit of Yash Raichand's patriarchal entitlement in all our dads.
The film knowingly or unknowingly also illustrates the many contradictions of the family patriarch. In the titular "Shava Shava", papa Raichand thinks nothing of gyrating salaciously with the young dancers at his own birthday party. A few scenes later he cuts ties with his son for simply marrying a girl he considers below their station. Marriage is sacred, a covenant while dance numbers, well, can be looked over. Similarly, it takes a special lack of self-awareness when middle-aged brown dads will happily take their Bangkok trips but come back and wax eloquent on how their kids should settle for arranged marriage.
Speaking of kids, my heart continues to break for Rahul Raichand. First up, it takes a special kind of horny to propose marriage to a woman at her father's funeral. But of course, when you're the offspring of Yashvardhan Raichand, there's always a chance that your day can't get any worse. Also "entitlement" .Disowning his elder son aside, another telling example of Raichand Sr's toxic brand of parenting is on display when he slaps his youngest son flat across the face. It's a favourite parental passtime in this country and K3G only showed that everyone enjoys it. The fact that Rohan takes the slap as confirmation of unsaid love between the father and the elder brother points to the delusions you carve for yourself, when you're raised on a cocktail of sanskaar, fat-shaming and more privilege than you know what to do with.
In retrospect, I'll be the first to admit that K3G was iconic for it's time and twenty years later, is still the benchmark for what a max Bollywood looks like. Has it aged well? Not quite. And definitely not as well as it's 2001 contemporaries like Dil Chahta Hai or Lagaan. But it's also not as painful a rewatch as Gadar or as laughable as Ajnabee. As long as you can keep your daddy issues from being triggered, K3G remains a pretty stellar film to revisit even two decades later. Shahrukh's arrival scene, the stuff of meme gold, is alone something that encompasses an entire industry obsessed with excess. There are so many of them, each a hat-tip to some of Bollywood's biggest cliches, but most of all the industry's audacity, and its veneration of father figures.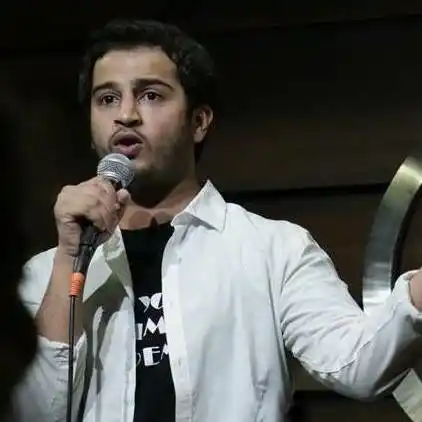 Masking anxiety with humour. Living with his dog, cat, and mediocrity. Creating content aur life se kaafi discontent. Tweeting as @juvenile_jack.