Dadri, where Mohd Akhlaq was killed for eating beef, acts as a barometer of the BJP's Uttar Pradesh campaign strategy.
The last time Rajnath Singh had paid attention to Dadri was in October 2015, when 50-year-old Mohd Akhlaq was lynched by a mob that suspected his family was eating beef. Back then, Singh had termed the whole affair "an unfortunate incident" and had chastised the media that "it is not proper to give a communal colour to it." A few months later, during a Lok Sabha debate on intolerance, he had made a few leaps in logic, when he suggested that the "BJP and Prime Minister Narendra Modi are the biggest victims of intolerance". And then in classic BJP fashion had smoothly turned the focus to Congress by saying, "Partition, Emergency, and the 1984 Sikh riots are the biggest examples of intolerance."
Last week, Singh made an actual trip to Dadri's Bisara village to address an election rally. Prior to 2015, Dadri would hardly have registered on the BJP's campaign map. Dadri is just a tiny village on the outskirts of the capital, even though it belongs to the state that also has the Prime Minister's constituency. In 2015, though, this dusty village became a flashpoint at the intersection of two of BJP's core agendas: cow and communalism.
In fact, as Singh's speech and presence in the village later made it clear, Dadri has become a political experiment for the party on two counts: 1. How much communalisation can we get away with? 2. How much political capital can be gained by just invoking Modi's name and not addressing any specific issues?
Singh was due to land around 3 pm, in Bisara, where the air was punctuated every few minutes by, "Aapke home minister ka helicopter aane waala hai!" to avoid the crowd from dispersing. There was no danger of that happening: The people of Bisara had a bone to pick with Singh. Back in 2015, local police had arrested 18 people in connection with the murder – of the 18, eight were relatives of a local BJP worker. They were not going to let go of Singh easily.
The village's main street looks a bit forlorn, with its shuttered barbershops and carpentries which were mostly run by lower-income Muslims.
Biding the hours until Singh's arrival, I took a walk around the village, despite the fact that I had heard stories of journalists being given "cleanses" in the local river by its residents. At this time of the year, there is not a speck of green in Bisara, which is a dust-ridden, semi-pucca wasteland, dominated by Rajputs. I counted almost every third house hoisting a saffron flag. Cows roam the streets which are currently overrun by proud 10-year-olds rocking BJP caps. The drama of the September 2015 lynching has given way to pre-election optimism, centred around religious pride and anger towards the Akhilesh government – driven by a desire for justice for those arrested for murdering Akhlaq.
I spoke to a woman who didn't want to be named. "Our brothers and boys in jail deserve justice," she maintains. "They didn't do anything wrong. You can see in the report that beef was involved." Hemkanth, a 21-year-old aspiring fauji joins us to air his opinion. He thinks the biggest mistake in the whole episode was made by the villagers. "Why tell the police who did it?' he asks me. "They shouldn't have taken anyone's name. They didn't do anything wrong."
That the lynching has caused a mini-Muslim exodus seems to be lost on them. According to reports, as many as 25 of the 60 resident Muslim families have relocated elsewhere. The village's main street looks a bit forlorn, with its shuttered barbershops and carpentries which were mostly run by lower-income Muslims.
Suddenly around 7 pm, a fresh nationalistic fervour infused the streets – Rajnath Singh was in the house, a full four hours after his scheduled time. Several seemingly older men fell over themselves trying to touch his feet, as the excited BJP candidate, Tejpal Singh Nagar, looked agog. "Humaare 18 bacche jail band hain," one hype man yelled before the speech.
When Singh finally spoke, he went in for the kill. What he lacks in physical presence, à la Amit Shah, and the natural wit of Prime Minister Modi, he made up for by addressing big-ticket issues. He held forth on Pakistan and surgical strikes: "Bharat kisi ko chhedhta nahi hai lekin agar Bharat ko koi chhedhe, to Bharat use chhodta nahi hai." For the next 15 minutes, he spoke about the BJP's clean "daaman" and Modi's war on black money. It reminded me, once again, that BJP's rallies tend to be part WWE, part rock concerts, and never realistic.
There was no mention of Akhlaq, the lynching, or the state of the trial of those arrested. What had brought Singh to Dadri remained under the covers.
As he exited, the crowd ran after him, and a group of women got on stage, bellowing, "Hum vote nahin daalenge!" One woman said that her son had died in prison awaiting "justice", and that nobody does anything about it. "They only come for votes," she cried. Upon hearing this, a group of young boys, ran onto the stage with sticks in their hands and smashed chairs and ripped the curtains, and then ran after people and threw water at them. Another political rally had started and ended with drama.
Bisara acts as a barometer of the BJP's Uttar Pradesh campaign strategy and the fiery underbelly of acche din. Communalism continues to be used as a campaign plank in covert – as in the case of Akhlaq – and overt ways, as in the case of former BJP leader Sanjay Rana who continues to stoke the flame. For all its talk of "vikas", this is one agenda that the BJP can't let go of.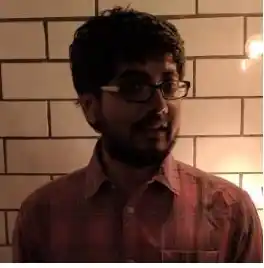 Lover of baby animals, Arsene Wenger, Damien Rice, Peggy Olsen and overly long podcasts. Tweets at @parthsarora.
Confused about most stuff. Writes things.