Looking back at the theatrical goof-ups of appointing B-grade badshahs to positions of power, I'm beginning to question whether Modi really is the man running the show.
If you've seen the movie Iron Man 3, chances are you'll remember Mandarin. In this installment, Mandarin is built up as a terrifying arch-villain, worthy of the mighty Tony Stark, our swish, jet-setting hero who goes around smashing walls and cracking wise. The idea of Mandarin, a Middle-Eastern terrorist, is built up convincingly through the movie – he is frightening, chillingly efficient, and capable of world domination. So when Mandarin turns out to be Trevor Slattery, an 70-year-old, immoral, drunk buffoon (essayed delightfully by Ben Kingsley), the mask slips and Tony Stark is left clueless about the identity of the real puppeteer – devious, incognito behind the scenes.
The mask found a mention in Indian politics back in 1995. A political storm erupted after BJP's own Govindacharya referred to Atal Bihari Vajpayee as the "mukhota", when the latter was being packaged as the prime ministerial nominee. The former ideologue accused Vajpayee of being nothing but an acceptable mask to woo the masses, while L K Advani actually ran the show. Govindacharya, I believe, was mistaken.
The mask of the BJP was yet to arrive.
In 2014, as Narendra Modi stormed to power, the narrative of bravado and the appeal of a "strong and decisive" leader were spun. I believed in the spiel. This man, despite all his flaws, was capable of leading from the front, ushering in the much touted "acche din". A few decisive moves, like inducting learned bureaucrats like Amitabh Kant into the government, and adopting Nandan Nilekani's UID scheme lock, stock, and barrel (remember how easily Modi accepted the JAM trinity?), was indicative of a man driven toward economic prosperity on the domestic front; a man who had an equally strong outreach to build a global influence strategy. Outgoing RBI Governor Raghuram Rajan then, it seemed, was an "ally" as he treaded this path, one that led to several productive US visits. And now suddenly and abruptly, Rajan's gone and I can't help but wonder if Modi really wanted that.
The promise of being the leader that India never had is now increasingly looking like a Chimera and the mask is slipping.
Looking back at the last couple of months, I'm beginning to question whether Modi really is the man running the show. First came the theatrical goof-ups of appointing B-grade badshahs – a movie star and a producer of questionable repute – to positions of power. Gajendra Chauhan, BJP's national convener for culture and Pahlaj Nihalani, the brain behind the party's face-palm worthy Har Har Modi, Ghar Ghar Modi campaign. Chauhan seems to be maintaining a low profile after the FTII Mahabharat, but Nihalani has blown the cover wide open with his embarrassing bumbling over Udta Punjab. Chetan Chauhan, a cricketer-turned-chairman of the National Institute of Fashion Technology, will undoubtedly carry on the tradition. All of this provides fodder to Twitter trolls, and we can ROFL over beer, but there are a few other manpower decisions that aren't that funny.
Anil Kakodkar's resignation from IIT-B's governing body, Parvin Sinclair's exit from NCERT and vetoing of TIFR director and theoretical physicist Sandip Trivedi are disturbing, as is the appointment of RSS men as heads of the Indian Council of Historical Research, NBT, and the Banaras Hindu University. I'm not even going to begin thinking about the man who's going to step into Rajan's shoes at RBI. (Allow me to me clarify – not a big fan of an RBI governor almost overshadowing the institution, but he was quite good at his job, as even his critics would vouch, certainly not someone who should have been booted out.)
If you couple the above with a bunch of non-performing ministers in the cabinet mouthing out bizarre theories and introducing bans which generate more negative noise than achieve anything constructive, Modi's decisions begin to defy intelligent thought, and the PM, if nothing else, is an astute, intelligent man. His attempts to ease regulation and boost FDI are commendable. So, is his persistent bid for an entry into the elite Nuclear Suppliers Group.
However, institutional appointments are a government's prerogative, so no quibbles about the right to appoint your own guy. But does that explain the backlash against the Congress-appointed Rajan? Or that a mere parliamentarian was allowed to call for the sacking of an RBI governor, chief economic adviser, and 27 others positions in the government?
Are these really the choices that Modi endorses? The promise of being the leader that India never had is now increasingly looking like a Chimera and the mask is slipping. But like Mandarin, Modi no longer seems to be the formidable force he was once touted to be.
The question we are left grappling with is – who is really running this show? I would shave my imaginary moustache to get a backstage pass.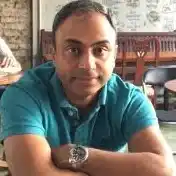 Ajay once wanted to be a strawberry farmer, but now makes his peace by growing brinjals in Karjat on weekends.