After a usual fracas yesterday between MNS and Congress workers and street hawkers, Raj Thackeray announced that he wanted party workers who can beat up other people. It's a sign that engineering street-level vandalism isn't as easy as it used to be.
Inever thought Raj Thackeray would once remind me of Dylan Thomas. Yet, now when I see the Maharashtra Navnirman Sena chief, I can only think of the Welsh writer's most famous poem.
Do not go gentle into that good night,
Old age should burn and rave at close of day;
Rage, rage against the dying of the light.
Thomas had intended the 1947 villanelle to be a dedication to his dying father, but it has come to capture the mortal's struggle against the passing of life. For Raj Thackeray, that's a struggle against irrelevance.
Raj Thackeray has been trying so hard for so long to remain relevant, that I almost feel like applauding his efforts. After he peaked in the summer of 2008, inciting violence against "outsiders", banning Australian cricketers from playing here, blackening non-Marathi signboards, disrupting film screenings, his political star hasn't exactly ascended. How many threats of burning taxis driven by north Indian migrants can you make, before people stop taking you seriously?
Now Raj Thackeray is being forced to raise the stakes. Yesterday, after a usual fracas between MNS party workers and street hawkers, Thackeray announced that he would look for workers who could beat up other people. The point of contention was – what else? – the display of Marathi signboards. I can't think of a sadder situation to be in.
At least last year, Thackeray had a sizeable foe in India's Supreme Court. At Mumbai's dahi-handi ritual for Janmashtami, he defied a Supreme Court order that capped the height of the handi at 20 feet above the ground. At the party's celebrations, however, Thackeray's minions mounted a handi at 49 feet. And at least one of them was wearing a T-shirt that read "Mi kayda modnaar" or "I will break the law". #TrollMax
The call to defy the SC order on Mumbai's favourite adventure sport, was actually a well-chosen one. It resonated well with the young and fired with a call for protecting Marathi culture and values, it might even have brought Thackeray's wet dream to fruition – a magnificent street protest with Marathi manooses of every hue rising to the challenge (this time literally). If only wishes were horses. Despite the rousing call to Marathi pride, despite the heroic rebellion, dahi-handi passed peacefully.
We're in a strange Freakonomics kind of situation when the constitution of MGNREGA leads to an impact on rioting.
The reason for this spectacular failure is no doubt Thackeray's dwindling political capital. But a significant part of this limp biscuit of a protest is also the changing economics of engineering a street-level protest, especially in a relatively developed state like Maharashtra. If you're a Mumbaikar, you must have wondered why a call for rallies and demonstrations on any issue, major or minor, hasn't really led to the kind of fervour and vandalism that one would witness in the '90s or even in the early 2000s. Parties like the Shiv Sena and the Republican Party of India would routinely bring the city to a halt, with considerable collateral damage to property and economic stand-stills.
In those days, it wouldn't take much for a politician or party to mobilise a couple of hundred young men – and they were mostly men – from Mumbai and its satellite towns and villages to call for a Mumbai bandh. The rate of a rioter was less than ₹100-150 a day.
Some of these people happened to be "party workers", a loose term which implied unemployed youth or semi-skilled daily-wagers with erratic employment with small and mid-sized contractors. Even if these youths were holding down regular jobs, they wouldn't mind bunking a day or so, because the employer had no way of tracing them until the next day. The employee could easily turn up the morning after participating in a heavy-duty protest and cook up a story for the previous day's absence. These young people were routinely tapped by middlemen of political parties, who could arrange for crowds ranging from 100 to 5,000 people on a few days' notice. All one needed was a couple of trucks.
Cut to the post-2005 scenario, when the Mahatma Gandhi National Rural Employment Guarantee Act came into force. According to MGNREGA, the minimum-wage benchmark was set at approximately ₹150-200 a day for people who were unable to find even semi-skilled or daily-wage jobs. For relatively employable youth, this means they are now able to earn anywhere between ₹300-500 a day. Even the furthest link in the chain in say, a construction contractor's labour pool, now earns about ₹300-400. So political middlemen, who offer these folks about half that price for a full day's energetic name-calling, are slowly being priced out of the market – of course, all things inflation considered.
More importantly, all these people – be it the "kadiya" or the plumber, the electrician, the metal-worker, or the casual labourer at the stone and sand supplier – now have a mobile phone. Which effectively means that no one can hide or escape the constant chasing of a boss, a contractor, or a client! The mobile phone also allows the employer to access an alternate pool of workers within a matter of minutes.
We're in a strange Freakonomics kind of situation when the constitution of MGNREGA leads to an impact on rioting. The result is a happy outcome where you and I can go by our day peacefully, save for a minor traffic snarl somewhere.
As for Raj Thackeray?
Wise men at their end know dark is right.
His struggle for relevance continues.
This is an updated version of an article published earlier.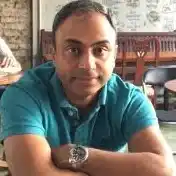 Ajay once wanted to be a strawberry farmer, but now makes his peace by growing brinjals in Karjat on weekends.