Some politicians endear themselves to their core base and no one else, alienating those across the aisle. Swaraj was not that type of politician. Despite being a BJP lifer, she had a bipartisan appeal and an air of dignified approachability.
In her time as India's External Affairs Minister from 2014 to 2019, Sushma Swaraj developed a reputation for being active on Twitter. On Tuesday evening, as her party, the BJP, celebrated the success of its move to abrogate Article 370, Swaraj sent out what would be an oddly prophetic tweet. She wrote, "Thank you Prime Minister. Thank you very much. I was waiting to see this day in my lifetime." Those would prove to be her final words on the platform where she connected with thousands of citizens and foreign nationals in need. A few hours later, news broke that the former cabinet minister had suffered a cardiac arrest in Delhi and died.
Swaraj was 67 years old, which is almost youthful by Indian political standards, so her passing is disheartening. Perhaps there is some truth to the saying "the good die young". Despite her having undergone a kidney transplant three years ago and recusing herself from the 2019 election campaign on the grounds of personal health, nobody could have predicted that Swaraj would not be with us before the year even ended. Even though she did not sit in Parliament, her name still commanded respect for her achievements in a storied political career.
Some politicians endear themselves to their core base alone, alienating those across the aisle. Swaraj was not that type of politician. Despite being a BJP lifer, having started and ended her political career in the party, she had a bipartisan appeal and projected an air of dignified approachability. The news of her death thus predictably evoked eulogies from the government as well as the Opposition, with everyone from Prime Minister Narendra Modi to Rahul Gandhi paying tribute to Swaraj. Modi said, "A glorious chapter in Indian politics comes to an end," while Gandhi called her "an exceptional Parliamentarian, with friendships across party lines." But it wasn't just her political peers who felt the loss – sportspersons like Virender Sehwag and Sania Mirza, entertainers like Lata Mangeshkar, and industrialists like Anand Mahindra were just a few others offering their condolences, in yet another display of how Swaraj might have been a BJP member in name, but was a leader of all people in spirit.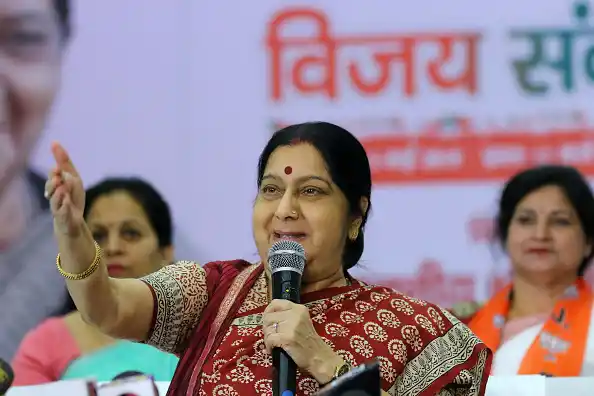 If Swaraj's political legacy were to be distilled down to its essence, it is that leaders must always be open and available to their people.

Photo by Vishal Bhatnagar/NurPhoto via Getty Images
Even so, to lose Sushma Swaraj at the age of 67 seems too cruel. But rather than give in to despondence, we should celebrate how well-lived each and every one of those 67 years were. Swaraj was breaking down barriers way before feminism became part of the mainstream Indian consciousness. You wouldn't be too far off the mark in calling her BJP's Wonder Woman, seeing as how she was the party's first woman chief minister, union cabinet minister, general secretary, and spokesperson. In fact, at 25, she was given charge of labour and employment, making her the youngest cabinet minister back in the day. She was also the BJP's first woman external affairs minister and leader of opposition, and the second woman after Indira Gandhi and Sonia Gandhi to hold each respective post.
While today's BJP exists as a party cast in the mould of Narendra Modi and Amit Shah, it was Swaraj along with a few other peers who held the reins of the party after Atal Bihari Vajpayee's government lost the 2004 elections and leaders like LK Advani began to enter the twilight of their careers. Even before the BJP's 2004 defeat, she never shied away from an electoral battle, challenging Sonia Gandhi for the Bellary seat in Karnataka, a traditional Congress stronghold, during the 1999 elections, and losing only by the narrowest of margins. Her promise to shave her head if Sonia Gandhi was made PM in 2004 displayed the blend of bluster and fighting spirit that would define her term as Leader of the Opposition in Lok Sabha, passing the torch between the BJP administrations of Vajpayee and Modi.
For a career that began in 1977, Swaraj was happy to move with the times and update her leadership style for the 21st century. Most millennials and younger generations knew Swaraj for her tireless Twitter presence as minister of external affairs. In her capacity as MEA, Swaraj was quick to react to almost every request that came her way, sometimes in the wee hours of the morning, assisting Indian citizens stranded overseas, wayward foreign travellers who had lost their passports in India, and even fielding trolls with a parliamentary grace that seems to be fading away from Indian politics. During her five-year stint as MEA, she helped bring back Geeta, a hearing- and speech-impaired woman from Pakistan, and also brought home Mumbai man Hamid Ansari who had been languishing in a Pakistani jail, led efforts to get consular access to the imprisoned Kulbushan Jadhav, and helmed mass evacuations of Indians from conflict-hit nations such as Yemen. Not for nothing, American publication Wall Street Journal dubbed Swaraj "India's Best-Loved Politician" in a profile carried in 2017, highlighting how her active interest aiding Pakistani nationals seeking medical care in India had done more to soften cross-border antagonism than any high-profile summit.
We may never get to see the likes of her again, but we can hold on to the values of openness and dialogue that she embodied.
But even amid hectic negotiations, Swaraj did not lose her sense of humour. When a man on Twitter complained to her about this defunct refrigerator, Swaraj responded, "Brother I cannot help you in matters of a Refrigerator. I am very busy with human beings in distress."
Over the last few years, the Indian political landscape became increasingly polarised and her peers became increasingly belligerent, but Swaraj remained a beacon of calm and poise. In this country, politicians are notorious for being high-handed and aloof. The heinous actions of the likes of Kuldeep Singh Sengar are met with disgust, but very little genuine surprise, so conditioned are we to expect the worst of our political class. What was surprising was how Swaraj bucked that trend, making herself arguably the most accessible Indian politician in recent memory. No task was too small, no supplicant too insignificant; Swaraj was truly a leader of the people, for the people.
The timing of her passing can be viewed as an eerie coincidence. If Swaraj's political legacy were to be distilled down to its essence, it is that leaders must always be open and available to their people. She passed just a day after the BJP pushed through with its plan to revoke the special status J&K had enjoyed since Independence, in a move that critics in the Opposition have called "unilateral" and "unconstitutional", among other things. Unilateral and unconstitutional were not ever in Sushma Swaraj's wheelhouse, even though she did compliment Home Minister Amit Shah's fiery rhetoric in Parliament and thanked PM Modi once the news of Article 370's abrogation had been made official. There's no denying a woman of Swaraj's stature deserves all the heartfelt tributes she will undoubtedly receive, but perhaps an even better way to honour her life's work would be to follow the example she set through her actions.
Sushma Swaraj was a rare, irreplaceable politician. We may never get to see the likes of her again, but we can hold on to the values of openness and dialogue that she embodied. That will remain her legacy.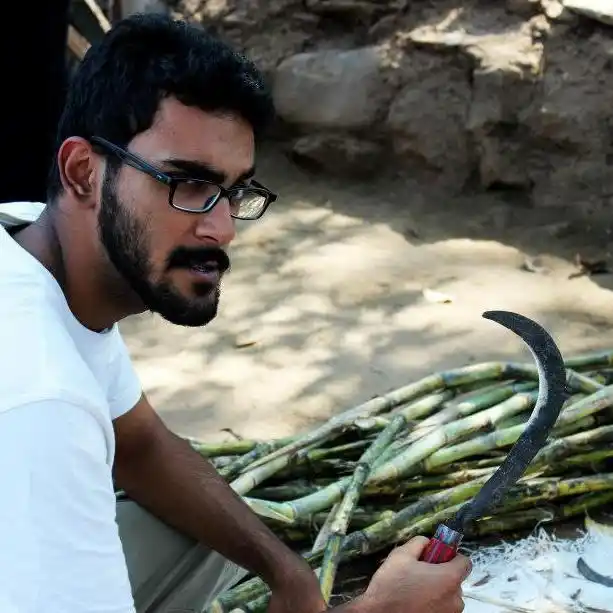 Dushyant Shekhawat really likes his mustache. He grew it himself. You can find him on Twitter at @SeriousDushyant.