Looking for a show to binge-watch but can't decide? The Maharashtra political crisis has everything you need.
There's an incredible show going on right now, that straddles every genre out there. I speak of the riveting drama-cum-comedy-cum-tragedy-cum-reality show that is the Maharashtra politics. Even if you're the sort who normally skips the political pages (and, given the current reality, who can blame you?), there will be something for you as the state's honchos try hard to figure out who's going to continue supplying us with potholed highways and collapsing bridges for the next four years.
For newcomers, this show has been entertaining us for a while now, but really went up a notch in 1989 when the BJP and Shiv Sena realised they hate the same kinds of people and decided to go on a date. Since then, like new seasons of Silicon Valley or Iron Maiden albums, have been largely formulaic while never disappointing. So here's why you should forget Netflix's I'm Feeling Lucky button and head straight to a news channel  near you.
Still a better love story than Kabir Singh 
To call the alliance between the BJP and Shiv Sena (which, conveniently abbreviates to BS) a "marriage of inconvenience" is a gross oversimplification. This is a complex relationship that oscillates between "aww, what a cute couple on Humans of Bombay <3" to "that annoying couple in the restaurant who can't stop fighting". It is more precise to dub this alliance "hand-holding buddies in the streets, backstabbers in the sheets". For, once away from the glare of cameras and press conferences and left to their own devices, true colours emerge – and this is ripe for a romantic drama. The Sena is the more emo one in the relationship, the partner who tends to taunt. ("Itna sannata kyun hai, bhai?" it recently asked the BJP on the economic slowdown.)  The matrimonial equivalent of such behaviour would end in divorce papers. Here, the alliance seems to grow stronger. Aww… isn't this what true love is all about?  
And what's a prem katha without a woh? One can't forget how the BJP desperately tried to woo the newbie on the block, the MNS, in 2009 (adding to this drama was the fact that MNS and Shiv Sena are headed by members of the same family. We told you this was great television!). And well, in pretty much every election since, both the partners – the BJP and the Sena – have wandered, trying to win the heart of some other political party. Basically, this is the kind of wedding where both bride and groom will raise their hands when the priest asks, "Does anyone object to this alliance?".
Recently, the BJP were okay with razing trees at Aarey while the Shiv Sena made a huge show of saying they were against it.
All said and done, it's touching how, despite all this bickering, these two always end up with each other, and we can see how they make the perfect pair. In these fractious times, this is a relationship to savour. So heartwarming. #EverydayPhenomenal 
The best sports you'll see all year. Sorry, World Cup final.
Fans of sporting action have so much to savour in the Maharashtra political drama. You see, a regular election is decided by who has more votes. A slightly more complex election is decided by who is able to cobble together the largest coalition. 
Maharashtra falls into a unique category, which could put the Ajax-Spurs Champions League thriller to shame. Remember how cricket commentators say during particularly tense moments that "all three results are possible"? Well, it couldn't be truer. In Maharashtra, both the BJP and Sena have equal chances; it all depends on who ups their horse-trading game. Either could put together an alliance of improbability (in a past it would prefer to forget, the Shiv Sena even allied with a Muslim party). Heck, other parties could all come together and form a coalition of their own. If nothing happens, the Governor could step in and say "Ugh, I'm taking over until we have a rematch."
Of course, it's more likely that the two leading parties will finally come to their senses (I use the term liberally), and form the same alliance they both love to hate. But then, even within that predictability lies further drama: Kaun banega chief minister? Will sly Sena have its way? Will seats be shared 50-50? And does anyone even remember what they promised voters in their manifestos?
What a thriller! No penalty shoot-out or super over can compete with this game of trick or trick.
A drama whose rights Netflix should buy right away
To look at the history of the protagonist parties is to read a script more bizarre than that of Breaking Bad. For example, the Shiv Sena threatened to dig up the pitch when the BJP allowed an India-Pakistan cricket game in Mumbai. Recently, the BJP were okay with razing trees at Aarey while the Shiv Sena made a huge show of saying they were against it (but not enough to do anything about it). Who knows where things could go from here on issues like Vidharbha wanting statehood (something that divides the parties) or how to make the lives of Mumbaikars more miserable (something that unites the parties)?
Like any good K-serial, there comes a point where the younger, weaker brother becomes more powerful and tries to call the shots, much to the chagrin of the older guy who better knows the lay of the land. Buoyed by Modi's spectacular national wins, but pulled down by a lacklustre state assembly showing, the BJP is not quite sure whether to flex its muscles or submit. It's in the unique position where it's unsure whether to backstab or be backstabbed. Heck, we might even have a re-election so we can go through all this again. 
"Even Mindhunter doesn't have suspense that comes close."
An error of comedies
A bunch of 60 year olds acting like children who don't get what they want, lends itself to regular humour. For example, when talks don't work out and someone resorts to public sulking like the Shiv Sena. They've now locked themselves in a five-star hotel saying, "I won't talk" (yes, even the final season of Two and a Half Men was more mature). 
Medical thriller
In Maharashtra, we're witnessing an orthopedic miracle where the Congress-NCP opposition has managed to last this long without a spine.
And finally, tragedy
With all the hustle and bustle, you might think that something serious is going to happen at the end of all this. Alas, we've seen this song and dance before – farmers will continue to commit suicide over drought and low crop prices, Mumbaikars will continue breaking their backs on potholes or die at alarming rates on local trains and green cover will continue being plundered by the real estate lobby (who are the actual overlords). The whole script will repeat itself out in another four years, with more friendly jibes at each other and more poaching. 
Nothing's going to change. So prepare yourself for Season 2 of Kabhi Haan Kabhi Naa.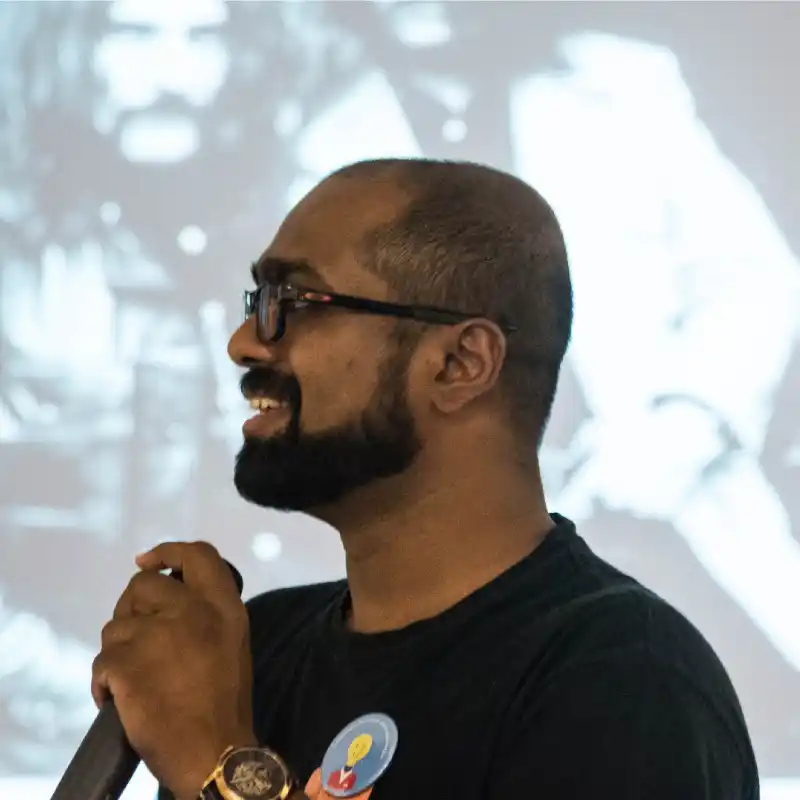 Deepak 'Chuck' Gopalakrishnan is a freelance writer and marketing guy who lives in Mumbai. He runs two podcasts (Simblified, The Origin Of Things) and a satire newsletter (The Third Slip). He used to work in advertising until his soul couldn't take it anymore, and now spends all his time annoying his cats, listening to prog-metal, cycling and writing bios of himself in third person. He has an irrational love for cold water and Tabasco.