Former Delhi CM Sheila Dikshit attempted to change the city's uncaring image by pulling Delhi's toes across the line of modernism. She did everything in her power to reform its public image – from the Metro to the Commonwealth Games – with varying results.
My first memories of Delhi were formed in the mid-'90s, a time when the city's roads, alleys, and people were relentlessly ungenerous, as if cornered by the immensity around them. To an outsider like me, things were much worse. You were told not to step out alone, you were informed only about looters, conmen, murderers, road-ragers, and people who would defile the capital time and again. Sheila Dikshit, who served as the capital's chief minister for three terms and died on Saturday, attempted to change that image and pull Delhi's toes across the line of modernism. A task that might have proven too big, too improbable, and even her ultimate undoing. 
Dikshit studied at New Delhi's prestigious Miranda House college, and knew the city well, or at least the pavements that demanded overhaul. Her reign, which began fortuitously in 1998, after she lost the Parliamentary elections, would be marked by her focus on the way the city travelled. Delhi was known for its jams and its most burdensome routes rather than their destinations. During her time Dikshit presided over plans for flyovers that would unclog the city, bypassing wall-like barriers that at one point seemed unsurpassable. It seemed implausible at one time that a city teeming with so many people – most of them here to earn and take rather than stay behind and give – could ever invest in itself, and smartly even. Dikshit introduced public transport that would run on CNG, radically reconstituting the manner in which a bustling, overburdened city would attempt to confront the challenges of the future. 
Not all of Dikshit's plans in similar purviews duplicated the success of CNG implementation. The Bus Rapid Transit (BRT), for example, was a failure – a superb plan on paper to make the city more navigable for its low- and middle-income citizens, but eventually one that could not anticipate the selfishness of well-heeled Dilliwalas. But at least her eye was trained at the right target.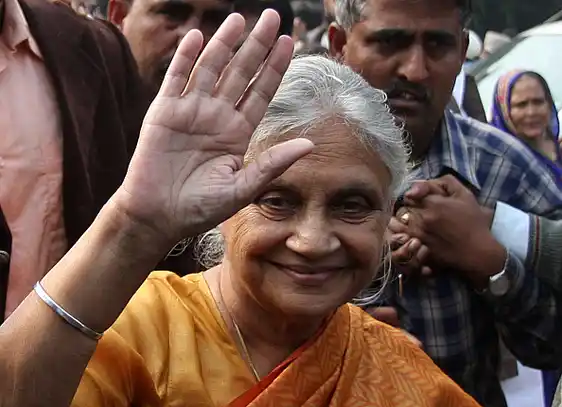 Dikshit studied at New Delhi's prestigious Miranda House college, and knew the city well, or at least the pavements that demanded overhaul.

Santosh Harhare/Hindustan Times via Getty Images
Then came Delhi's decisive makeover, a touch of both incredulity and class that would go on to transform the capital. The Delhi Metro's seeds were sowed by Madan Lal Khurana, the BJP CM that Dikshit replaced. But rather than politically negate the incumbent's plans, Dikshit assigned to it her vision and commitment. Before, it was ludicrous to think that a government office could liaison with another entity to construct something at the base of its spine. A spine that Indian offices are more than happy to hide under gravel or makeshift tar every time a hole shows itself. Indian roads were seasonal, but Dikshit's support for the Metro project proved to be consistent. Both the first and second phases of the city's lifeline were completed during her tenure. 
The Delhi Metro isn't just a facility or a service. It is for most, survival. I am certain I would have quit on the city had I not had the comfort, security, and speed of the Delhi Metro when we were acquainted for the first time. India doesn't exactly function on efficiency, nor does its vacuum offer the discombobulated, the distressed, the lonely, or the fearful, a warm hand. The Metro does all of that and more. To outsiders who couldn't speak in Delhi's gruff tone, or man up to its rough edges, the Metro has proven to be a camouflage, a method to hide in plain sight. Yes, it isn't ideal, but you could only adapt to fit the city. The city was never going to fit to you, which is something Dikshit found out for herself as well.
Ambition can sometimes become your own undoing. Dikshit's attempt to partner with the Indian Olympic Association (IOA) to host the 2010 Commonwealth Games proved to be a costly mistake. The bodies at the forefront made the mess, while Dikshit's reputation took a hit. Delhi's plans for a sporting event the magnitude of the CWG were doomed from the start. The city wouldn't bend, nor would its people.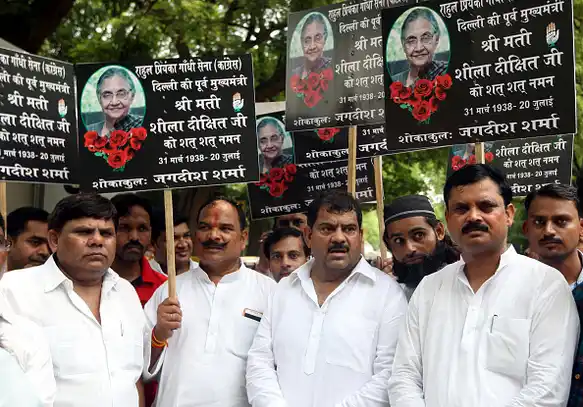 Sheila Dikshit, the former Delhi CM who died on Saturday, attempted to change the city's uncaring image by pulling Delhi's toes across the line of modernism.

Qamar Sibtain/India Today Group/Getty Images
Later, though she was known as an ardent activist for women's rights and security, it was the 2012 Delhi gang rape case that finally wrote the Dikshit government's epitaph. Anger needs an outlet, and in 2012, it was Dikshit and her insensitive remarks that bore the brunt of the public, a couple of years later. 
Dikshit had then claimed that the incident was "blown out of proportion" and that Delhi's law and order was not under her purview. That one remark had led to widespread protests, including dharnas outside her house. This was also around the time Dikshit's health was failing, and she'd had to undergo heart surgery. As she wrote in her autobiography, Citizen Delhi: My Times, My Life, "After the Nirbhaya incident, I was in a bind. My family, which had seen my distress throughout that period, urged me to step down as planned earlier, but I felt that such a move would be seen as running away from the battlefield. The Centre had not wanted the blame to fall on it directly; and I, knowing well that our government would be blamed by the opposition, decided to take it on the chin. Someone had to take the blame."
But Dikshit never really recovered from the Delhi gang rape. Her energy dissipated, her eyes looked tired, her spirit hurt. And now, the Congress party has lost one of its most charismatic, popular leaders to age and destiny. A breed it would now give an eye for. Her defeat to Arvind Kejriwal in 2015, deepened the wounds Dikshit carried in her chest. She had been undone by circumstance, not choice. 
Her mauling in the 2019 Lok Sabha elections brought her life full-circle, to 20 years ago, when she lost her first election in Delhi. Only this time, there wasn't the possibility of a compensatory crown. This time it was closure, the feeling of having been let go by the city she helped make livable and lovable.
Manik Sharma writes on Arts and Culture.