As the rest of the country celebrates Republic Day, some of our most powerless citizens continue to take the democratic route to protest for their rights: Dharnas at Jantar Mantar.
Rama Indra Kumarhas been on a protest fast for the last 19 years.
I hear about him within 10 minutes of entering Jantar Mantar, that Mecca of protestors. His demand is as simple as it is ambiguous: Sarkarein toh badli baar baar, vyavahastha badlo iss baar (Governments have changed multiple times, let's change the situation this time). I am on the brink of feeling deeply impressed by his Irom Sharmila-like resolve, but on the 11th minute, I am informed that he secretly eats samosas at a nearby tapri every night between 8 and 8.30 pm.
On this bright winter morning, Jantar Mantar is full of believers in democracy. One walkthrough on the clustered sidewalk presents a variety of long-term dharnas, mostly employed by the citizenry of rural Uttar Pradesh and Bihar. Everyone from tea vendors, to stationed police officers and jaded journalists are huddling over chai and sutta, breathing heartland politics.
While Jantar Mantar has always attracted the disenfranchised and the disappointed, it was only in 2011 that the hunger strike as a democratic weapon shot into popular consciousness. That year, Anna Hazare staged a very public protest fast, kick-starting the anti-corruption agitation, and got a floundering UPA government to bend over backwards. Since then, Jantar Mantar has become a wishing-well of sorts for those looking for justice in India. Hundreds flockto a 300-metre barricaded road on Tolstoy Marg in the heart of Delhi, a mere three-minute drive from the country's Parliament.
Over the years though, the perception of these dharnas has been sullied somewhat by odd-job delinquents. Emblematic of this problem is Baba Ratan Lal Sahu Hindustani, who has been sitting for two years in protest because he thinks PM Modi hasn't exactly ushered in acche din. "I'm sitting in protest because this is a government which cares more about technology than India's pride," he complains.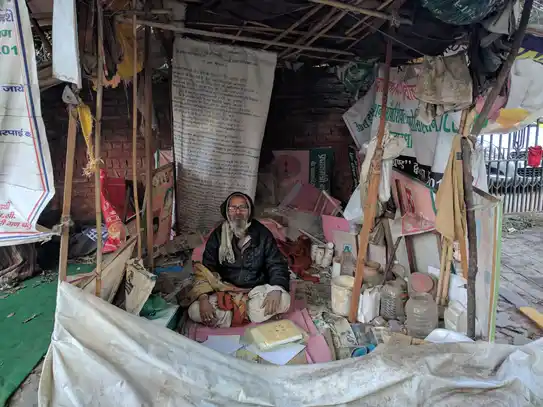 Baba Ratan Lal Sahu Hindustani has been sitting for two years in protest because he thinks PM Modi hasn't exactly ushered in acche din.

Photo Courtesy: Parthshri Arora
All these protestors survive on the machinery of setting up a long-term dharna here, which is beautifully simple: One lands up with posters and placards screaming a specific cause, get help from one of the many NGO workers lurking around to set up a rent-free shack, and just wait. If one wants to eat, there's langar at the Bangla Sahib gurudwara next door; for drinking and bathing water, a tanker is refilled every morning by the New Delhi Municipal Corporation. And if one wants to socialise, there are other veteran protestors and journalists always packing the area. The vibe is more college canteen hangout than Tahrir Square.
This vibe underscores a strange coexistence in such protest corners, where the posers live next to those who are actually attempting to struggle for justice by giving up everything. People like Zinda Murda.
Santosh Singh, who claims he was Bollywood actor Nana Patekar's cook until 2003, returned to his village Chittoni in Varanasi, UP, after marrying a lower-caste girl. His family, staunch conservative Rajputs, didn't approve of the union and asked him to go back to Mumbai. Months later Santosh returned to his village, only to find he had been declared dead and his 12.1-acre land had been taken away from him.
"My cousins had held my tehravin (13th day death ritual) and claimed all my land," Santosh tells me. "I wrote to President Pratibha Patil, Prime Minister Manmohan Singh, Chief Minister Mayawati, the Varanasi district collector, and the National Human Rights Commission, but got no help."
There he stands since 2012, holding a Main Zinda Hoon placard outside his open shack, where he sleeps with a shroud over his head."Who can a dead man go to when your constituency's elected MP becomes the Prime Minister? He is busy making smart cities," Santosh says wryly.
While Santosh's plight drew international interest via a BBC documentary and has garnered national media attention, nobody seems to have lent a patient ear to Noor Saba.
The nearly 74-year-old woman has been a permanent fixture here for over a year. Ever since her husband, Masood Umar Khan, the principal of a government school in Uttar Pradesh's Rampur died in 1980, she has been doing the rounds of courts, going door-to-door asking officials to disburse his life insurance, pension, and gratuity.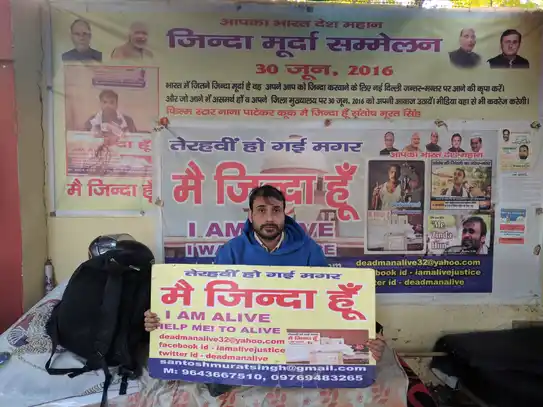 Santosh has been at Jantar Mantar, holding this placard since 2012. His plight eventually garnered national media attention.

Photo Courtesy: Parthshri Arora
Noor's shack is easily the biggest one on the road. There is a homemade dressing table, a tiny closet, and lots of blankets covering her withered existence. "One day someone will listen to me. I don't have anywhere to go. I will sit here until I get my right or I will die protesting," she told me.
People like Noor Saba and Santosh Singh who have documentary evidence of their singular causes, wait in the hope that one of the many people with authority who roam about the area will take notice and get them an appointment with a minister.
But that might never happen. It almost never happens.
Nowadays, those in power govern by hashtags and recognise and legitimise queries based on the number of retweets they manage to get. This tiny lane is fast becoming a quaint relic. Heartland India though, never got the memo as Santosh, Noor, and Baba Ratan Lal Sahu Hindustani continue to wait, putting up their demands on fading placards, hoping for an entry through the doors of democracy. They live in hope that one of the people elected to serve them will take notice. There is a small problem though: No one has informed them that our lawmakers aren't even looking up from their phones.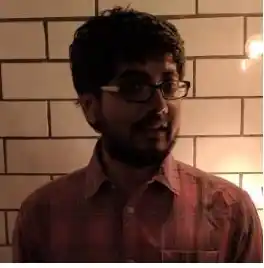 Lover of baby animals, Arsene Wenger, Damien Rice, Peggy Olsen and overly long podcasts. Tweets at @parthsarora.
Confused about most stuff. Writes things.