From Pathankot to Pulwama, Masood Azhar's Jaish-e-Mohammed has continued the assault on security forces in Jammu & Kashmir. With China's soft stand against Pakistan-sponsored terror, his clout only grows.
On May 11, 2000, a 17-year-old Class 12 student from Srinagar Aafaq Ahmed Shah rammed an explosives-laden vehicle into the gates of Srinagar-based 15 Corps headquarters. That was the first-ever suicide car bomb attack in the Valley, which marked the arrival of Jaish-e-Mohammad (JeM). Yesterday, almost two decades later, a similar attack was carried out on a CRPF convoy. An SUV filled with 350 kg of explosives, driven by 19-year-old Adil Ahmed Dar, rammed a bus ferrying jawans in Pulwama killing at least 42 of them and injuring 40 others. JeM claimed responsibility for the killings.
The face of JeM, a Pakistan-based terrorist organisation, is an old enemy of India. One of the dreaded terrorists released in 1999 in exchange for passengers of the hijacked Indian Airlines flight IC-814, Maulana Masood Azhar, has come back to haunt us time and again in the last 20 years. After his release, Azhar returned to Pakistan and formed the JeM, which has been behind several attacks on Indian soil.
According to a senior security official all the major attacks perpetuated in Kashmir since 2000 can be traced back to Jaish-e-Mohammed. "Fidayeen attacks are Jaish's preferred mode of operation," he says.
Masood Azhar, the mastermind of these deadly attacks, had humble beginnings. He was born in Bahawalpur city of Pakistan in 1968 to a school master, Allah Bakhsh Shabir. The family ran a dairy and poultry farm.
In January 2002, after the US declared Jaish a "terror outfit", Pakistan banned it.
Young Azhar, despite being physically weak to join the Afghan jihad against the Russians, went to the war front where he got injured. Subsequently, he was pulled out of the unit of "soldiers" and was made incharge of the motivation unit of jihadi organisation Harkat-ul-Ansar because of his oratorical skills.
In 1994, a 26-year-old Azahar travelled to India from Dhaka on a fake passport posing as a Gujarat-born Portuguese journalist. His India visit was aimed to mediate between two warring factions of Harkat in Kashmir. However, he was apprehended by Indian security agencies along with Harkat's top commanders, Sajjad Afghani and Amjad Bilal.
Little did Indian agencies know that the terrorist they had nabbed 25 years ago would not only be released later but would become a permanent thorn in their side.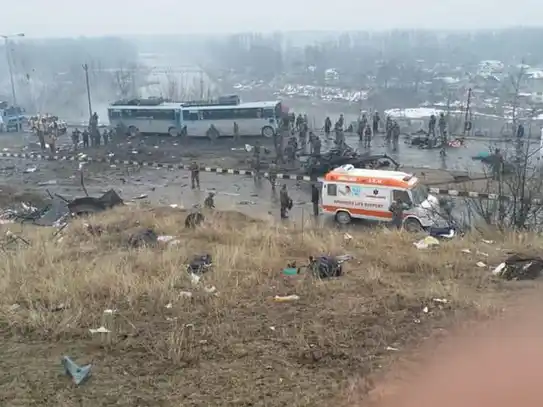 Debajyoti Chakraborty/ NurPhoto/ Getty Images
The Azhar-led Jaish has played a significant role in several high-profile attacks in India. In October 2001, Jaish used a car bomb to attack the legislative assembly in Srinagar, killing at least 39 people and injuring 60 others. It was JeM terrorists along with the more infamous Lashkar-e-Taiba that attacked the Parliament in December 2001.    
Azhar was arrested by Pakistani authorities for his alleged involvement in the Parliament attack but was released a year later after a court ruled that authorities had presented inadequate evidence against him. In January 2002, after the US declared Jaish a "terror outfit", Pakistan banned it. Post the ban, the group was accused of attempting to assassinate then Pakistani President Pervez Musharraf in 2003.
Azhar kept a low profile for several years but resurfaced in 2014 to carry out more anti-India activities. He addressed a rally in Muzaffarabad in PoK in January 2014 and called for resuming of the "holy war" against India. It was a gathering of thousands that Azhar addressed over the phone. In December that year, the Jaish attacked an army camp in north Kashmir that claimed lives of 10 police and security men.
By 2015, Azhar set up the Afzal Guru Squad to further execute his plans. In January 2016, Jaish launched an attack on the Pathankot airbase, which claimed the lives of six security men. This was immediately followed by an attack on the Indian consulate at Mazar-i-Sharif in Afghanistan. Pakistan announced that Azhar was taken into "protective custody" but Jaish issued a statement saying nobody had been arrested.
The backing from the Pakistani establishment further encouraged Azhar to continue to assault India.
While the United Jihad Council, a Kashmir-based amalgam of militant groups, claimed responsibility for the Pathankot attack, India blamed Jaish-e-Mohammed. Pakistan's soft stance on Azhar only encouraged the outfit more and nine months after Pathankot, four heavily armed militants carried out a pre-dawn ambush on an Indian Army camp in Uri on September 18, 2016 and killed 17 security personnel.
The attack led to a breakdown in India-Pakistan relations, which seemed to be a shared concern between Modi and Pakistan's then premier Nawaz Sharif. Multiple reports suggested that the attack was an attempt to derail the peace process meant to stabilise the relations between India and Pakistan. The bonhomie between the Prime Ministers – Modi invited Nawaz Sharif to his swearing-in ceremony and visited him on his birthday by taking a detour to Lahore while returning from Afghanistan – was a bother for anti-India elements in Pakistan. The backing from the Pakistani establishment further encouraged Azhar to continue to assault India. Kashmir became an easy target and after Pathankot, the JeM targeted a BSF camp in Srinagar in October 2017 and the Sunjuwan army camp in Jammu in February 2018. The outfit has also been luring the youth in Kashmir and brainwashing them to take up arms.
Over the years, Azhar has only become more powerful and confident. The JeM has continued to post jihadi literature and Azhar continues to post videos on the internet – in November, he warned India against the construction of the Ram Mandir.    
Despite these open threats, Azhar has not been formally charged in Pakistan. While India has reiterated the demand that the Jaish-e-Mohammad chief be proscribed by the UN, China has blocked the move time and again. On Friday, even as countries world over condemned the Pulwama attack that JeM claimed responsibility for, Beijing's stand remained unchanged.
With support from anti-India elements within Pakistan and the backing of China, the menace of Masood Azhar is only bound to grow.
Suneet Shukla is a journalist with 101Reporters.