On my way to Narendra Modi's rally in Kolkata, I heard shouts of "Jai Shri Ram" and "Bharat Mata Ki Jai", and from their accents it was clear that these BJP supporters were locals. BJP's brand of politics has more than a handful takers in Bengal and the PM's popularity has certainly peaked.
It was 1.45 pm on Wednesday and I was on my way to the Netaji Bhawan metro station in Bhowanipore, a South Kolkata neighbourhood, on my way to Brigade Parade Ground where Narendra Modi was scheduled to speak at 3.30 pm at the BJP rally.
While walking toward the station something unusual happened, something very uncharacteristic of Bengal. I heard shouts of "Jai Shri Ram" and "Bharat Mata Ki Jai", and from their accents it was clear that these were not supporters of BJP transported to the city in hordes ahead of the rally; these were locals. Spotting trucks one after the other loaded with BJP supporters and workers waving the party's flags and wearing saffron, I realised that my ride to the Brigade Parade Ground could be more adventurous.  
I hopped onto one of the trucks filled with 20 BJP supporters. After a few "ki khobors", I learnt that they were all from the Jaynagar Lok Sabha constituency from the nearby 24 South Parganas district. Not too far from where I boarded the truck is Harish Chatterjee Street, where BJP's sworn enemy in Bengal, Mamata Banerjee has been living for almost 50 years.

From where I stood on the truck, I could see a sea of yellow cabs fanning out on an excruciatingly hot and humid Wednesday afternoon. This street has been the same for years, yet with a sudden dash of saffron it didn't seem like the Calcutta I have known all my life. Chants of "Modi Modi" reverberated during the four-kilometre journey and only got louder after we reached the ground – an unusual audio-visual spectacle for a city that is more accustomed to "Laal Salaam" and "Joi Maa Durga".
It was a moment of celebration for the state unit because the West Bengal administration had done everything in its power to stop Modi & Co from entering the state.
The BJP, after all, has had very limited electoral success in West Bengal so far in its 39-year-old history. It made inroads in the eastern part of India only after the Modi wave of 2014. In the last five years, the BJP has made its mark in Assam and Tripura and made its presence felt across Bengal, after they won two seats in the 2014 Lok Sabha elections, the same number as that of the CPI-M. In the 2018 panchayat elections in the state, they actually finished second to Trinamool. But I did not realise how Modi's popularity had peaked over the years.
As I walked into the ground at 2.30 pm, I was greeted by gigantic screens, covered roofs, and two separate stages to accommodate leaders of the BJP, all of it with Modi looking confidently upon the attendees from large electronic billboards. I felt I'd walked into a rock concert and not a rally – a stark contrast from the modest CPI-M mega rally that I had attended at the same site two months ago. Just a gathering of lakhs of Bengalis who refuse to give up on the working-class dream in the era of Mukesh Ambani.
Cynics might call it a display of monetary prowess, but the crowd that the party had managed to pull off after just a 10-day notice and that too on a weekday was indeed impressive. It was a moment of celebration for the state unit because the West Bengal administration had done everything in its power to stop Modi & Co from entering the state. In early February, Yogi Adityanath had to address a rally in Balurghat over the phone; his helicopter was denied permission to land. The government did the same to Amit Shah – they denied permission for a chopper to land in Malda district but budged later. But here was the BJP after all that wrangling, putting up probably one of the most extravagant rallies Kolkata has seen in a long time.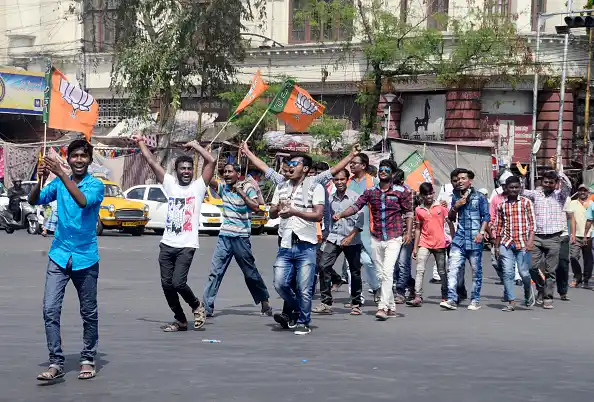 Chants of "Modi Modi" reverberated during the four-kilometre journey and only got louder after we reached the ground.

Image Credits: Getty Images
I jostled my way into the area around 70 metres from the stage. Diehard loyalists shouted "Jai Shri Ram" at every given opportunity; they fought for space, willing to be pushed, shoved, shouted at and be at the receiving end of plastic bottles and caps thrown at them by other enraged supporters who wanted to get a better glimpse of the stage.
And then came the choppers, one of which had to have their hero. The PM was coming from an earlier rally he had addressed in Siliguri that afternoon, to officially kickstart BJP's campaign in West Bengal. The 68-year-old who had convinced at least some in the land of Kali and Durga that the political party which loves Ram more than anyone is their best bet, made the crowd go berserk. Chants of "Modi Modi" made the speaker at the podium irrelevant.
Modi came and spoke. And his supporters cheered each time he paused. He reminded the crowd that the Opposition had done the unholy deed of asking for proof of the Pulwama attacks, how India can now shoot down satellites in space. He exaggerated when he spoke about his government's development activities, he dissed the Congress manifesto, saying it would expire on May 23, and called Didi a roadblock in Bengal's development.
The loyal supporters continued to egg him on. But there were some who decided to leave the rally midway. Similar to football fans who leave when their team is sure to lose. Maybe they were more interested in catching a glimpse of the big man, than to keenly listen to what he had to say.

Narendra Modi was certainly the show-stopper but it was BJP's influential leaders who were taking potshots at Didi. "Aaye Didi dekhe ja, Modi'r khomota (Didi, come and see what is Modi's power)," said Rahul Sinha, the BJP's candidate from Kolkata North constituency, adding that Mamata Banerjee was more beneficial to Pakistanis than Indians. Anupam Hazra, the current MP from Bolpur who was expelled from the Trinamool in January, is now the BJP candidate from the Jadavpur constituency, ended his speech with slogans of "Jai Shri Ram".
Maybe Bengal, which had seemed like an impenetrable bastion, is just catching up with the rest of India. As this editorial in Washington Post points out, "many Indians are looking for an excuse to vote for Modi." Had this been an election determined "solely by economic fundamentals, the incumbent would be on the ropes. Yet most opinion surveys indicate that the BJP-led alliance will fall just shy of an outright majority, requiring a handful of additional allies to form the government. Only Modi's enduring personal popularity can explain this disjuncture. The ordinary voter still views Modi as a compelling leader who is personally incorruptible. Modi's pitch this election season is simple: He needs more than a single, five-year term to undo 65 years of corruption and administrative rot."
That model is getting replicated in West Bengal too. The BJP has decided to fight the state in its trademark style, bringing Ram and Pakistan into the battlefield. That's not how traditionally elections in Bengal have been fought – it's always been poriborton or maa, maati, maanush. But over the years, the problem of illegal migration and Trinamool's involvement in the chit fund scams has made some sections of Bengal unhappy.    
The impressive turnout at Modi's rally during election month has given Didi every reason to worry. But it remains to be seen whether Modi's personal charisma and his party's Hindutva politics will be able to win a state where beef biryani is just an order away on both Zomato and Swiggy.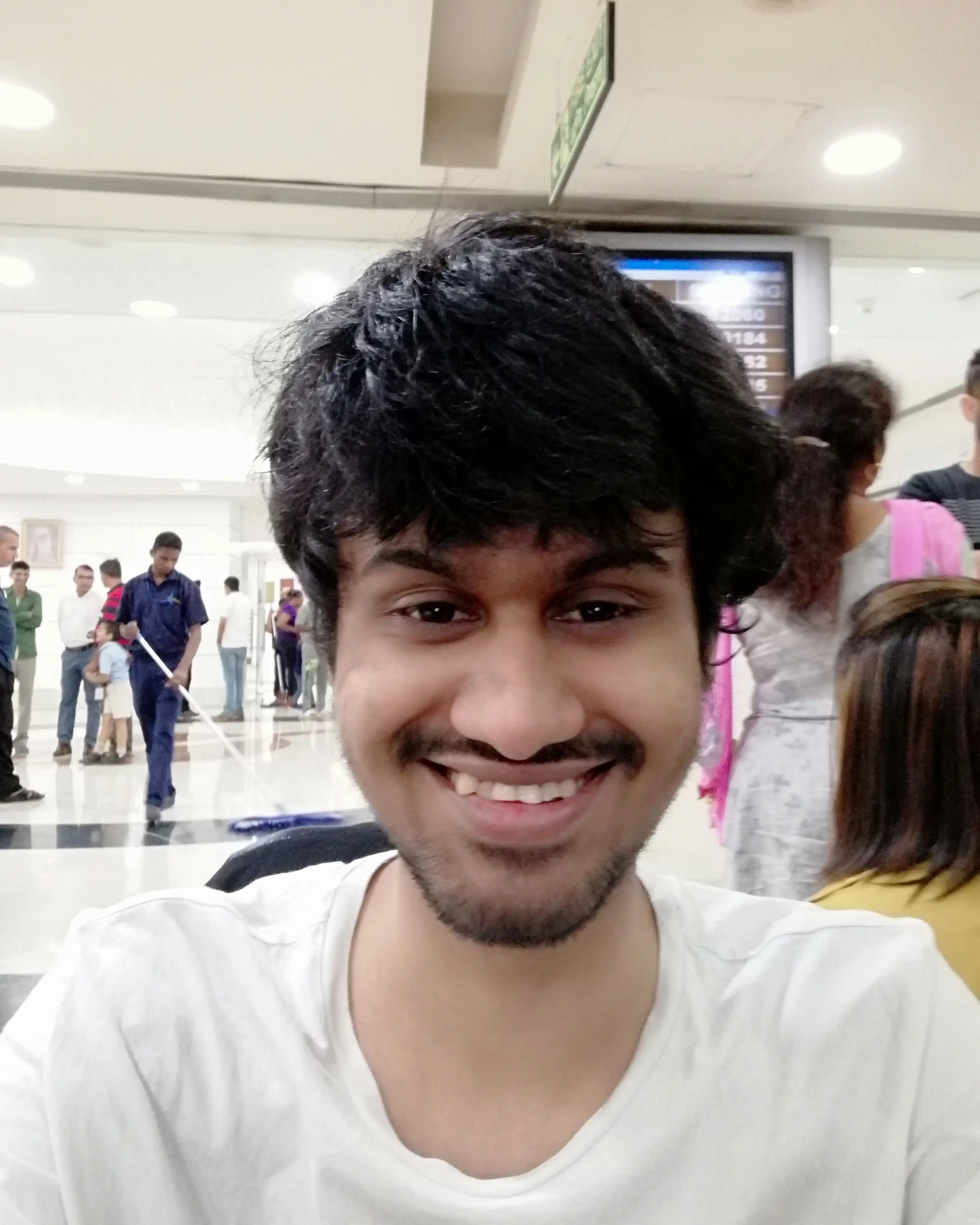 Sourodipto Sanyal is a Bengali journalist and writer who has lived almost his entire life since childhood in the urban disaster now called Gurugram. Very few things fascinate him as much as Indian politics.