The Samajwadi Party-Bahujan Samaj Party tie-up might seem like a marriage of convenience. But this uneasy union could challenge the BJP in the upcoming General Elections. The "bua-bhatija" camaraderie was on display at the press conference when they formally announced their alliance.
On June 2, 1995 Mayawati's Bahujan Samaj Party pulled out of the coalition government in Uttar Pradesh led by Samajwadi Party's Mulayam Singh. What unfolded in the aftermath is often referred to as the Black Day in Uttar Pradesh politics. Enraged over losing majority, SP leaders and workers broke into the state guest house and abducted BSP MLAs to force them to join the rebel legislators' group, before attacking Mayawati who had locked herself in her room. It was Bharatiya Janata Party's Brahm Dutt Dwivedi who escorted Mayawati to safety, risking his life by challenging the SP goons. The resulting rivalry between SP and the BSP became the stuff of legend for the next 23 years.
It took a generational shift within the SP before the two parties joined hands again – this time for the bypolls in Gorakhpur and Phulpur assembly seats last year, when the two parties rallied against the BJP. Former friends became current enemies… but as we know, in politics, nothing lasts forever. The victory in Yogi Adityanath's Gorakhpur is what probably convinced Akhilesh Yadav to consider a long-term deal with Mayawati ahead of 2019, something his father would probably never have dreamt of. Will this mark a turning point for the BJP's fortunes in the country?
Many might look at the SP-BSP tie-up as a marriage of convenience, but this uneasy union could be something that lasts. Akhilesh has gone out of his way to woo Mayawati in the past few months. Their camaraderie was on display at the press conference on Saturday, where "bua-bhatija" formally announced their alliance.
"Mayawati welcomed Yadav with a bouquet wrapped in blue (her party's colour) while Yadav reciprocated with a bouquet wrapped in red (his party's colour). The flowers in both bouquets were yellow. The backdrop continued this focus on equality between both leaders and parties. It displayed each party's flag, election symbol, photos of both leaders, and party colours in equal proportion. In any alliance, no party worker wants to be taunted that their party or leader is playing second fiddle," Faisal Fareed writes on Scroll.in.
The resulting rivalry between SP and the BSP became the stuff of legend for the next 23 years.
There is also equality in the number of seats contested. UP sends 80 seats to the Lok Sabha. According to the formula jointly worked out by both parties, BSP will field its candidates for 38 Lok Sabha constituencies, while three seats of Baghpat, Kairana, and Mathura would be spared for RLD. Of of the remaining 39, Samajwadi Party will contest 37, while Rae Bareli and Amethi – Rahul and Sonia Gandhi's seats – won't be touched by both parties. And of their respective quotas, both parties would exercise their discretion to share a few seats with either independent candidates or smaller parties which enjoy popular public support.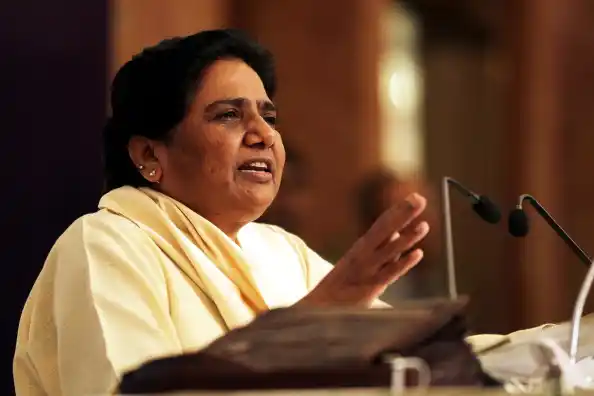 Hindustan Time/Contributor/ Getty Images
These simple, boring calculations could well spell doom for the BJP. But will the two biggest regional players be able to sustain this bonhomie until the elections – and after it?   
Both Akhilesh and Mayawati are well aware that the rules of the game have changed.  When Mayawati rose to power, ironically the Brahmins had a huge hand to play – she received massive support from Atal Bihari Vajpayee and Murli Manohar Joshi, who wanted to stop the growing clout of Mulayam Singh Yadav. In her historic victory in 2007, she brokered a deal with the Brahmin community in UP and bypassed the BJP leadership. However, she found it difficult to accommodate upper-caste interests in a Dalit party and started losing support from both the communities. Over the past 10 years, Mayawati's Brahmin vote bank has shrunk and in 2014 – amid the rising Modi wave – they left her at sea. This has forced her to now expand her social-engineering formula to entice the minority and to reduce her reliance on Brahmins.
The need to experiment with the Dalit-Muslim combination is a result of BJP's all-out efforts to woo Dalits and backward castes. In 2014, the BJP received massive support from the Dalits, who have traditionally voted for Mayawati. But with atrocities against the community on the rise, the BSP stands a chance of winning the votes back. As far as Muslim votes are concerned, her efforts to seize it from the SP in the last assembly polls in UP proved to be disastrous.
So now, Akhilesh is her best bet, even though he too finds himself on shaky ground, after having lost two major elections, in 2014 and 2017. Yet another defeat means a loss of faith in his leadership.
But what's promising is that the SP and BSP cadres have worked together as seen in the by-polls.
And then there is the very real, very legit fear that Mayawati will attempt to bypass or sidestep the SP, spelling an abrupt end for the honeymoon. She is notorious for breaching the trust of allies in the past. When it comes to protecting her own political interests, Behenji has been known to treat her commitment loosely. With the political arrangements with both the BJP and Samajwadi Party that she has been in and out of, her biggest grouse has been that while she's been able to transfer her votes to an ally, they haven't been able to do the same. Besides, neither Mayawati nor Mulayam Singh Yadav's dreams of becoming the Prime Minister are exactly a secret.
But what's promising is that the SP and BSP cadres have worked together as seen in the by-polls.
Should the BJP be worried? They have no option. You cannot possibly win India, if you don't make an impact in UP. In 2014, the BJP won 71 of 80 seats and Modi was declared king. Today, Mayawati could come in his way.
Who would have thought? After drawing a blank slate in 2014 and a dismal performance in state polls in 2017, everyone had written her off. But today, Behenji has become bae.
Raj Silvano is a Lucknow-based freelance writer and a member of 101Reporters.com, a pan-India network of grassroots reporters.