Lal Bahadur Shastri's Jai Jawan Jai Kisan once captured national sentiment, but today, we are happy to pay lip service to our soldiers and farmers.
This the flavour of the season, so let's start things off on a patriotic note. Lal Bahadur Shastri was one of our most beloved and well-respected Prime Ministers. His term, which was cut short because of his premature death in 1966, saw him lead the country through the largest war with Pakistan since both countries achieved their independence. The 1965 Indo-Pak War coincided with a scarcity of food grains in the country, creating a compound problem for the Prime Minister to tackle.
Against this backdrop, PM Shastri coined a slogan that mobilised national sentiment in support of the two groups striving to keep the country safe and prosperous: Jai Jawan Jai Kisan! Meant to cheer on soldiers and farmers, it conjures the image of an idyllic nation that honours its agricultural heritage and the sacrifices of its armed forces. The refrain captured the imagination of the population, and persisted in the social consciousness long after the war had ended. In fact, it's still being used and modified today by speakers looking to drum up nationalistic fervour.
But today, where is the kisan and the jawan?
The jawan, it would seem to an outsider looking into India, is having a good run. His stature is elevated and he is awash in the tide of patriotic fever that has over taken the country in the last year. So in love are we with the men who are guarding our borders that Soldier, Soldier is in danger of becoming the national anthem of our country.
But step away from this din of jawan jubilation and take a closer look: You will see the faces of soldiers like Mohd Azmal Haque and Tej Bahadur Yadav. Haque, a retired army officer from Assam, has been accused of being an illegal immigrant. A man who has served in the army for 30 years, has been asked by the state police to prove his citizenship today.
Earlier this year, BSF jawan Tej Bahadur Yadav, shared a series of videos on Facebook where he allegedly exposed the mistreatment of soldiers on the frontlines. Paltry rations, corrupt senior officers, and total apathy from the command were some of the charges levelled by Yadav. The BSF was prompt to respond – not by redressing Yadav's complaints, but by releasing statements almost immediately that discredited Yadav's character and history of service. The jawan was later terminated from service.
Maybe at some point in our history Jai Jawan Jai Kisan captured national sentiment, but for India in 2017, it doesn't.
Normally, any mistreatment of a solider would trigger widespread public support in favour of the individual that puts the nation's safety before his own. But today stories like that of Yadav are swept under the carpet and the Indian-ness of Haque is being questioned.
In the 52 years since the iconic Jai Jawan Jai Kisan slogan, it seems all we've done is embrace the idea of the jawan more fervently than before without really embracing any of his problems.
But no matter how bad the ground reality of the jawan is, the kisan will probably always be a little worse off. For a land that wants to protect its agricultural heritage, the kisan is faring rather poorly. If droughts, low yields, archaic agricultural methods and credit rates weren't already killing off farmers, demonetisation came along and completed the task. Across the country, states like Maharashtra, Andhra Pradesh, Madhya Pradesh and others have seen a spate of farmer suicides triggered by debt, hunger, and poverty. And so great is the anger in those who survived that they would rather throw away their produce in protest rather than fill the bellies of their hungry children.
So as much as I want to end this on the same patriotic note that I started out on, it's difficult. Maybe at some point in our history Jai Jawan Jai Kisan captured national sentiment, but for India in 2017, it doesn't. In 2017, we don't go about beginning a movement for change in government and policy. Now we simply stand for the national anthem to show we care about the jawan on the border and support demonetisation even if it impoverishes the kisan. Don't bother screaming Jai Jawan Jai Kisan anymore. Bharat Mata Ki Jai should be more than enough.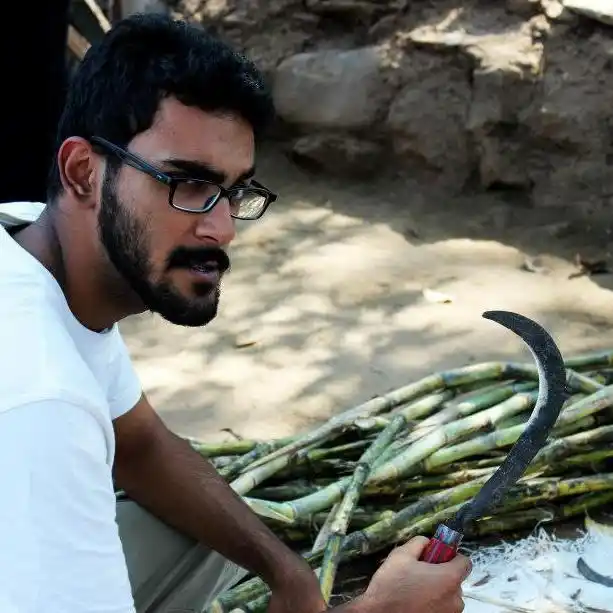 Dushyant Shekhawat really likes his mustache. He grew it himself. You can find him on Twitter at @SeriousDushyant.