Kamal Haasan's desire to join politics highlights how the worlds of Tamil cinema and politics have intersected in the past. But can he replicate the same success as others before him in a post-Jayalalithaa world?
It's a strange state of affairs when Kamal Haasan makes news for his political statements rather than his film dialogues. But ever since the mysterious hospitalisation and subsequent death of the person who dominated Tamil Nadu politics for the last two decades, Jayalalithaa, I get the feeling that anything could happen in the state of TN.
Now, the state is set for the entry of yet another actor into its political sphere. Haasan's decision to make the switch at the same time as fellow superstar Rajnikanth sets the stage for a showdown bigger than Batman vs Superman. Haasan has been doing his homework, and has invited many political leaders to his party's launch in Madurai tomorrow. The Tamil Big Boss host's aim to enter the political arena comes at a time of great uncertainty. No one seems to know what is going on, including the main players on the southern state's political stage. But maybe it is a natural move for the man who famously said in Nayagan, "Naalu perukku nallathu seiyanumnaa, enna venumnaalum seiyyalam (When you've decided to help a few people, any form of help is possible)."
In some ways, Haasan is learning the ropes quickly. The launch of his mobile app #MayyamWhistle, aimed at "reaching out to people", was preceded by weeks of vague statements, borrowing heavily from the tactics that made Jayalalithaa legendary. This has fuelled a "will he-won't he" kind of speculation, sending media houses that are impatient to declare a new star on the political firmament into a spinning tizzy . Good work, almost on par with actual Tamil politicians.
Haasan's canniness, ability to work the media, and his status as a movie star may suggest that he's suited for a new role as a state politician. After all, the state seems to have a penchant for handing over the reigns of their polity to the same people who rule their hearts.
Haasan's canniness, ability to work the media, and his status as a movie star may suggest that he's suited for a new role as a state politician.
But will it actually all work out for the Ulaganayagan?
Let's just say he is trying, cocking his guns and firing in different directions. His recent attempts to highlight issues of grave importance — such as visiting Chennai's ash-choked Ennore Creek to highlight the growing environmental crisis in the state capital — have been complemented with a willingness to firmly criticise the Centre. In his weekly column for popular Tamil magazine Ananda Vikatan, he went as far as saying that the Right Wing could not speak about Islamic terrorism because "terror had spread into their camp as well." He only amassed a few dozen death threats in the process. It's the latest example of his consistent stance against the BJP and its ancillaries; and a refreshing change from the calculated reticence of the two major Dravidian parties. And he even has a good conduct certification from the Income Tax department! That, combined with his starry persona will surely ensure that he isn't as bad as the bumblers currently in charge, no? After all, isn't this what the south Indian state wants?
I wouldn't be so sure. Assuming that Haasan, or the other man in the picture Rajinikanth, will be able to successfully adapt to politics like AIADMK founder MG Ramachandran, betrays a gross misunderstanding of Tamil politics.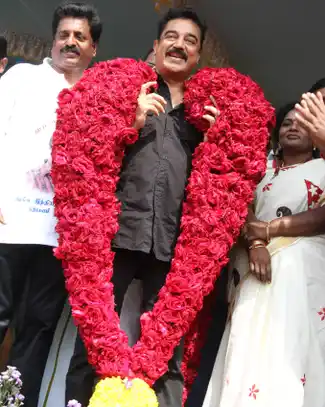 Haasan doesn't have quite the same allure, the aura that propels fans inexorably toward a 30-foot cardboard cutout of him, ready to bathe it in Aavin milk.

Image credit: Getty Images
MGR's immense success came at a unique moment in history, when politics, ideology, language, and popular culture coalesced around a strong identity, the Dravidian Movement. By espousing those principles, and complementing that with movie roles such as 1965's Aayirathil Oruvan, helped create an image of the ADMK founder as a champion of the people. More than thirty years after MGR's death, that image is still unassailable.
His eventual decision to break away from the DMK to form his own new party was only successful because of how he skillfully tread the tightrope of popular and political culture. MGR also had the added benefit of organising his fan clubs like quasi-parties — with strict administration and a uniform symbol — the perfect conditions for a man with a new political party in need of loyal cadres. That in turn seeded the idea that Tamil Nadu needed a larger-than-life figure who transcended his own party.
Haasan doesn't have quite the same allure, the aura that propels fans inexorably toward a 30-foot cardboard cutout of him, ready to bathe it in Aavin milk. This is a man you go to watch because he is a sublime actor, the "universal hero" — not a man you can worship as a larger-than-life figure.
It's more than likely he'll echo his hero Sivaji Ganesan, and to far less aplomb. Ganesan also joined politics along with MGR, starting with the Dravidian movement before allying with the Congress party, only to desert it and start his own after the latter refused to support MGR's widow, Janaki, during the ADMK's leadership struggle. Despite being far superior an actor to the self-proclaimed Puratchi Thalaivar ("Revolutionary Leader"), Ganesan's own tryst with political destiny was an abysmal failure, largely because he didn't understand something his rival had: That to succeed in politics, as in acting, one must create an image of not just being a superstar, but being a relatable one.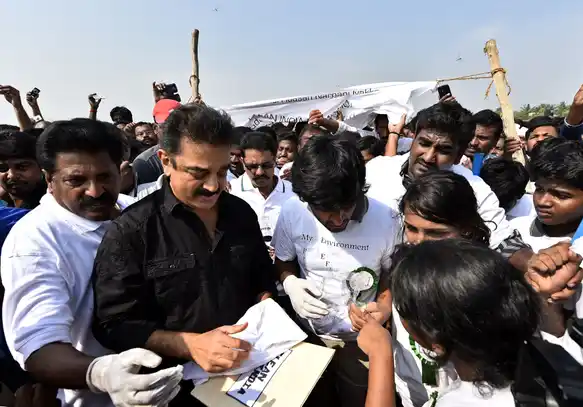 It's more than likely Kamal Haasan will echo his hero Sivaji Ganesan.

Image credit: Getty Images
It's a lesson Haasan might learn the hard way. His film roles over the years don't really give us any clue about his political thinking, because of how varied they are. In the 1980 film Varumaiyin Niram Sivappu, he played a character with Communist leanings. In 1988, he opposed his casteist father in Unnal Mudiyum Thambi, a complete contrast to his role in Thevar Magan which seemed to glorify a particular community and its aggressive caste politics.
Haasan might yet have time to brush up. With tomorrow's impending launch of his party, he's finally made his intentions crystal clear. Whether the Ulaganayagan succeeds in his new passion, which was conspicuously absent when Jayalalithaa was alive and he didn't have a TV show to plug, isn't what's important.
What is important is what he will signify. Will it be success and the continuation of hero-style politics? Or is it time for curtains?
The show must go on. But Haasan will show us whether it still has an audience.

Aditya Iyer is an independent journalist who writes on history, politics, and art. His recent attempts to write about popular culture have failed to make him either popular or cultured thus far.