JNU is back in the headlines over the disappearance of student Najeeb Ahmed. Unlike the February fiasco, however, the jholawallahs are completely in control of the narrative.
The Jawarharlal Nehru University in Delhi is structured in the mould of Chandigarh, with sprawling gardens surrounding every building, and like some government-built institutions, is almost like a city, with its own transport network and rules. The idea behind the openness perhaps was a metaphor for the  "free-thinking" liberal arts students that flock to its gates.
But these days, most of self-expression happens around the administration building where walls are adorned with messages of justice and freedom. Some students have been sleeping on mattresses in the cloisters of the building since Najeeb Ahmed, an MSc student affiliated with All India Student Association disappeared after an alleged scuffle with an Akhil Bharatiya Vidyarthi Parishad (ABVP) member. Things reached a saturation point on October 19, when students "laid siege" to the administrative building and held M Jagadesh Kumar, the university's vice chancellor, and other senior officials hostage over Ahmed's disappearance. (The hostages had or didn't have access to food, depending on what side of the narrative you choose to believe in.)
This certainly brought in the cameras. According to reports, about 400 women and children go missing in India every day, but JNU's proximity to the media and its students' talent for making their voices heard, ensured that mainstream channels descended on the campus on a slow news day.
The institution is back in overdrive, nine months after it was first catapulted into national imagination. "Movement" is the buzzword of the campus' lexicon, used to describe anything from an agitation about "Hostels for all" to "Reduction of viva weightage". Unlike the February agitation, however, the students are in full control of their narrative. They know exactly how to counter the venom of right-wing eggs on Twitter, 140 characters at a time. They know how to capitalise on their new-found attention; they know what effect attempting to burn effigies of Modiji and friends will have.
I spot several Left-aligned student activists shooing away news channels that they know will not be favourable to them. AISA president, Rama Naga is speaking to multiple people, fielding a barrage of phone calls and simultaneously checking his social media feed on his phone. (The powerbank, I learn, is the brahmastra of the modern student protest.) "The media is classist," he tells me. "They will show that the VC is being gheraaod but won't show that we sent him food. We are not inhuman. We've seen enough to know who reports how and who we will not give a byte to."
Day is turning into twilight and anchors, struggling to get bytes from unwilling students, have been reduced to giving walk-throughs.
Naga was one of the five students anointed an "anti-national" by mainstream media during the February fiasco. The other one subjected to the tag was Umar Khalid, now a local celebrity on campus. I watch him lecturing some students sitting on mattresses, mooching cigarettes off reporters he knows well. He's been burnt by the media before and now he is vending advice on who should go on what prime-time show.
These are seasoned veterans of the game and the new crop is learning quickly from them.
"Zee News is really my favourite and Arnab Goswami has taken my heart away," Somya Gupta tells me. The first-year non-aligned student, who considers herself "just an activist", is clearly being ironic. Gupta is worried at the anti-national tag JNU has earned and insists that it delegitimises the genuine struggles on the ground. She is sitting close to Ahmed's distraught mother, a "We are Najeeb" poster not far from her. The media, she believes, should not be "an obstacle to other people's freedom of speech and expression". But her idealism is tempered through with a measure of savviness. "Whenever there is a movement," she says, "we try to ensure that neutral media outlets are present."
This is one option available to the student activists, who underwent a serious vilification campaign in the post-Kanhaiya moment. Opinions on the university tended to verge between the incredulous "they are students, why are they indulging in politics" to the outright dismissive "they are wasting taxpayers' money." Since then, the pressure to project an image that counters these opinions, has only gotten stronger. "The limelight changes the approach to how protests are held," says Parag, a non-aligned second-year labour studies student, who has lived in both JNUs. "Movements are now articulated to create a larger conversation within other student bodies, not just within JNU. The media's glare has increased the entitlement of the students."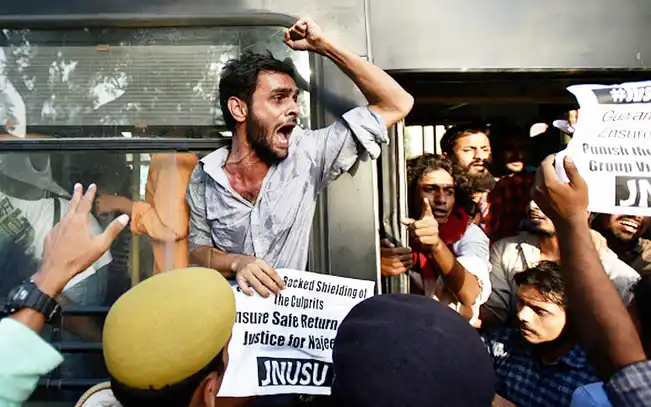 "Movement" is the buzzword of the JNU campus' lexicon, used to describe anything from an agitation about "Hostels for all" to "Reduction of viva weightage".

Hindustan Times/Getty
I've seen a fair bit of frustration among TV news reporters today. Day is turning into twilight and anchors, struggling to get bytes from unwilling students, have been reduced to giving walk-throughs. Times Now, which has sent two reporters to cover the event, has resigned itself to footage of Ahmed's wailing mother. The rest, the handmaidens of these protests, chat among themselves, annoyed with the constant glare that they have to orchestrate. "Editors see one channel covering the protests, then everyone descends like hawks," says a fellow reporter who didn't want to be named. "There are student protests in schools and colleges all over the country. Why give JNU so much importance?"
For about half an hour, I watch agreements and disagreements, driven by a shared anger. The protest, I'm told by a student, will continue with a march at 9.30 pm from JNU's famed Ganga Dhaba; pamphlets are being printed as we speak. As night gathers, some of the vexation decreases as the sweetness of marijuana takes over the air.
Reporters are beginning to call it a day. The gherao, one says, was the real news. "Ab khabar marr gayi hai." But for JNU students, this is just a nightcap – tomorrow, the struggle against the establishment, against the media, continues.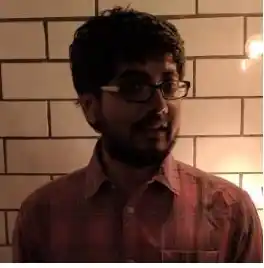 Lover of baby animals, Arsene Wenger, Damien Rice, Peggy Olsen and overly long podcasts. Tweets at @parthsarora.
Confused about most stuff. Writes things.