Jallikattu has turned into political ping pong, leaving people like Selvarani in a lurch. The 49-year old farmer's bulls are not fodder for a blood-sport – they are her children.
Icall him Ramu. Not maadu or kaalai or adhu or idhu (cattle).
Ramu, my bull, my child, is around 20 years old now. In human years, he is close to 90. The bulls have been around since I was born and Ramu has always been there for me. My family has been rearing jallikattu bulls for generations. Imagining a life without Ramu or my three other children is impossible; they're omnipresent in this house.
The bulls take their names from our family deity, a way for us to show respect to these animals. God is a part of our family, our protector, and so is my Ramu. We rear many varieties – naatu maadu, vandi maadu, and jallikattu maadu. Ramu belongs to the first variety and is a sturdy indigenous breed. And it isn't just my family: All across, in Thanjavur, Tiruchi, Pudukottai, Madurai, farming families are jallikattu supporters and participants, because indigenous breeds serve many purposes. They are used in farming as well as transportation. But these people sitting in the cities, making all these regulations… what do they know?
I think I speak for all families, that when we see our bulls line up to take part in jallikattu, we're overwhelmed. We're filled with pride. You see, when we raise our children we spend money on their studies, we make sure they get jobs, we wait for them to get married. Just the same way, when we see our children among the crowd, that happiness has no parallel.
Our happiness is interlinked with prosperity. Jallikattu is a way to ascertain how virile the bulls are: The most virile ones were mated with the cows of the village. So it isn't just a sport for us. Only if we let our children take part in jallikattu will our families be prosperous and well. In the years since 1997, when we sent our son Ramu to participate, the whole family would be ecstatic. The feat makes us look majestic… we also feel royal.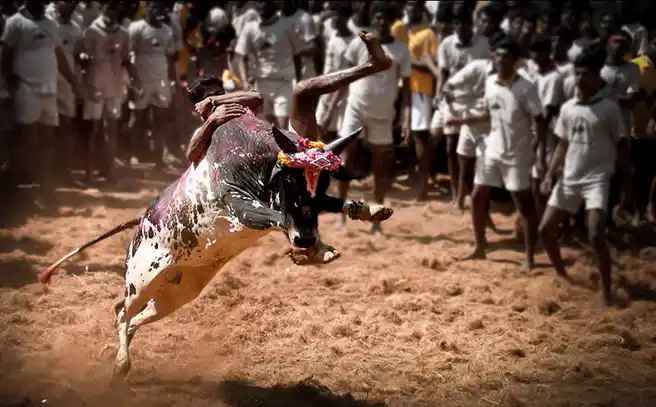 "Jallikattu makes us look majestic… we also feel royal," says 49-year old Selvarani.
Image credit: Courtesy: Wikimedia Commons
Bull rearing is an art. And so, when I say Ramu is my child, I really mean it – I take care of him like any other baby of mine. I give him food, I bathe him lovingly, I let him play around. If he takes a dump I clean it and use it as manure for our paddy. Actually, I take more care of Ramu and his brothers than I take care of my own children. Whether we have food or not, whether we starve a day or two, we make sure we feed Ramu and his brothers every day. It's bhakti – I don't want to see him get upset even a little bit. I don't hit him to discipline him, I don't have to, because he listens to everything I say. I raised him to be an obedient, brave child.
My Ramu has even been featured in the news; journalists have come to see him all the way from Mumbai, Coimbatore, and Chennai. One other girl and I from Namakkal are the only two women to ever take part in jallikattu. She was disqualified because her bull was weak. I have been to the Vaadi Vaasal (the narrow entry point through which bulls are let into the arena) thrice, which is no easy feat – the whole process is a festival of its own.
Last Pongal, we had so much hope. My family, my whole village, and every other village in Tamil Nadu had the same hope, but the government denied us all. This year, there are fewer protests.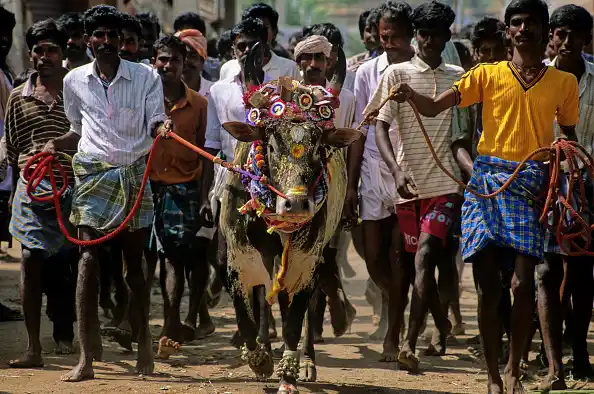 Many farmers do not think of jallikattu as a blood-sport, considering the cattle family.
Image credit: Photo by Soltan Frédéric/Sygma via Getty Images
But if the government is not going to support us, then we will not support it – we don't need the Centre or the state government or ministers. What are they without us? Justice is for the people; I'd like to see how the ministers come here and ask for votes now.
Those in support of the ban are trying to erase our Tamil identity. All this boils down to politics. We are not stupid, we know what is happening behind the scenes, who is moving the pieces. But we will not rest. We we will let the bulls roam free, come what may. We'll see what happens.
Disclaimer: Arré does not endorse the practices and opinions expressed in this article.

Apoorva Sripathi is an Associate Editor at The Ladies Finger.