National Highway 1A, the only road connecting Kashmir to rest of the country, often gets blocked and puts commuters to extreme hardships. At a number of locations, it's little better than a patchwork of mud and rocks. It summarises the apathy of the rest of India toward the northern state.
Syed Arif, an engineering graduate from Kashmir's mountainous district of Banihal, had to board a flight for the first time in his life. He was flying to New Delhi from Srinagar for a job interview at a MNC. Confident that he would do well, he was planning to also catch up with his old friends studying at Jawaharlal Nehru University and Delhi University, eat at McDonald's at Connaught Place, and do some cheap street-shopping at Janpath.
On a cold, cloudy February Sunday, Arif left his home in Paristan village of Banihal at 5.30 am to catch a 12.25 pm flight from Srinagar. The 108-kilometre mountainous journey from Banihal to Srinagar usually takes three hours, but at noon, he was at Dooru, having covered a mere 30 kilometers due to the snail's pace of traffic along the National Highway 1A, the only fair-weather road connecting Kashmir to rest of the world. The highway had witnessed landslides and shooting stones due to inclement weather. Knowing that his fate had been sealed by the National Highway, Arif hopped off the Tata Sumo he was travelling in and started his journey back home; his hopes of getting a job dashed, his confidence shattered.
Arif's travails on the National Highway 1A are not an exception, but a story of every Kashmiri traveling to mainland India from Srinagar. It is a physical illustration of the attitude of the rest of country toward Kashmir.
The fair-weather highway often gets blocked during the winter and rainy months and puts commuters to extreme hardships. To relieve themselves in the absence of toilets along the highway, stranded women are often seen walking several kilometers in dangerous stretches with falling rocks  – this despite the Swachh Bharat Abhiyan and the construction of tens of thousands of toilets across the country. The shelter homes, which the government has established to provide accommodation to stranded passengers along the highway, are functional only in name. These are instead used to appease influential people like politicians, bureaucrats, and police officers; and if none of them are travelling on the highway, the shelter homes would rather remain empty than occupied by the stranded passengers. So, people stuck on the highway have to burn a hole in their pockets as everyone charges exorbitant rates as soon as the road gets blocked.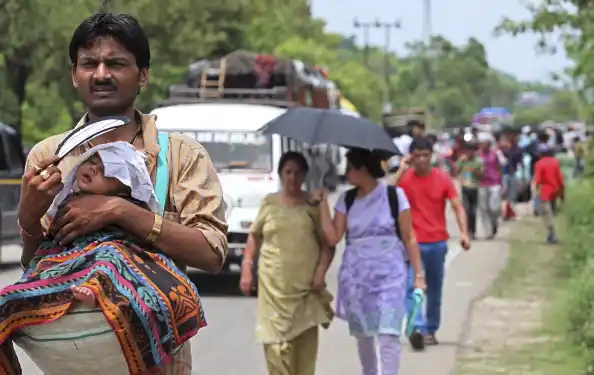 To relieve themselves in the absence of toilets along the highway, stranded women are often seen walking several kilometers in dangerous stretches with falling rocks.

Image Credits: Getty Images
With the blocked highway, supplies reach the Valley after seven or eight days and are mostly rotten. Its road closure also affects exports like apples, which get damaged in the absence of cold storage during transportation. Kashmir valley does not have a rail link to the rest of the world even to this day and as soon as the National Highway 1A gets blocked, airfares touch the sky.
"After the Partition of the subcontinent and India's independence, our northern and western sides were closed down, and now they are also closing our southern side," says Naeem Akhtar, a former minister in PDP-BJP coalition government, referring to the frequent closures of National Highway 1A that completely cuts off Kashmir.
The highway seems to have lived its life. At many places, only one vehicle passes on the road and it is extremely unsafe for passengers to travel in large-seater passenger buses. From Ramban to the Jawahar Tunnel, which connects Kashmir to Jammu, the road is little more than a patchwork of mud and rocks.  
With the blocked highway, supplies reach the Valley after seven or eight days and are mostly rotten.
In 2017, IndiaSpend carried an analysis of J&K Police and Union Home Ministry data since 2004 and found out 46 per cent more people had died in road accidents in Kashmir than in armed violence. Most of these accidents occurred on the National Highway connecting Kashmir valley, Pir Panjal region, and Chenab Valley of the state.
While the government has been credited for focusing on better road connectivity in the rest of the country including the North East, in Kashmir there seems to be no end to the problem. In 2017, the Prime Minister inaugurated the country's longest nine-km Chenani-Nashri tunnel built at the cost of Rs 2,500 crore that links Kashmir valley with Jammu by an all-weather route and reduces the distance by 30 km, but the main problem lies in the stretch between Katra and Banihal stretch.
Like so many Kashmiris, Muhammad Mauzam, a Srinagar-based journalist, too had a bitter experience on the highway this year. Driving home to the Valley from New Delhi, he started his journey at 6 am, and after 12 hours on the road, Mauzam was thinking of a hot meal with his family. That was not to be, as the National Highway 1A was witnessing a massive traffic jam amid the movement of scores of military convoys. Due to snowfall and rains, a portion of the highway had been swept away, while many places along the road had witnessed shooting stones and landslides. It took Mauzam another four-and-a-half hours to travel a distance of 93 kilometers to reach Banihal, the gateway to Kashmir.
"When I reached Banihal, hundreds of vehicles were stranded with no vehicular movement," Mauzam says. Standing in minus-7 degree Celsius on the highway, he called some contacts he had developed as a journalist and looked for an accommodation for the night. Everything was taken. After braving the biting cold for five hours, one of his friends called him at 4 am and informed him about the possibility of a home-stay in a village some three kilometers from the highway.
Next morning, he traveled to Srinagar from Banihal but when he saw other stranded passengers who had spent the entire night on the road braving suck cold weather, he forgot his own ordeals. The 265-kilometre journey from Jammu to Srinagar that usually takes around eight hours had taken Mauzam 24 hours to complete. For Kashmiris like Mauzam and Syed Arif, the engineering graduate, the National Highway 1A isn't a link to the rest of the world, but a road to perdition.
Faisul Yaseen, an International Ford Foundation Fellow, completed his masters in international journalism from Indiana University, US. He is the political editor of Rising Kashmir, a Srinagar-based publication.