Before arriving at the Mumbai protests, there were apprehensions that dissenters would be detained on the spot, as was the case in other cities. But very few expected that the city would choose this day to prove that it still has some of that fabled "spirit" left in it.
The year is 2006. Students of a popular "SoBo" college have thronged the gates of their University, holding up signs, chanting names, and alarming the posh residents of Churchgate out onto their balconies to watch the drama unfold. Most students have shown up wearing specific colours, meant to denote some sort of allegiance to their "Body". We're at the scene of the "Gujarati Sahitya Mandal (GSM) Presents Fashion Show", which mean only one thing — things could turn ugly (figuratively, of course) at any moment. A third-party security agency has been hired in just in case.
Inside the auditorium, the last contestant has angrily stomped down the ramp, displaying their fashion to the audience, and now it's time for the judges (two former students and an aspiring Bollywood celebrity) to decide which one of them has displayed their fashion most correctly. The atmosphere could not be more tense — one student nearly faints in anticipation, another whispers furiously at a friend.
You see, dear non-Bombay reader, these results are important because they would effectively decide which students' body would rule that particular college for the next whole year (ie, gain control of the best spot on the stairs from where they could sing Aerosmith songs and for long that is all the city's students cared about). Finally, the Bollywood celeb has made his decision. He walks up to the podium and announces a winner to… complete silence. Anticlimactic. Half the crowd booes, but everyone walks out together, laughing at how stupid everything is.
This 13-year-old event, as inconsequential as it is, remains one of the several reasons Mumbai has a reputation today for being the home of the most apolitical students in the country. It's another typecast in a long list — the Bollywood airhead, the super-rich who don't care, the Gully Boy Swag, etc. While the students from other cities were out holding serious elections, debating politics, and protesting government policies, as the stereotype goes, all Bombay students cared about was which hookah flavour tastes best (plot twist: They all suck).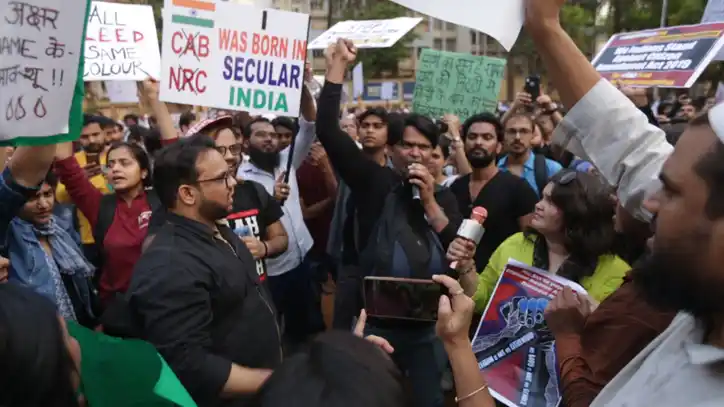 Protesters shout slogans and hold placards during a demonstration against India's new citizenship law in Mumbai on December 19, 2019.

Siddhant Pandagale
It took several years, but this stereotype took a serious blow on Thursday, as anywhere between 20,000 to 1.5 lakh (impossible to be sure) of these "apolitical" Mumbaikars showed up to protest the Citizenship Amendment Act, the violence inflicted on students in Delhi, and anything else that could be turned into a snarky meme at short notice.
Huge crowds were spotted all the way onto Peddar Road, a couple of kilometres from the venue, August Kranti Maidan, where Mahatma Gandhi declared the Quit India Movement back in 1942. Individual rallies were held all the way to the closest railway station — Grant Road, and on all streets surrounding the plush Altamount Road.
August Kranti Maidan itself was impossible to enter after 5 pm — considering it was already packed to the brim with Mumbaikars from all walks of life, celebrities, clerics, students who didn't look older than 20. The protesters, who weren't allowed to enter gathered around the perimeter of the maidan, standing up on the railings to get a clearer view of the proceedings. A group of students jumped over these barriers, setting a trend that the cops were quick to notice and shut down.
Still, far from being a horror that a giant crowd of people gathering at a rather small public space sounds like, on Thursday, Mumbai channelled the intensity of the protests in campuses across the country, in an almost cheery way. The Mumbai police, who've no doubt earned the respect of thousands of Mumbaikars overnight, had made prior arrangements to deal with the traffic, and treated protesters with absolute respect. Many were actually overheard asking people, "Please side ho jao," some were seen laughing at the posters the students were carrying.
Mumbai seemed to be in no mood to get violent, but instead came out in the mood to dazzle with their signs.
Mumbai seemed to be in no mood to get violent, but instead came out in the mood to dazzle with their signs. One walked around the maidan with the PM's tweet reminding everyone that dissent is an important part of democracy imprinted on his shirt. Others held placards applying CAA to hilarious memes, more than a few groups were spotted with guitars. Some were distributing water, some toffees. Every now and then in between the intense sloganeering and shouts for "Azaadi", you could hear a young protester confess to her friend, "Can't believe we've ended up supporting Shiv Sena dude," before bursting out into laughter.
Of course, the crowd of mobilising Mumbaikars was too large for party workers to resist (who knew the BSP had any clout in Mumbai?), as dozens of them showed up with their respective flags, trying their best to take credit for the gathering. Luckily, these workers could easily be identified by their ridiculously-phrased copy-paste signs and hence ignored. Let's be honest, no else cares that much about Rafale anymore, and everyone knows who came up with the irresistibly catchy "Chaiwalla Chor Hai" slogan. So, much like the students' reaction to 2006 Bollywood star, as soon as these party workers stood up to speak, thousands of protesters would make their way to the exit, and break up into smaller groups, laughing at how thanda the "important person's" speech was.
Even considering the large crowd, women felt safe — a benevolent loudspeaker constantly chanted reminders like, "Mahilao ko aage jaane do", and affirmations like "Hum tumhare saath hai". At around 7 pm, when police permission for the venue had run out, this same benevolent speaker urged protesters to leave calmly to avoid creating a stampede-like situation. It also asked Mumbaikars continue the protests in their hearts. And everyone complied, hand-in-hand, smiling at a job well done.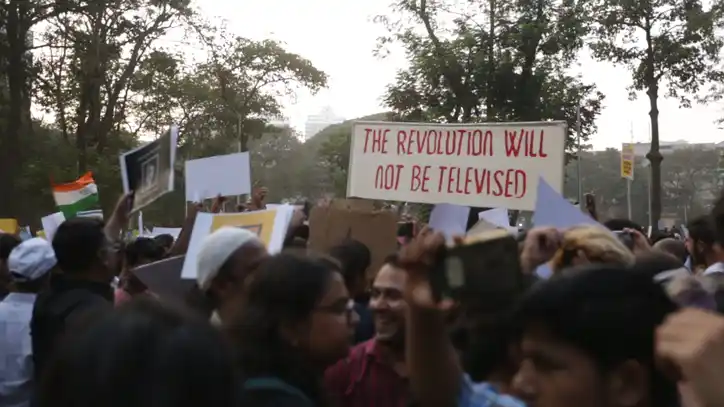 People gather during a protest against Citizenship Amendment Act (CAA) in Mumbai, India on 19 December 2019.

Siddhant Pandagale
Contrast this to some of the more intense visuals that we're seeing from other cities. All through Thursday, Section 144 was imposed in parts of Delhi, Bengaluru, and Ahmedabad. A solitary, peacefully protesting Ramchandra Guha was manhandled by officers outside the Townhall in Bengaluru, and visuals of students being lined up and made to walk out of Jamia University with their hands in their air are sure to haunt us for years. Assam has been on the boil without any internet for eight days, Kashmir hasn't had any internet for almost 150.
So, of course, before arriving at the Mumbai protests, there were apprehensions that dissenters would be detained on the spot, or that violence would break out in parts, and that we'd have to rush to safety. But very few must have expected that Mumbai  — its citizens, its police officers, and its students — would choose this day to prove that its fabled "spirit" hadn't been washed away in the last couple of monsoons. Sure the city may not protest much, and does, in fact, arrogantly complain about farmers' rallies blocking the roads, but if there's one thing that we've learned from Thursday, it's that on the rare days that it decides to make its voice heard, it knows how to do it right.