While anger and resistance became the customary motif during the nation-wide anti-CAA-NRC protests, what remained common in everyone's articulation of their personal protest has been the presence of poetry. Whenever in history, oppression has become social syntax, poetry has become resistance.
In a letter to Mahatma Gandhi in the April of 1919, Nobel Prize-winning Indian poet Rabindranath Tagore wrote "The great gift of freedom can never come to a people through charity. We must win it before we can own it." Tagore often suggested that language – poetry especially  – would play the agent to orchestrate this win. I was reminded of this in the light of the nationwide CAA-NRC protests, that brought together people from different professions, social, and cultural backgrounds. While anger and resistance were the customary motif during the agitation, what has remained common in everyone's articulation of their personal protest has been the presence of poetry. That indefinable form of language which is, in itself resistance against type, structure, and system – whenever in history, oppression has become social syntax, poetry has become the resistance against it.If not for anything else, we might always remember the CAA-NRC protests for its poetic endeavour. A common placard that appeared across the country borrowed from Rahat Indori's poem "Agar khilaaf hain hone do". Written some 30 years ago, the poem culminates in the boastful line "Kisi ke baap ka Hindustan thodi hai". Read in its entirety, Indori's poem, which drives home the point that leaders, oppressors don't always speak for the public, is even more hard-hitting.
"Main jaanta hoon ke dushman bhi kam nahi lekin
Hamari tarh hatheli pe jaan thodi hai..
Humare muhn se jo nikale wahi sadaakat hai
Humare muhn me tumhari zuban thodi hai"
Whenever in history, oppression has become social syntax, poetry has become the resistance against it.
For the average person who struggles with articulating the extent to which they feel troubled and cornered, poetry offers an envelope to convey that anger. The envelope is as symbolic as the contents of the text inside. Usually, the poet's function is limited to crafting messages, which lose their context until supplied by the collective angst of the people reading it. Another poem or rather, song, that was shared across social media dressed as a protest was Sahir Ludhianvi's "Jinhe naaz hai Hind par…" from the classic Pyaasa (1957). In it, a concerned Ludhianvi seeks the chest-beating patriots who refuse to claim with equal enthusiasm the rottenness that is for everyone to see:
"Zara is mulk ke rahabaron ko bulaao
Yeh kooche yeh galiyan yeh manzar dikhaao
Jinhen naaz hai hind par unko laao
Jinhe naaz hai hind par woh kahan hain"
During the peak of the stir, lyricist Varun Grover added his own voice to the protest through his anthem "Hum kagaz nahi dikhayenge". Shared by Sitaram Yechury and Shashi Tharoor, the slogan became one of the most popular anthems to come out of the protests against NRC, adding gravitas and a semblance of calm to an otherwise agitated form of discourse. While acts of aggression and violence make the news, it is these beautifully crafted poems that bequeath composure and peace to a wave of unanimous anger, even resignation. They are proof that a majority of those protesting lean toward the medium of peaceful inquiry rather than sinewy force when it comes to addressing contentious questions and concerns. In his poem Grover writes:
"Ye desh hi apna hasil hai
Jahan Ram Prasad bhi Bismil hai
Mitti ko kese bantoge
Isme sabka khoon hi toh shamil hai."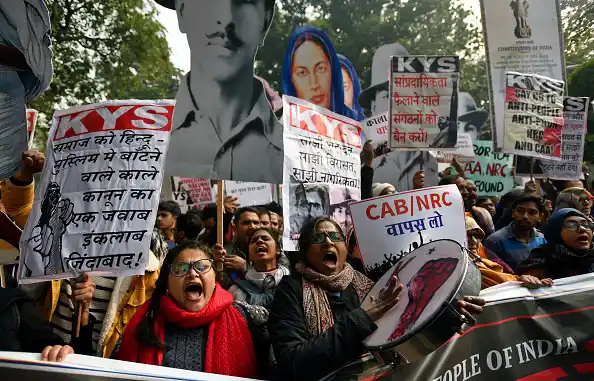 Demonstrators hold placards and raise slogans during a march against the Citizenship Amendment Act (CAA) and National Register of Citizens (NRC) at Mandi House, on December 24, 2019 in New Delhi, India.

Photo by Amal KS/Hindustan Times via Getty Images
Grover is proof that in times of great distress, poets emerge in people. Perhaps it is the urge to speak and be heard in a different language against the systemic structures that cease to perform basic functions like connecting administrators to the public they govern. For instance, in Assam, where the NRC has already cast its divisive, farcical dice, Miyah poetry surfaced as a tool to voice both dissent and communicate the disenfranchisement of Bengali-speaking Muslims of the region. In July 2019, a number of poets were booked for sharing anti-NRC poems. In 2016, the movement began with schoolteacher Hafiz Ahmed's poem "Write down I am a Miya" which goes:
"Write
Write Down
I am a Miya
My serial number in the NRC is 200543
I have two children
Another is coming
Next summer.
Will you hate him
As you hate me?"
Be it the Dalit-Panther movement in Maharashtra, or the Miyahs of Assam, poetry has become the anchor those marginalised by society throw into the sea of majoritarian politics for a semblance of footage and belonging. Identity is often the first thing fascist regimes reject about a person. Though poetry, in itself is intangible – a summation of some vague feeling – it represents what is certainly common to people around the world: emotion. We may look different and practice different faiths, but we are united by our empathy for each other; a collective identity no register can separate, except for the academic purpose of its each page.
Across the length and breadth of the country, the anti CAA-NRC gatherings, a snapshot of a collective overcoming of fear felt like a coming-of-age moment for this country and its youth. But it's the words bearing the weight of this resistance that have injected blood anew into the veins of a docile and reluctant society. Its enduring legacy can be exemplified by these fearless lines of Jamia Milia Islamia's Amir Aziz:
"Aman mera mazhab, ishq mera imaan
Main khauf khake darr jaane se
Bin maut marr jaane se
Inkaar karta hun."
Manik Sharma writes on Arts and Culture.