Babasaheb Ambedkar believed that hero worship was a sure road to dictatorship. His sage advice would have been valuable today, amid all the political chaos over a memorial dedicated to him.
For as long as Umaji Isande can remember, he has never missed the annual pilgrimage to Mumbai on April 14. He started visiting the city as a boy and continues the tradition with his family of five. The cramped 16-hour train journey from northwest Maharashtra's Nandurbar, the sea of people, the endless queues, the irritated locals, everything fades once he bows his head at Chaityabhoomi that houses the remains of Dr Bhimrao Ambedkar.
It's a short walk to Shivaji Park, traditionally considered a Shiv Sena stronghold. But on two days in a year – April 14 and December 6, Ambedkar's birth and death anniversaries – Babasaheb has an advantage over Balasaheb. The streets around the Central Mumbai neighbourhood brim over with families camping in the open. Vendors sell memorabilia, statuettes and bright posters of Ambedkar, to the visitors; one of their own, the leader who showed them the path toward restitution, and the Buddha, the deity he led them to.
A mute witness to the spectacle unleashed by this sea of humanity, is a dilapidated mill. India United Mills Dye Works No 6, fondly known as Indu Mills, was abandoned 35 years ago. Its 12 acres lie disused; moss covers its crumbling walls. Foliage has taken root in its crevices and the mill's windows, which once must have been glass-fronted, are now bare frames. A posse of policemen stands guard over this kingdom of ruin. In another three years, though, the decrepit mill could turn into a monument rich with symbolism for the Dalit community.
After a long struggle, between rival political parties, canny real estate developers, and vote-bank-eyeing governments, there's finally consensus. The decks have been cleared for the mill to be converted into a state-of-the-art memorial dedicated to the firebrand intellectual, lawyer, and architect of the Indian Constitution. In October 2015, Prime Minister Narendra Modi laid the foundation stone for the project that his government hopes will be completed during their tenure.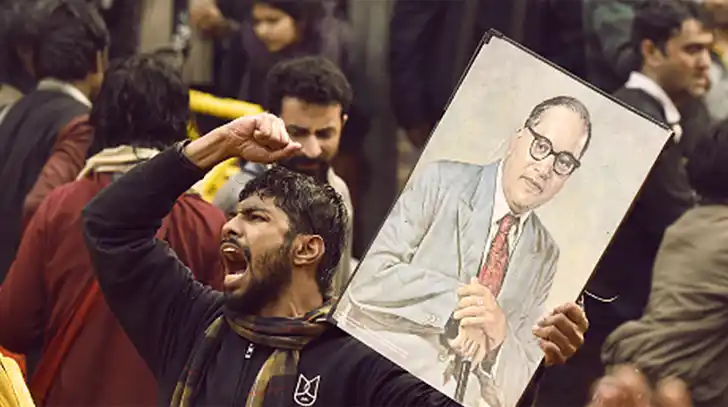 Rohith Vemula's suicide last year sparked off conversation around the Dalit experience, a grave reminder of Babasaheb Ambedkar's prescient writings on the subject.

Hindustan Times/ Getty Images
A massive modern stupa, held up by a giant plexus of 24 steel ribs, will be the centrepiece of this ₹400-crore project, designed by Shashi Prabhu Associates, the Mumbai civic authorities' blue-eyed boy. The stupa borrows, in some measure, from the architecture of the Gorai Global Vipassana pagoda built in 2006, which has a Burmese-style hall under its dome. The complex will also house an ultra-modern museum, a library, an auditorium, and a plaza along the beach. The memorial will host interactive experiences that will shed light on Ambedkar's life and work.
As is de rigueur with any such project, scale is the catchword for the memorial, as the numbers do the talking. It will be built over 2.50 lakh square feet, while the meditation hall will be able to accommodate 13,000 people. Prabhu says the height of the proposed statue at the entrance of the memorial was initially due to be 30 feet. That turned out to be too diminutive for the powers that be: Visible and invisible political pressures helped gradually increase the height to first 75, then 100, and finally a towering 150 feet. Other grouses like the memorial "looks like a huge umbrella without a cloth," the library has been "pushed into a corner", that the museum and auditorium appear to be "token placements", continued as background noise. But this did not drown out the essential truth that the Dalit community has been rooting for years for a place they can call their own.
A hero worship reserved for the man who rejected it – perpetuated by opportunistic political adversaries who choose to preserve his memory in token, but not in spirit.
It doesn't matter then that 200-odd trees on the premises will have to be cleared for the structures to be built. The city has been known to scrape forests for parking lots. The only real issue that goes against this structure, perhaps, are the beliefs of the man it is supposed to be memorialising. In his moving speech to the Constituent Assembly after presenting the Constitution, Dr Ambedkar had said, "In India, bhakti or what may be called the path of devotion or hero worship, plays a part in its politics unequalled in magnitude by the part it plays in the politics of any other country in the world. Bhakti in religion may be a road to the salvation of the soul. But in politics, bhakti or hero worship is a sure road to degradation and to eventual dictatorship."
A hero worship reserved for the man who rejected it – perpetuated by opportunistic political adversaries who choose to preserve his memory in token, but not in spirit. But then again, can we really take a stand against tokenism now, especially when atrocities against Dalits are finally gaining a toehold in national conversation? A few years ago, this familiar criticism was levelled against Mayawati's Rashtriya Dalit Prerna Sthal and Green Garden in Noida, which had a cost outlay of ₹685 crore. But who is to say that these magnificent, if somewhat indulgent, memorials don't in fact contribute toward awakening Dalit pride?
The proposed memorial in Mumbai with its meditation halls, plazas, and auditoriums may just make the 16-hour journey, that usually ends with standing in a dusty field for 18 hours under the hot sun, worthwhile. Umaji Isande is unaware of these complex and sometimes bewildering negotiations that will affect the memorial. When he heads back to Nandurbar after two nights in Mumbai, there's only one question in mind: Will the memorial have some place for him to rest, when he next makes his annual pilgrimage?
Aparna Joshi likes to travel, observe and meet different folks. When the mood is right, she writes too.