In an attempt to erase eve-teasing, Meerut's anti-Romeo squads have erased romance and ravaged the economy of the city. It stands listless with its empty parks and unoccupied restaurants, bereft of young love.
Samir Chowdhary is sitting inside his restaurant, Waah Ji Waah, in one of Meerut's busiest markets on Western Kutchery Road. The restaurant has around 15 tables, capable of hosting eight to ten people each, but today only one is occupied – the one we're sitting on, with Chowdhary's toddler bouncing on his lap.
"We have lost over 60 per cent of our business in the three weeks since anti-Romeo squads were commissioned. We're planning to give 15 per cent discount to every customer now that young couples don't come in," he says.
Across the dusty road from the restaurant, is Pramod Rastogi's paan ki dukaan, which too is running losses now that "Romeos" aren't lurking around and killing time, basically indulging in chai and sutta, while waiting for girls to pour out of the nearby Raghunath Girls' Post Graduate College.
"We need planning for better economic management, not sanskar," Rastogi tells me. The only other customer at his shop is Ajay Kumar, who runs a recharge store around the corner. As young boys and girls are seeing their freedom policed, Ajay has seen a decrease in footfall; not many are eager to talk over the phone these days. From 30 to 40 calling pack recharges a day, he tells me, he's now down to selling five to 10. "People stopped buying SIM cards after Jio launched and now they are not even coming for recharge," he adds.
In the days, when love was in the air, before the government launched its "lovers are terrorists" campaign, this stretch of the market would be abuzz with young couples – some in a mood for sweet love, waiting to splurge on ice cream at the nearby Baskin-Robbins, some gifting each other pedicures at Revlon Exclusive next door, and some simply chatting up at Rastogiji's paan shop, hoping to take things to the next level. Nowadays, since the street is swept clean by the women's wing of the local anti-Romeo squad every afternoon, several budding romances have been nipped in the proverbial bud, and boys and girls are heading straight home, in a bid to become sanskari, as per the Yogi sarkar's diktat.
Most shop owners suspect that their customers have not gone gently into that good night. They believe the lovers have pivoted to the temples of romance: Meerut's big public parks in the Army Cantt area, where the police would not dare to create a scene. So I pivoted to the parks.
Inside the park, there are exactly two couples. One of them doesn't speak to me; they think I'm part of the anti-Romeo squad, conducting a sting operation.
With summer right around the corner, couples and families usually flocked to these parks in search of space and solace, but not anymore. Twenty-three-year-old Monu would enjoy his job as a helper at a sugarcane juice vendor outside Gandhi Park, just four kilometres from RG College. "I was making around ₹3,000 a week in March, and now when business is supposed to boom, I'm making less than ₹2,000. Not many people come here now," he says.
Monu's biggest competitor is Vishal Goel's "bada" canteen inside the park, but Goel too is facing the heat of the anti-Romeo squad. From 25 to 30 couples a day, his canteen now only sees five to six. He invested ₹7.5 lakh in the canteen earlier this year. "What can we do when people are scared? Young lovers think they'll get caught and then photographed in the media, after which they will be punished by their parents," he says.
This lack of footfall is confirmed by Ravindra Singh, the ticketer at the park. He says they were selling about 1,500 entry tickets a month and now that number has dropped to 800. Singh flashes a giant smile as two women walk up to him to purchase a parking ticket, grateful that they've stopped by, hoping that the park will make at least some money.
Inside the park, there are exactly two couples. One of them doesn't speak to me; they think I'm part of the anti-Romeo squad, conducting a sting operation. "We haven't done anything wrong," the boy says, as he attempts to shoo me away. The girl just stands there with her arms crossed, her eyes glued to the ground, not even casting a glance at me, as her man takes charge of the situation. The fear of being caught on camera, of being publicly shamed as a "Romeo couple", I later find out, is one of Meerut's greatest fears today.
The other couple at Gandhi Park, Saksham and Princy, in their 20s, are the only daredevils ready to speak their mind. "Everyone is scared to step out of their homes. The anti-Romeo squad is doing whatever it wants. We have come here after taking permission from our parents," Princy tells me. But the permission is verbal, they don't have anything on paper, as a local lawyer had insisted should be the mandate.
Saksham, wearing blue pants and a white shirt, is quiet, letting Princy do all the talking. "My friend Mita was also picked up from a mall at Delhi Road, while she was watching a movie. Anti-Romeo squad members were sitting inside the theatre in civilian clothes," Princy tells me. I understand their plight, but all I can do is offer an empathic ear.
The young will tell you that Meerut is just not the same. The anti-Romeo squads, theoretically commissioned to take action against eve-teasers, do not have a method of differentiating an eve-teaser from a consensual boyfriend or even a brother, which makes everyone play safe and just stay at home. In an attempt to erase eve-teasing, the squad has erased romance and ravaged the economy of the city. Meerut stands listless with its empty parks and unoccupied restaurants, bereft of young love.
Perhaps I missed something, the thousands of lovers cowering under tables at Chowdhary's Waah ji Waah, or behind the three-square-feet fine establishment of Rustogiji, or even hiding behind the trees inside the parks. Or perhaps this is exactly what Yogi Adityanath's Uttar Pradesh looks like: quiet and loveless, with its young people sitting at home watching Nach Baliye with mummyji and daddyji.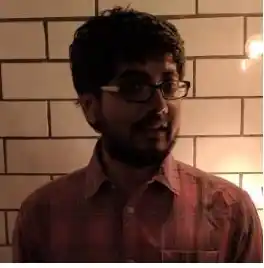 Lover of baby animals, Arsene Wenger, Damien Rice, Peggy Olsen and overly long podcasts. Tweets at @parthsarora.
Confused about most stuff. Writes things.