The controversy over Muhammad Ali Jinnah's portrait goes to the heart of how we choose to remember our historical figures. Jinnah has a complicated legacy – but we've just given him the same treatment we gave to Fawad Khan and the Pakistani cricket team.
I used to think the only person worthy of the title "He Who Must Not Be Named" was Voldemort. But events at Aligarh Muslim University over the last two days have made wonder if Muhammad Ali Jinnah should also be given that epithet.
Apparently, Pakistan's first Governor-General became persona non grata overnight in Uttar Pradesh, when BJP MP Satish Gautam suddenly decided to take umbrage with a portrait of Jinnah that had been hanging at AMU's student union hall since 1938. After Gautam wrote to the University demanding that the portrait be taken down on Monday, a group of Hindu Yuva Vahini "activists" arrived at the campus yesterday and clashed with students. The situation escalated to the point that police were lobbing tear gas shells at university students, who were demanding action be taken against the interlopers. (For those not in the know, the Hindu Yuva Vahini is an organisation founded by UP CM Adityanath, and Wikipedia lists their "type of business" as Far-Right Hindu nationalist organisation.)
As is typical of these schoolyard scraps, everyone seems to have jumped into the fray. The Yuva Vahini and other Hindutva groups believe in simple arithmetic: Jinnah's portrait in the student union hall = the university being a hub for "anti-national activities". To these chaps, it is immaterial that Jinnah was declared a lifetime member of AMUSU. His portrait hangs in the company of fellow lifetime members like BR Ambedkar and Jawaharlal Nehru.
But for the protesters, and even UP CM Adityanath, Jinnah is the demon responsible for dividing India and giving birth to Pakistan, and therefore should be anathema for India. Shouldn't they be thanking him? Without Pakistan, after all, where would they send all of our dissenting, anti-national, sickular libtards?
That's not the real joke. The real joke is the myopic view of Indian history being endorsed by the right-wing. Hindutva elements detest Jinnah because he divided unified India. But in their relentless attempts to demonise Jinnah, and their othering of Muslims across the country, they are propagating a second Partition. This "Hindu-first" philosophy from 2018, is no different from Jinnah's Two-Nation Theory in 1940.
This whole controversy goes to the heart of how we choose to remember our historical figures. We either whitewash them as outright heroes – or as rank villains. The truth, often lies somewhere in between.
Jinnah left behind a complicated legacy. The revered freedom fighter, GK Gokhale, once called him "the best ambassador of Hindu-Muslim unity." He is as celebrated in Pakistan as he is reviled in India. He was a modernist with an atavistic outlook. In this manner he is no different from his contemporaries Winston Churchill and Adolf Hitler. Churchill is not only the Allies' WWII hero, he is also the man who presided over the Bengal Famine and was responsible for the deaths of three million people. Hitler, though condemned worldwide as a dictator and a war criminal, still inspires neo-Nazi movements in North America and Europe (and hey, he has several fans at home too!)
The BJP government has never thought kindly of the man, and have even shunned their own party members who had anything nice to say about him.
So too it is with Jinnah, who is Quaid-e-Azam on one side of the border, and the hated architect of Partition on the other. Even though he wasn't the only one.
Adityanath and those who think like him would like nothing better than to scrub Jinnah from Indian history entirely, regardless of the truth. This aligns neatly with the broader aim of rewriting Indian history that the BJP government and the RSS seem to share. Last year, Indian students found their history syllabus undergoing a makeover, as Rajasthan's state board schools erroneously began teaching that Maharana Pratap defeated Akbar at the Battle of Haldi Ghati, and Maharashtra replaced chapters concerning the reign of Muslim rulers with chapters on Chhatrapati Shivaji.
Against this backdrop, Union Culture minister and long-serving RSS member Mahesh Sharma formed a committee of scholars last year whose aim was to prove that Hindus were the original inhabitants of India, and that Hindu scriptures are fact not myth. The committee's chairman, KN Dikshit, has admitted that he was "asked to present a report that will help the government rewrite certain aspects of ancient history." What a great study this will turn out to be – where a predetermined conclusion will be arrived at after a few years of expensive research. And you won't have to wait long for it to make its way into the country's textbooks.
What chance does a simple portrait of Muhammad Ali Jinnah have of remaining unmolested in this environment?
The BJP government has never thought kindly of the man, and have even shunned their own party members who had anything nice to say about him. LK Advani had to resign as party president for calling Jinnah a "great man" and a "secular leader" during a trip to Pakistan in 2005. The BJP's Jinnah-phobia reared its head again in 2009, when former Union minister Jaswant Singh was expelled from the party for writing in his book Jinnah: India-Partition-Independence that Jinnah had been demonised by India, and it was not him alone, but also Nehru who was culpable for Partition.
What's disheartening is that we've given a man of historical significance like Jinnah the same treatment we gave to Fawad Khan and the Pakistani cricket team. After all, he is the one who said, "I have always believed in a Hindu-Muslim pact, but not a pact that will mean a destruction of the one and a survival of the other." Even though he became the architect of our hated neighbour, Jinnah's views on communal harmony are worth remembering, especially today. He was also one of the men behind the Lucknow Pact of 1916, widely considered the high point of interfaith unity during the freedom struggle.
By erasing Jinnah, and the Muslim community's important contributions to Indian culture, Hindutva organisations are sowing the seeds for another Partition – this one in the hearts and minds of Indian citizens. And this is why it's important that his portrait remain at AMU, because, as the philosopher George Santayana said, "Those who cannot remember the past are condemned to repeat it."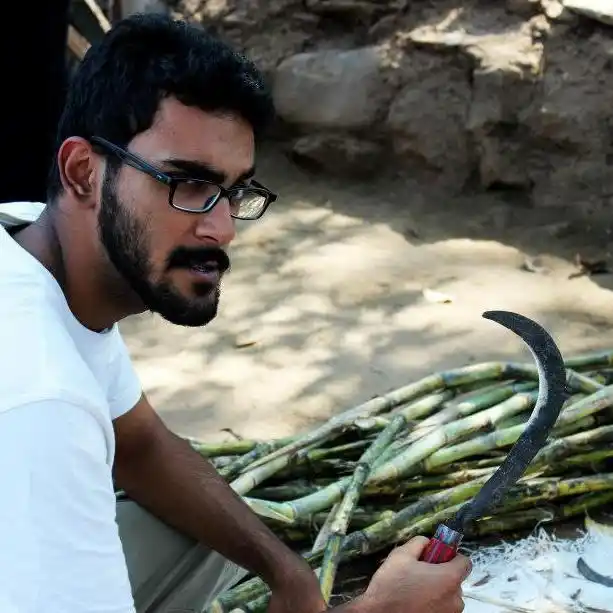 Dushyant Shekhawat really likes his mustache. He grew it himself. You can find him on Twitter at @SeriousDushyant.