Whizzing around Mumbai's gallis are the delivery boys – foot soldiers of a $16.4 billion e-commerce boom. Arré rides pillion with one, delivering everything from cupcakes to quinoa.
Arun Tukaram Bhosle is one of those nameless, faceless guys, who have insinuated themselves into our lives. Sometimes he drops off the fair-trade quinoa you ordered for your conscience after the weekend pig-out on bacon, or the iPhone 6 from Amazon for your girlfriend because today is the three-month anniversary of the second time you reached third base. Whatever is the occasion, you can't celebrate without Arun.
Part-time diploma student, full-time delivery boy, Arun works for a start-up that runs your errands. He's continuing the hoary tradition of chokra boys, or Man Fridays, employed by the British or Anglo-Indian sahibs during the Raj. Thanks to Arun and the start-up he's joined, even plebs like us, now have privilege.
Arun starts early. By 7.00 am, he's revving a second-hand Pulsar 180 – his 22nd birthday gift from his folks – packed dabba in hand. He's got miles to eat up between the one-room house he shares with his family in Byculla, to his workplace in Andheri east. He logs in and waits for the first task of the day, multiple chhota Gold Flakes marking time as he hangs with the other guys.
It's 9.45 am, time to head out. Arun is complete monsoon gear – a black-and-silver super-sized plastic jacket and matching pants. The pick-up and drop-off locations aren't far apart. But the rain tends to slow down the traffic. His deadline to complete the task is 11 am. I hop on gingerly (more off than on), open my umbrella, as we zip off. And I mean zip. He cuts lanes, narrowly misses oncoming traffic, and swears at a rickshaw that stops short of clipping us, as the downpour continues. His helmet muffles most of what he's yelling, but I catch a lot of "gandu" and "saala".
I'm all drenched when we reach the pick-up location at 10.30 am. A neatly wrapped brown parcel, weighing about three kilogrammes, is ready for us. It's handed over to us by a maid who closes the door on our faces as soon as her job is done. Arun puts it in his backpack, collects ₹300, writes out a receipt, and we're off again. The whole exercise has taken less than three minutes.
I'm a little disappointed. I think I've been fed too many stories of delivery boys who've rung doorbells, only to have the door answered by a ravishingly hot woman in some state of undress – a classic plot line that has served a million different pornos. I ask Arun if this has ever happened to him."Ab tak nahi, par ummedon pe duniya kayam hai," he says with a laugh.
With the three-kilo package now between us, I'm hanging on to dear life as my bum threatens to slide off the wet seat. The package has the allure of a mystery box. It could be anything from a brick of cocaine to severed body parts, or worse. I ask Arun if he ever wonders. He says people usually declare what's in and often don't bother to wrap stuff. But when they do, he's not troubled. If someone is making an effort to hide what's inside, it's probably for a good reason.
We make it to the drop-off location with minutes to spare. It's 11:20 am by the time we stop for a much-needed cigarette. Sutta breaks are frowned upon in this industry where time is literally money, but hey it's not like he's being geotagged. Though that day might soon be here.
When Arun calls in, the voice at the other end enquires about the delay. Arun replies nonchalantly, "Baarish hai, traffic tha, time laga," clearly not giving a damn about the time-is-money philosophy of this billion-dollar industry.
The e-commerce industry is indeed worth more than $16.4 billion, and that's good news for young guys like Arun, with basic language and math skills, and a set of wheels. I ask how much he makes every month – he hesitantly replies, "₹11,000 plus fuel bills." If he finishes 150 tasks this month, he becomes eligible for an incentive of ₹4,000. He's got his eye on that. It's his girlfriend's birthday next month, and lover boy wants to buy her something special.
I think I've been fed too many stories of delivery boys who've rung doorbells, only to have the door answered by a ravishingly hot woman in some state of undress – a classic plot line that has served a million different pornos.
We bitch a bit about Indians being lousy tippers. He tells me how once during a delivery, he had to ride to the nearest paanwala, who was a good 15 minutes away, in the rain, just because he was short on a tenner and out of change.
Arun doesn't explicitly demand tips. It's often an unspoken rule to round off the amount payable to the nearest ten and leave the difference, but people ignore the unspoken. I've waited on tables; I hear Arun's pain.
We stub out the cigarettes and I get on again and resume my questions. My words fly into the breeze – so I shout. Arun is studying for his diploma and will head overseas to work the oil rigs. This is merely a stopgap arrangement to pick up a few bucks.
We park outside a bungalow in a quiet by-lane and we're handed our cargo, two-dozen cupcakes. Our destination, Worli.
A haughty woman with a patrician nose instructs Arun on how the delicate cupcakes need to reach intact. I can hear her clearly even though I'm a good 25 feet away. We get going; the cupcakes nestled between Arun and me. The rain gods have shown mercy; the sun is out. I'm now holding on to Arun's belt hoops for dear life. After we handoff the creamy cargo, it's time for a well-earned lunch.
Baingan bhaji and chappatis are quickly eaten out of the dabba, lovingly packed by Arun's mom, and soon it's time for the third task. Someone in Prabhadevi has forgotten to make copies of his rent agreement and drop them off at the broker's office. Arun steps in. The routine is now getting tedious.
Being a delivery boy is clearly not a job for the wildly ambitious. If you stick around for years, they just might make you a supervisor or even a manager. But it's hardly a lofty dream worth chasing. It's so much easier to just move on to the next fatter pay cheque. The surge of new e-commerce companies makes "Tu nahi to koyi aur sahi" an actionable threat. The churn rate can be as high as 30 per cent per annum.
The days go and the count of tasks keep clocking in. (I swear, every time, Arun says the word "task", I picture Raghu Ram telling him to do it on Roadies). By now, Arun has gotten into a chatty rhythm. He tells me how during the final year of his electronics diploma, a serious bout of malaria and subsequent hospitalisation made him flunk. He's waiting to reappear for his exams and he's using the free time to make some money. With his father set to retire in eight months, he needs to pull his own weight.
It's almost time to call it a day. Arun needs to get home early to finish up a project as part of his final-year evaluation. He totes up the accounts, hands over the cash, and clocks out. Tomorrow he needs to complete at least four tasks, to stay on track for that incentive. He's got to factor that project detour as well.
We say goodbye after a final cigarette. Arun asks me to come by again. I get the feeling he's tired of talking to the polluted city air all day.
A few days later, I catch up with Arun. He's broken up with his girlfriend; he says she doesn't want to date a delivery boy. He hasn't been moping though. Another project is due and this one's crucial. Plus that incentive. The money is taking his mind off the maiden. He's looking forward to buying his mother non-stick pans and his younger brother a new pair of sneakers. He's going to order the stuff online and when the delivery boy comes, Arun will not forget to tip.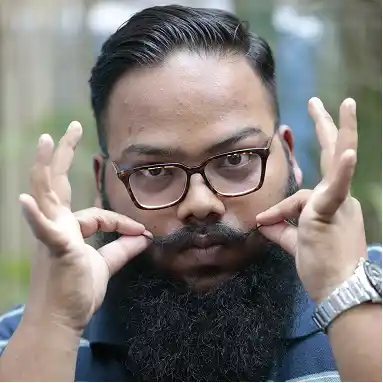 Damian loves playing videogames. If all the bounties he collected slaying zombies were tangible, he wouldn't need to write such bios. Seriously though, Damian used to be a cook who wrote, now he's just a writer who cooks.