The little blue pill ushered in a sex revolution 20 years ago. Today, Mumbai millennials continue to reap its benefits – helping middle-aged Americans boost their sex lives, over the phone.
"Yeah, the erection is a lot stronger than before, but it doesn't seem to last for too long. Maybe it's the pills, Marcus," said the voice on the speakerphone.
"Saale tu aadmi hai, ghoda nahi. Tujhe chodna hai, ya zameen khodna," Marcus aka Mayur muttered under his breath. His friends burst out laughing; I grinned in embarrassment.
"Marcus, you there buddy?" said the voice.
"Haan ruk," said Marcus, before rerouting the call through his headset, hitting the unmute button.
"Yes sir, Mr Smith… I'm right here. I was just working on your order," he said, winking at his colleagues. They reciprocated with a thumbs-up before returning to their terminals, bracing themselves to field equally bizarre queries from customers.
It was a regular day at work for Marcus and his posse of pill-pushers, who worked at a BPO that sold performance-enhancing drugs – Cialis, Tadalis, Viagra, Tadalafil. They peddled these pills to sexually anxious men in the US, whose libido had pulled a Vijay Mallya on them by taking a permanent vacation to greener pastures, leaving them high and dry in the process.
Each day at the BPO came with its own set of surprises. Some customers opened up about their most intimate sexual problems; some moaned about how they would go on for an hour when they were younger, but now they fizzled out even before the action started. Some ended up giving sagely advice on how the "kids of today" should pace themselves, so that they don't cry for Cialis when they're old and feeble.
I was all ears as Marcus dialled another number, which his computer had picked out at random from an existing database. The line came to life with a deep, slightly gruff "Yeah."
Marcus began, "Hello, am I speaking with Mr John Brown?"
Mr Brown said, "Yes, you are."
He dived right into the script, which was by now imprinted into the folds of his brain. "Hi Mr Brown, my name is Marcus. I'm calling regarding your earlier order of Levitra that you'd placed with Z Care. How's that working out for you?"
Mr Brown mumbled something about it not working as expected. Marcus was prompt to counter, "Maybe you should try some Tadalafil; clinical drug trials have proven that it works." Marcus winked at me as he said this. The drug trials he was talking about may or may not have happened and may or may not have involved primates, but Mr Brown didn't need to know that. Marcus continued, "I'm pretty sure this might work and if you have any doubts I can arrange a telephonic consult with a medical expert who…"
Company policy dictated that agents should make the customer experience as pleasant as possible, which meant avoiding long deathly silences.
Mr Brown cut him off mid-sentence and said, "You know what, I'll try that Tadalafil drug you're talking about."
Work guidelines required Marcus to make sure that the client wanted to purchase the drug. "Mr Brown, are you saying you would like to purchase this product?"
Marcus was looking for a clear affirmation; anything ambiguous could be interpreted differently. Miscommunication could get him fired or worse lead to Mr Brown filing a suit against the company for being misled into purchasing drugs that he believed would put lead into his pencil.
Mr Brown said very clearly and slowly, "Yes I would like that," sounding out each word. Success! Marcus raised his left fist in the air and logged the order into the system, routed it through the German distributor, informed his client about the side effects by reading out a disclaimer that lasted as long as his average customer did in the sack – less than a minute.
While waiting for Mr Brown to share his financial information, Marcus realised it was time to make small talk, which he told me was the most awkward part of the calls, more awkward than asking another man if his erection was good. Company policy dictated that agents should make the customer experience as pleasant as possible, which meant avoiding long deathly silences. The handbook advised them to broach safe subjects like the weather, but there was nothing weirder than asking a middle-aged man, with whom you've just had 10 minutes of dick talk, about the weather.
So Marcus followed a different route. "So Mr Brown, what do you think about Donald Trump," he asked, as he thanked God for Facebook and Donald Trump memes. Mr Brown came back with, "I don't. Hey, but aren't you in Packisthayn or something? Let me tell you this, now that that moron is in the Oval Office, you boys are done for."
I tried hard to hide my grin. Mr Brown was having his own little fun to cover the indignity of his predicament.
"Well Mr Brown, if you must know, I'm located in Mumbai which is in India. Not Pakistan," Marcus snapped into the headset.
***
Across the room, listening to a customer rant about his experience with Viagra was Susan (her real name was Afreen), her head covered with a hijab. She took off her headset while the customer went on about how he expected to last longer and Susan let out a sigh, "Ya Allah, in logon ko thodi si akal dena." Then she returned to the conversation in an attempt to calm the customer down and let him know that not all erections, even if they were drug-induced, lasted as long as men expected them to. It was also physiological.
Sex was in the air as some other agents convinced their ageing customers that they could be stallions. Taking breaks from the calls, the team traded dirty jokes, sexual puns, and laughed about sex positions and dick sizes. For all the sex talk and pep talk, they were compensated with massive incentives. Marcus made about $10,000 in 13 months, bought himself an iPhone, an air conditioner, and got his parents' flat refurbished. This job was every boy's wet dream.
Until the climax.
In the middle of one such charged day, the cops barged into the BPO, and yanked the phones. It turned out that the call centre didn't have the necessary licences to sell performance-enhancing drugs. Marcus was heartbroken about the job, but he was more crushed by the idea of his old men stranded without boners.
For Marcus and his gang, the next job did not involve changing the lives of their customers. They would go on to sell car insurance, party-wear sarees, hair-loss products, and 2-in-1 mopping sets. They would make tons of money, but none of these jobs would give them what Viagra could – satisfaction and sheer joy!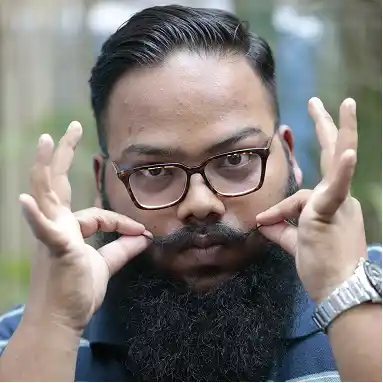 Damian loves playing videogames. If all the bounties he collected slaying zombies were tangible, he wouldn't need to write such bios. Seriously though, Damian used to be a cook who wrote, now he's just a writer who cooks.