Ganesan Moorthi is an energetic, athletic boy of 20. His striking smile lights up his entire face when he speaks about the sport he loves. But when I meet him on a grey, muggy Saturday morning on Juhu Beach, I sense a constant undertone of worry to his demeanour. He's away from home in Chennai, where he lives with his parents and younger sister in the heart of a slum. Each day away from home, pursuing his dream as a player on the Indian Ultimate frisbee team, is a day of lost pay.
Ganesan works as a dental assistant at a local clinic, to supplement the income his parents bring in: His father works as a municipal corporation worker, while his mum is a fishmonger. Ganesan, barely out of school himself, must pitch in to support his sister who is studying for a B.Com degree at a local college. His only respite from a tough life is watching a plastic disc whizz under an open sky and chasing it. "Earlier, I never liked the life I was leading," he told me. "I would just loaf around. But if I hadn't been loafing around, I probably wouldn't have found frisbee."
On another hot afternoon on another beach, Ganesan was walking along the shoreline, gazing at the endless blue sea. His mind wandered as free as his feet, until something landed on the sand beside him. A bunch of people in the distance beckoned to him to flick their frisbee back at them. And that's how it all started.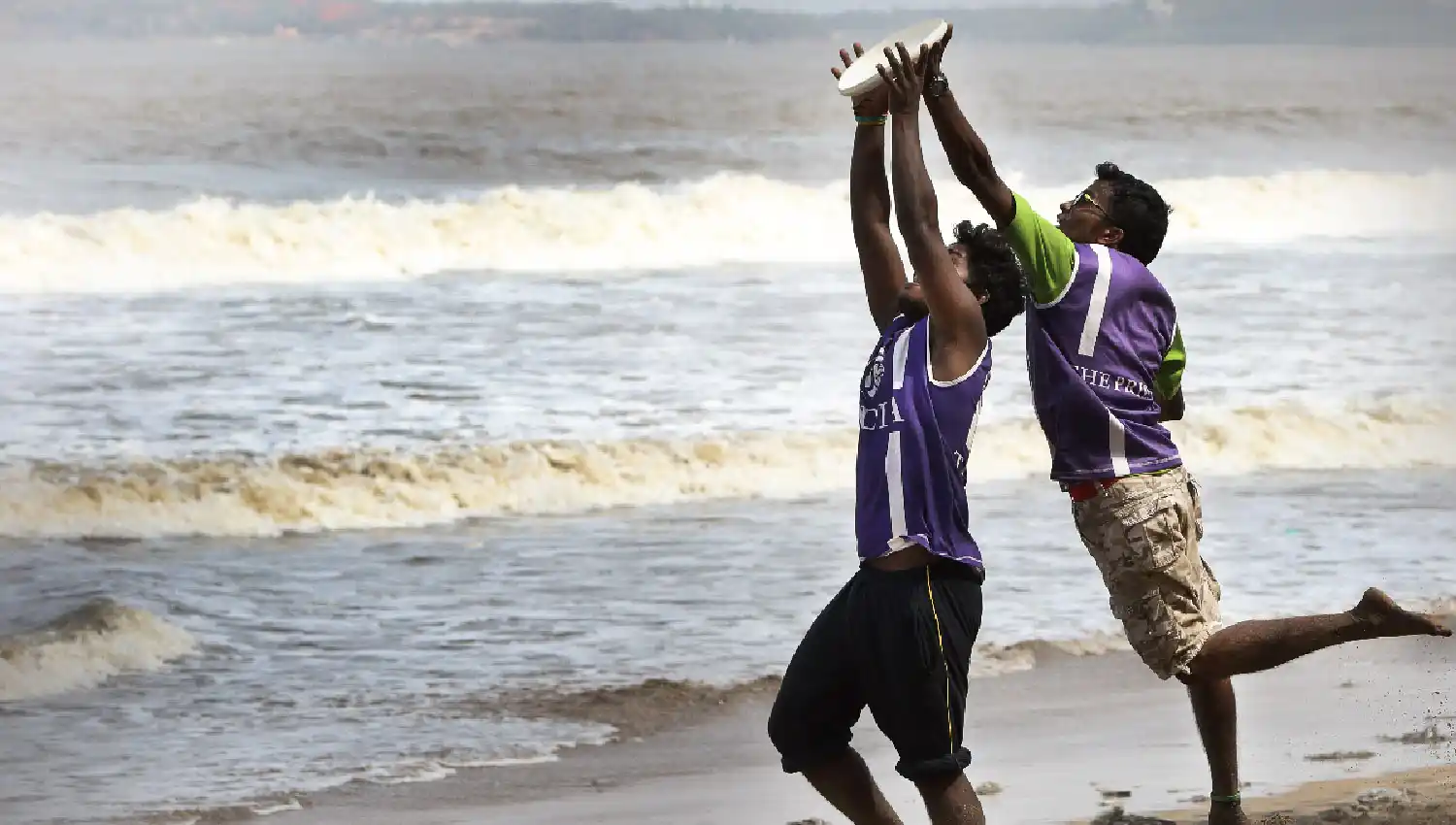 Ultimate Frisbee is usually played on a football sized field and has two 'end zones' at both ends. One must catch the Frisbee in their team's designated end zone to be able to score a point.

Pratik Gupta/ Arré
I arrive at Juhu beach at 7 am, not knowing that I am in for a surprise. I'd caught the morning train from Panvel assuming I'd have to share the beach with just a few joggers and stray dogs. Instead, the entire length of the shore – as far as I can see – is full of people and activity. It is the season's first cloudy day, so everyone's spirits are high. I'm here to meet the Indian Men's Frisbee team, the existence of which I was alerted to just a few days prior.
The stretch I am facing has at least four different teams running after their respective Frisbees, but one team catches my attention. Their disc flies around; one moment it's here, another it's flying past everyone's legs toward the end of the field, where a little girl catches it. She passes it on to another player and the dance continues. The opposing team tries to intercept it constantly, until the final catch is made by a boy in the end zone, or a kind of goalpost. A point has been scored. Cheers erupt and the whole team pats him on the back.
I walk on, looking for the Indian team. It's not hard to find them – they stand out in their bright purple "India" jerseys. Two rows of players are charging at each other, tossing the disc back and forth with lightning speed. And it's not even a match; they're doing a few drills. I can barely keep up, but I spot Ganesan right away.
It's a beautiful amalgamation of different languages and different cultures playing together in the same team.

Pratik Gupta/ Arré
Leading the crew is the 27-year-old coach Matthew Zemel, Matty to this motley crew of students, college dropouts, IT professionals, and consultants. Matty is a professional Ultimate player from Colorado, US, where he has played for national teams such as Seattle Sockeye, the Seattle Rainmakers, and even one named "Johnny Bravo" (no, not named for the cartoon character, who was introduced a year after the team was formed in 1996.) He is assisted by Ashwini Chidambaram, the first female coach in the country to be training a national squad, who helps run a slum school in Chennai. Ash and Matty are united by the singular purpose of keeping the team together. But currently, their attention is directed toward ensuring that they are able to play in London later this month.
The World Ultimate and Guts Championship is an annual tournament in London, roughly the World Cup of frisbee, and begins on June 18. But for the team that is supposed to represent the country, all is not well in the funding department. They need a total of ₹15 lakh to cover their travel and accommodation expenses, but they have been able to amass only ₹4 lakh through a crowdfunding campaign. Some of the players have taken personal loans.
In the previous world tournaments, the team has been able to scrape together enough funds with a combination of investors, sponsorships, and personal contributions. Their sponsor for this tournament, however, pulled out at the last minute leaving the team in a bit of a fix. London is an expensive city even for the reasonably well-off. But for Ganesan and his teammates, almost all of whom come from lower-income families, filling in the gaps at the nth hour is almost impossible.
That said, the team is neither short on enthusiasm, nor in any doubt over their capability. "Three of our team members are already in the Top 10 on the World Flying Disc Federation scoreboards," says Matty. "They're all really talented." In the past, the Indian team has challenged some of the best players in the world, like Germany, Japan and Portugal – and beaten them.
Their drill is over, I walk away from the beach with the team. The sun sneaks out from behind the clouds and drenches us all in warmth. The squad is due to catch a train to Surat in a few hours, where they'll begin their final training camp before the tournament. "Even though there are only five days left, we'll still practice for the event," says Ganesan. "Regardless of whether we have the money or not. No quitting." I know then that no monetary disturbance is going to cloud their spirits. They'll just go on, flicking the disc at each other, knowing that the sun will shine eventually.
You can contribute to the Indian men's frisbee team here.