Kashmir's longest ever curfew has ended. The pellet guns are silent, but the wounds are not easy to heal. Mir Suhail's cartoons bear testimony to the scars of his homeland.
There was once a five-year-old boy who would wander through the streets of downtown Srinagar, marvelling at the beautiful green valley where he lived. When the child would eventually find his way home, he'd go straight to his crayons and begin putting those various shades of green on paper.
As Mir Suhail grew up and started school, the drawings of his emerald purlieus gave way to doodles and caricatures of his classmates and teachers, hemmed into the margins of his notebook. Alphabets were alien to him. His ammi would often be called to school to make him stop sketching and focus on studies. But it was water off a duck's back.
In this carefree, doodle-filled childhood, Mir Suhail had made a special friend, a strapping twenty-something boy in the body of a man. Ismail, who lived next door, was deaf and mute; his mind hadn't developed beyond the age of 10. Mir adored Ismail for two reasons: He smiled a lot, and he was a great climber. Mir and his army of tiny seven-year-olds would climb on Ismail's capable shoulders to scale the walls of the locked garden near their house. Ismail was also his companion on long, meandering walks. When they were not out climbing walls or wandering the streets of Srinagar, Mir would draw and Ismail would sit next to him, clapping joyously every now and then, whenever Mir made something he liked.
Then one day, Ismail disappeared.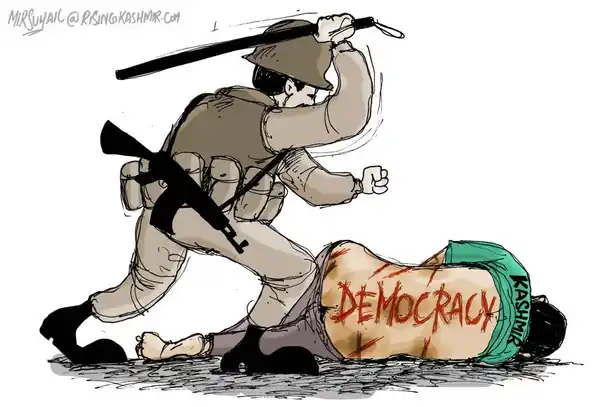 Courtesy: Mir Suhail
This was the turbulent 1990s, when insurgency was at its peak. Change had come to the Valley, and wandering was no longer allowed. Especially for boys who looked a lot like men, even if they were just kids.
That day, ammi warned Mir about a curfew in the city. He didn't understand the word – all it meant to him was that it was a "no-play day". Grumbling, he went back to his sketchbook, when suddenly, two loud gunshots reverberated through the neighbourhood.
Mir ran towards the door, but ammi stopped him. He paced the house restlessly for hours. From a hole in the compound wall of his house, he could see a uniformed crowd of mostly cops and the military. Even though he was just seven, he knew something had gone terribly wrong.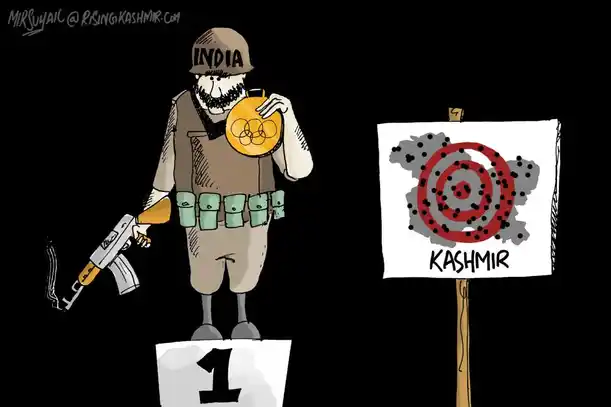 Courtesy: Mir Suhail
Later, ammi told Mir that Ismail had wandered onto the streets. The police had called out to him, but he hadn't responded. They called again, but Ismail continued walking. The police had no idea that the boy they were yelling at, couldn't hear them. After several warnings, they shot him.
The next day, Mir walked down that lane swarming with gun-toting cops. The silence was eerie. Ahead of him was a dark, bloody stain on the asphalt, now dried to a crusty black in the morning sun.
It was all that was left of his smiling friend.
***
The 26-year-old young man I meet at the newly opened café on the banks of Jhelum in Srinagar's Polo View Street is serious-faced. He rarely smiles. We sit in the restaurant decorated with the creations of local artists. Behind us, the sun hits the wall adorned by intricately carved, latticed wooden windows, the architectural hallmark of Kashmir.
Ismail's story hangs over us like a tragic cloud. When he reaches the end of his story, we're both transported back on that street, staring at the patch of blood and wondering at the senselessness of the boy's death. Ismail's face may have faded from his memory, but Mir's anger has endured. The stories of youth, who've lost their lives without reason, have continued through Mir's growing-up years – their blood stains linger in Srinagar's streets.
The happy pictures of Mir's beloved Kashmir and doodles of his friends have given way to darker material. His sketches are fierce strikes against the people and politics that have assailed this once-pristine Valley – military forces, bunkers, and army camps. The past, for this young cartoonist, is never really the past. It bleeds through his cartoons.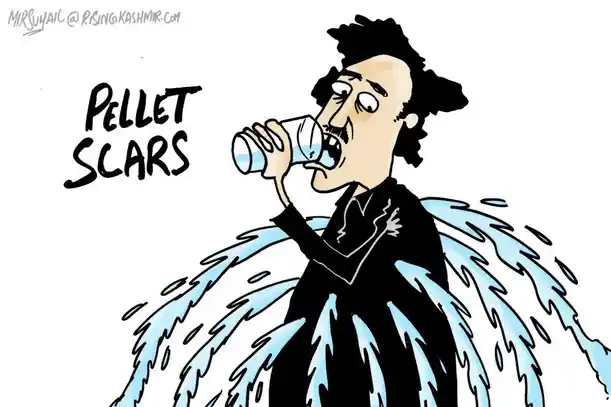 Courtesy: Mir Suhail
As I glance through the drawings on Mir's laptop, I'm struck by how the disappearance of the Valley's innocent boys continues to reappear in his work. "Every day, a young Kashmiri was killed. And with each death the memories of my friend would rush back," says Mir, who became a recluse by the time he reached college. "There were two Mirs living inside me," he says, hauntingly. "One pushed me to kill myself, the other urged me to hold on."
The only reason he has been able to hold on, is because of his work. His cathartic drawings and cartoons work as balm on his unhealed wounds. Mir is a political cartoonist for a local publication, but his pain is being witnessed across India. This youth from Kashmir has more than 39,000 followers on his Facebook page; his artwork is shared by hundreds every day. He puts up cartoons that scream out against the injustice meted out to his land, but dabbling with humour and sarcasm in a strife-torn zone comes at a price. Hate mails are common, as are death threats, most of them from those living far away from the stark reality of the Valley.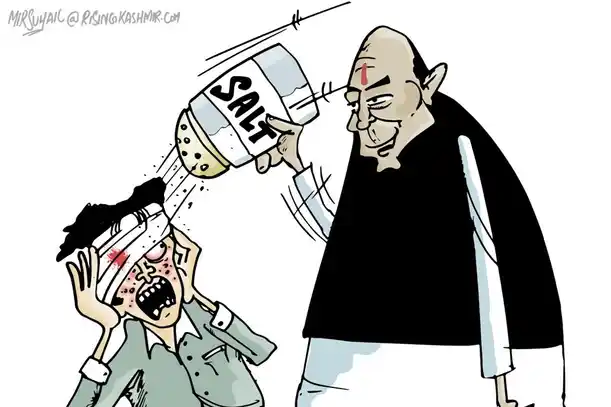 Courtesy: Mir Suhail
In February, when Mir put up a cartoon in remembrance of Afzal Guru's death anniversary, it was pulled down by Facebook and his account was temporarily blocked. Mir took to Twitter and Facebook's censorship drew sharp reactions from netizens. According to the media watch website the Hoot, it was the first episode on the social networking website that furthered evidence that free speech was being muffled by soft censorship.
But it hasn't fazed Mir. He continues to upload voraciously, each cartoon more acerbic than the other.
Around us, the cold afternoon quickly descends into much colder and darker hours, and Mir gets up to leave. "Through my art, I try to understand and play with my pain," he tells me as I bid him goodbye. I can't help wondering whether this young man's voice will one day be silenced by the politics that claim his land, but I know Mir will go on doing what he does. The memory of Ismail's blood on the road won't let him stop.
* The name of Mir Suhail's friend has been changed.
Majid Maqbool is a Srinagar-based journalist.