Ranjeet Wadhwa has been "saving innocent lives" for two decades. A wedding detective, he spies on prospective brides and grooms to rule out alcoholism and affairs.
Neha* had spent the past month dreaming of the Jersey shore. She had grown up in Mumbai by the sea, but the distant American shore was all she could think about. In a few months, she would be there, with her husband by her side. Neha was engaged, her family had found her match on a matrimonial website and after a few quick meetings, the wedding was "fixed".
In the Indian matrimonial pecking order, NRIs have been the cream of the crop ever since the first man left for Canada from Punjab, more than a century ago. But in recent years, with a spate of reports about abandoned brides and swindled dowries, the bubble has burst. So, as a final check on their list, somewhere between Facebook stalking and sending out invites, Neha's family decided to hire a private detective to do a background check on the American groom.
They turned to Ranjeet Wadhwa, a detective with an international network of sleuths at his disposal, who informed Neha and her family that the NRI groom was already a suburban dad. He had a wife, and kids tucked away in New Jersey, while he was looking for a desi girl in Mumbai. Wadhwa refuses to answer more questions about the case, but he does stake claim to, "saving an innocent girl's life".
Wadhwa has been "saving lives" for the past two decades. It started as a part-time job at Globe Detective Agencies, an institution of sorts in the world of private espionage, while he was pursuing a law degree. He soon gave up the degree to become a full-time sleuth and after ten years of that, he started his own agency. The business started to boom just as the first Indian matrimony websites set up shop, somewhere in the late 1990s.
When it comes to the modern Indian wedding, Wadhwa has a front row seat to the circus.
***
When I go to meet Wadha, a child opens the door and lets us in. The room has all the trappings of a middle-class home, the large image of the household's deity of choice, fake flowers in a vase, a well-used couch. But we have just stepped into the office of one of the city's most popular detectives. His specialty? Vetting prospective bride and grooms, before they tie the knot at a big fat Indian wedding.
Wadhwa, a tall, stern-looking man dressed in a white shirt and dress pants, fits the popular image of an officer of law. But behind the curtains, which divide this office from his family home, one can hear the familiar sounds of domesticity: a child being reprimanded, the histrionics of afternoon soaps, evening tea being prepped.
Marriages are made in heaven, but a background check is done here on earth. No one wants a private detective to burst the bubble of holy matrimony.
Wadhwa tells me that his office rarely has visitors even though his agency handles up to 12 cases of matrimonial investigations every month. Most of the interactions happen over emails. "Pre-mat" investigators like Wadhwa have stepped into the void that was earlier occupied by the offline social network comprising extended family, friends, and acquaintances. When a marriage was arranged by a family earlier, there were many hands on board willing to help check out a prospective bride or groom (and even the feared mother-in-law). Now, when several matches in urban India are arranged over matrimonial websites, families have little to no help in figuring out the backgrounds of the people they are yoking themselves to.
Marriages are made in heaven, but a background check is done here on earth. No one wants a private detective to burst the bubble of holy matrimony. But in this small room in Chembur, a middle-class burb in Mumbai, business is booming.
Wadhwa has seen enough to know that the internet is one of biggest maladies plaguing modern marriages. It is too easy to create a false persona on a matrimonial website, Tinder is an accessory to infidelity, and without the checks and balances of the traditional matchmaking arrangements, which involved nosy aunts and uncles, you could be conned into a dream wedding, followed by a nightmarish marriage.
Today, Wadhwa employs 12 investigators, two of whom are women. The men are used for stake-outs while the women befriend neighbours, household help, and acquaintances to dig out dirt on prospective brides and grooms. The most important repository of information, are guards and watchmen who keep an eye cocked at all the comings and goings. Household helps are invaluable in gauging the temperament of, say, a mother-in-law.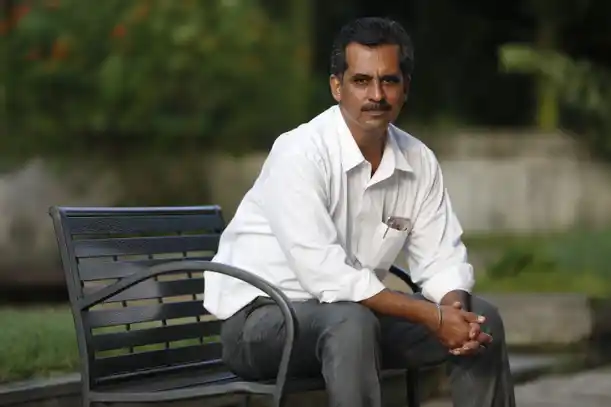 Ranjeet wadhwa's specialty is vetting prospective bride and grooms, before they tie the knot at a big fat Indian wedding.

Pratik Gupta/ Arré
Wadhwa is unwilling to divulge his methods, but India's thriving pre-mat investigation businesses employ all the tricks of the trade that can be found in a cheap detective railway read. Surreptitious gadgets, ranging from spy cameras hidden in pens and buttons, tiny voice recorders, hold the key to capturing evidence of perceived transgressions. Disguises are common in this line of work: The foot soldiers of these agencies routinely dress as beggars and household help to keep a watch on a subject.
Wadhwa tells me, that when it comes to men, an inflated pay cheque is the most dreaded red flag. For future bahus, nothing turns off families sooner than being seen at a bar with an amorous man in tow. Then there is the matter of the social and financial status of the families themselves. To gauge the last, some detective agencies get their employees to pose as bankers, who make calls or meet the families and attempt to pry out information – a tactic dangerously close to those employed by phishing experts. And if a family is concerned about a prospective bride or groom's sexual preference or fidelity, the detective agency can even set a "honey trap".
Wadhwa has left a trail of cancelled shaadis behind him, but like everything about the billion-dollar Indian wedding industry, this is a hugely profitable business. He charges ₹8,000 for a day of investigation and the average length of one of these operations is ten days. But Wadhwa believes that ₹80,000 is a small price to pay for the honest truth. Not all the people Wadhwa investigates, turn out to be liars. Some go on to get married with varying degrees of success. For those people, Wadhwa offers post-matrimonial sleuthing – when you find out that your husband is in fact an alcoholic who lied about everything.
Neha's name has been changed.
Kripa Krishnan is a Delhi girl living in Mumbai, she is a hunter-gatherer of information and has spent the past decade justifying her love of both Germaine Greer and misogynistic rap.