"The wounds smell of dead rats, and when doctors clean them, you feel the scrub down to the bones." As if an acid attack weren't cruel enough, victims, not perpetrators, are thoughtlessly shunned.
I've lived in Mumbai all my life, and this was the first time I was boarding a local train to Nalasopara, a far-flung Mumbai suburb – perhaps the last bastion of real estate in the city, a piece of which low- and middle-income families can dream of owning without pawning their lives for a home loan. I reached Sairabano's locality, hop-walking over rivulets of smelly septic waste on a kachcha road, and first saw her in the window of her tenement overlooking the building passage. The room was dark, bringing the shafts of light falling on her into sharp relief. She'd left her long dark hair open, held away from her broad forehead. But I was looking for the scars – I noticed the lighter lip skin and the darker scar tissue on the left side of her face, running from her upper lip to the length of her sharp nose. Beneath shapely eyebrows were kohl-framed eyes, with slightly unmatched lash lines.
I had walked in on a battle of wits between Saira and her daughter Alina. The 10-year-old wanted to go down to play. It seemed inopportune to interrupt this homely scene to ask Saira about her life's biggest tragedy.
October 4, 2010. 10.45 pm. The second commercial break on (Mann Kee Awaaz) Pratigya was on when Saira's sister Najma Jagirdar doused acid on her and their two other sisters Daulat Bi Khan and Reshma Sheikh over a financial dispute. Alina, only one-year-old then, was in her mother's lap when they were attacked.
"Staying alive was a major struggle. Life got very difficult," remembers Saira. "Daulat and Reshma were divorced. The only male adult around was my husband, Irfan (Baig)." Saira says she gave him the choice to leave. Irfan chose to stay. "He looked after us for months; cleaning our wounds, while we couldn't even dress ourselves. He's my saving grace," she smiles.
Irfan, who is from Lucknow, came to the city as a zari worker. His first interaction with Saira was at the Haji Ali dargah. When Alina hears this, she quips, "Is that why you visit Haji Ali so often, mummy?" The fifth-grader had remained nonchalant through the conversation, even during the bone-chilling details of her injuries and future risks. The corrosive liquid had damaged her face, back, and melted a portion of the back of her head, and maggots had festered millimetres away from her brain. A new bob now shields the vulnerable portion of Alina's skull after a boy in school poked her there with a pencil. "Doctors say that even the slightest injury to the spot cannot be risked. Every year, I meet all of Alina's teachers and request them to take care of her," says 34-year-old Saira.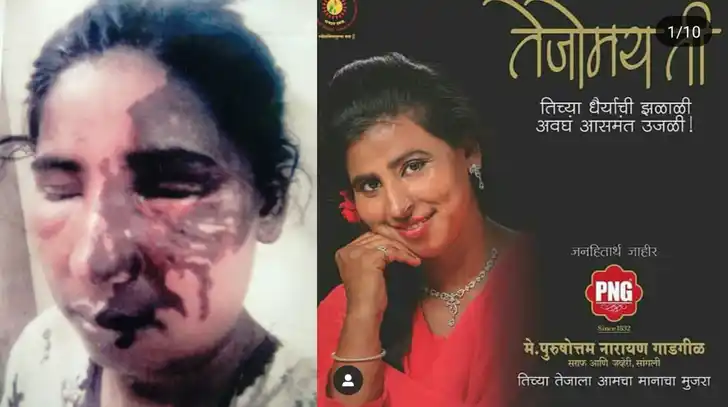 (L) Saira immediately after the incident; (R) Saira, among other acid victims, was also featured in PNG jewellers ads in the past.

Saira
Over the years, Alina's scars have diminished. Most of her face has also recovered except singed eyebrows and scar tissue on her nose, which bring on major bullying at school. "They call me 'jaleli' (burned), and say my name should be Jalina, not Alina," says the girl, who dreams of becoming an actress one day. She tells me she gets back at them by punning on her bullies' names. She's learning to chin up with Saira's constant ministrations: "I tell her, you've watched your mother ignore them, you also learn to ignore."
When the pain from the acid subsided, Saira had to deal with the very real struggle of returning to society.
I take that moment to make a silent plea, wishing hard that Alina has an easier time. As if an acid attack weren't cruel enough, victims, not perpetrators, are thoughtlessly shunned.
Saira recounts those days: "The wounds smell of dead rats, and when doctors clean them, you feel the scrub down to the bones." As soon as it was possible, Saira walked out of the hospital. But as fate would have it, a series of family troubles ensured Saira hardly had time to think about her own wounds, let alone her fate. When the pain from the acid subsided, Saira had to deal with the very real struggle of returning to society.
Eight months after the accident, when Saira moved into the building she now lives in, she had to live with her door and windows sealed shut. "Whenever I'd step out, people would scamper back into their homes as if they'd seen a ghost," she says. The next-door neighbour, in charge of collecting the maintenance payments, wouldn't even open the door for her – she'd just open the window a crack, take the money and slip out the receipt.
The isolation brought on depression and suicidal thoughts until she made a friend, two-and-half years after the attack. "People would ask my friend how she could stand to see my scary face. Asma didn't care. Rather, she'd question their morals; ask them how they could treat a fellow human being like that. Slowly, she started taking me out with her. She gave me a lot of support, she reminded me that I was human," says Saira. "It's all that we survivors need".
Actually, acid attack survivors need much more than that one friend. Their daily battles include things like weather, for instance. "Doctors say don't go near the gas at all, it aggravates our scar tissues. Then when it gets colder, my hands and legs cramp; in summer, there's mad itching. And if we get wet in the rains, the skin starts pulling," she tells me. Multiple graftings have made Saira's legs weak so she can't stand or sit in any position for long. There is no peace in sleep, either. "With damage to both my arms, I cannot sleep on my sides; and Alina cannot lie down on her back, even after so many years," Saira says.
That's quality of life taken away from them forever – no money can buy that back. As if reading my mind, Saira says, "You know, acid is so easily available; people need to learn that throwing acid on someone takes only a moment, but it burns your victim and their families for the rest of their lives." As I write this, I hope Saira's words reach as many people, even those ABVP students, who claimed on national television that they were told to arm themselves with lathis and acid.
As if an acid attack weren't cruel enough, victims, not perpetrators, are thoughtlessly shunned.
Saira spends a lot of her time now trying to be a better role model for Alina. Three years ago, the sisters, led by the oldest of the three survivors, Daulat, even set up an NGO, Saahas Foundation for victims like them. Unfortunately, Saira says, she and Daulat are now estranged, and she has no connection with the NGO.
To provide her children with a secure environment, Saira says she has to speak up. Tired of being shunned by her neighbours, she once confronted everyone at a society meeting. "I asked them all upfront what my crime was? Their antics were affecting my daughter, and she had made no mistake. We are just human," she said and walked off. She did not win them all, but her assertion made some revisit their behaviour, she says. She also stopped keeping her door and windows shut.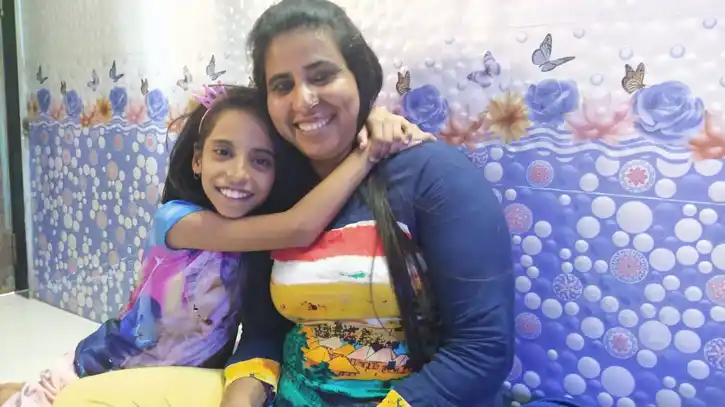 Saira and her daughter, Alina, 10 years after the incident.

Saadia S Dhailey
Saira is okay with earning a reputation for her badassery; all that matters is doing the right thing, she says. She's also a favourite at the local mahila mandal, where she is often called whenever an errant husband needs a good scolding. Her efforts to be outgoing are working, as Alina beams, "Mummy is like a leader."
Saira considers herself among the lucky few who could minimise her facial deformity. It didn't come easy or cheap. Countless surgeries over seven years, many of which were done at government hospitals had to be done again privately, with help of aid from NGOs. Her arms still need corrective surgery. For now, she hides those scars under her sleeves. And Alina's treatment can only begin once she's an adult. The Baig family have welcomed this limbo. The birth of Mohammed Aydin two years ago has brought more light into their lives, says Saira. "I couldn't even breastfeed my son properly because my breast was scarred in the attack. But he's a happy child."
She doesn't care anymore that the sister and her family who attacked them spent only three months in jail after being sentenced to 10 years. "This wouldn't have happened in a foreign country. I am too tired to fight. Where is the money? I'd rather spend my energies raising my children."
Irfan, who now works as a loader at the domestic airport makes enough only to feed the family. Saira spends her days raising their children, a day that Irfan also waits for. He wants to wrap up his familial obligations, so he can finally seek justice for his wife and daughter.
One can only guess what that means. As the world goes to watch Deepika Padukone essay an acid attack victim in Chhapak, I've met a real-life one. Hopefully, her story will also have the kind of closure the film does.

Saadia S Dhailey is a Mumbai-based writer-researcher, who quit full-time journalism to explore stories on her own.