Irshad was chatting with Yakoob, when his friend was shot in the abdomen, and killed. The story of a child from the Valley who became a person of interest.
Ispent 2010 in Kashmir where the police and security forces shot and killed 124 unarmed men, women, and children. Some of them had demonstrated on the streets against the "Indian rule" in Kashmir. Notices for central Kashmir's "most wanted persons" went up around town, featuring a string of young men, all wanted for stone pelting. Irshad* was one of them.
Early one summer morning in 2010, I walked into Irshad's neighbourhood. Interrupting a cricket game on a curfewed street, I asked a few children about this most wanted criminal. Pointing to a hill, they yelled for him. Trudging down a slope was a boy who pulled up the neck of his shirt to cover his face. It was Irshad. At 14, he already knew the implications a camera could have on his life.
Whatever I had expected Irshad to be, it wasn't this. I asked him if we could talk in some quiet place and he led me home. Why had a boy as young as him thrown stones at the police, when he knew the danger it entailed?
"Why do they (security forces) commit atrocities? Why do they hit us and misbehave with women," he asked me, in his modest home. I had no answer.
Irshad's journey to the "most wanted list" started on a winter afternoon earlier that year, when he was on the street with his older friend, Yakoob. They were playing carom when suddenly out of nowhere, Yakoob was shot in the abdomen. It wasn't uncommon in those days for security forces to start open fire on the street during protests. But there were no protests around.
Irshad told me he removed his shirt to cover Yakoob's stomach wound but he was losing too much blood. Yakoob who used to take Irshad for rides on his scooter and played cricket, died en route to the hospital. "He died. We didn't make it to the hospital," he recalled. That is when Irshad took to pelting stones. The personal had become political.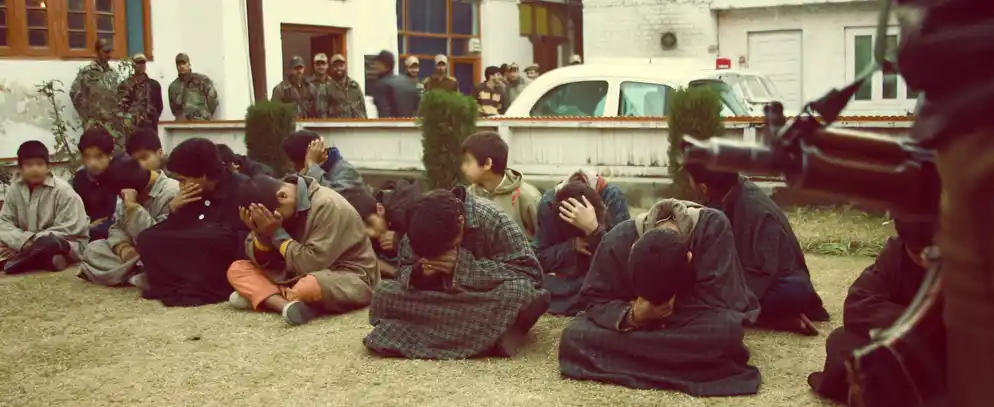 At 14, Irshad was Kashmir's most wanted criminal.

Pratik Gupta/ Arré
After Yakoob's death, Irshad had a hard time eating or sleeping. He still carried the bullet cartridge from when Yakoob was shot. Irshad held out the cartridge to me. "This is what killed him," he said. I took it and rolled it between my fingers. I still have it to this day.
Irshad's father saw the cartridge in my hand. "Take it," he said. "As it is, they are after him for stone pelting. If the police find this on him, it could be much worse."
Irshad's father was 50 years old. He knew only too well who would win the battle between a stone and a bullet. He had been dragged with his 70-year-old father during a police raid, when the hunt for Irshad was at its prime. Previously, the police raided his house, assaulted and detained Irshad's father and grandfather, while Irshad sped away on a bicycle, right under their noses. The police had no idea that the 14-year-old who cycled past them was the one they were looking for.
I left Irshad's house, shaken. When I went to Kashmir in 2015, I wanted to meet Irshad to see how he and his family were doing. I'd always wondered what became of him; I'd always looked for his name in the list of the dead that Kashmir generates on a daily basis. That tends to happen to all those who have friends in the Valley.
In 2015, I tracked Irshad down on the phone and asked him to meet me. He sounded different, older and evasive. After several promises of meeting me, Irshad didn't show up. I ended up waiting for hours at our appointed time and place — twice — but there was no sign of him. I had no choice but to give up this idea of meeting a kid who clearly didn't want to show up.
Suddenly it all made sense to me. His desire to not meet me, his promise of showing up, and then disappearing. Irshad was forced to be a drug addict.
Days later, Irshad's name cropped up in an interview on camera with another protestor. While interviewing him about torture, he recalled how during the same period, his friend, a very young stone-pelter, was sexually tortured with knitting needles while in jail.
I confirmed Irshad's identity by asking him where he hailed from. There was no mistake. This was my friend Irshad, all right. The boy I was interviewing went on to reveal details of what happened to Irshad. I could only cover my mouth in horror as the camera rolled.
The boy recollected how he had to accompany Irshad to the toilet (as he was unable to walk on his own) where he would howl in pain because of the damage done to his body by the female officers of the Central Reserve Police Force. "I would hold him in my arms, he couldn't even sit in the toilet," he said. "Finally, the authorities hooked him on to drugs in jail. They've done this to a lot of underage boys. Because of the pain, it's easier to get them addicted," he alleged.
Suddenly it all made sense to me. His desire to not meet me, his promise of showing up, and then disappearing. Irshad was forced to be a drug addict.
On the flight back home, I regretted not having tried harder to meet him. Back home, rolling the hollow cartridge between my fingers, I wondered if Irshad would meet Yakoob's fate or if drugs would consume his life. Either way, the 14-year old I'd met five years ago, was gone forever.
*Name changed
Dilnaz Boga is a Mumbai-based journalist and researcher.