In the week before the release of Haider, Sumaiya Nazir was eating arguably the best kebabs at Khayam, a street-food stall in Srinagar. Khayam wasn't really the original name of the kiosk – it had been appropriated by the stall owner after the iconic Khayam Cinema transformed into a general hospital. The facility stood across the street where Sumaiya ate her lunch in the late September sun. But even as she ate, all she could think of was how beautiful it would have been to watch Haider at Khayam.
Sumaiya was a die-hard Shahid Kapoor fan and now his most acclaimed film, about her beloved homeland, was about to release. She'd read about the film obsessively in newspapers and over the Internet. What made it even more irresistible was that the screenplay was written by the famous journalist Basharat Peer, a legend among locals here.
Woven in the backdrop of the 1994 militancy, most of Haider was shot right here in Srinagar, a few kilometres from her house. Sumaiya didn't want to settle for the grainy, pirated movies that she picked up from Ghanta Ghar or simply downloaded via torrents on her laptop. She wanted a 70mm screen with Dolby surround sound, the works.
It was an experience she'd only heard about from her aunts and uncles, stories from back in the day when glorious cinema halls dotted the Valley – Neelam, behind the civil secretariat; Palladium and Regal in the city centre; Naaz, near a park named after famous Urdu poet Iqbal; and Shah, Firdaus, Khayam, and Sheraz in downtown. Watching movies at these renowned theatres, wrapped in their finest shawls, was not just a cinematic, but also a social experience for a whole generation. But those days were long gone.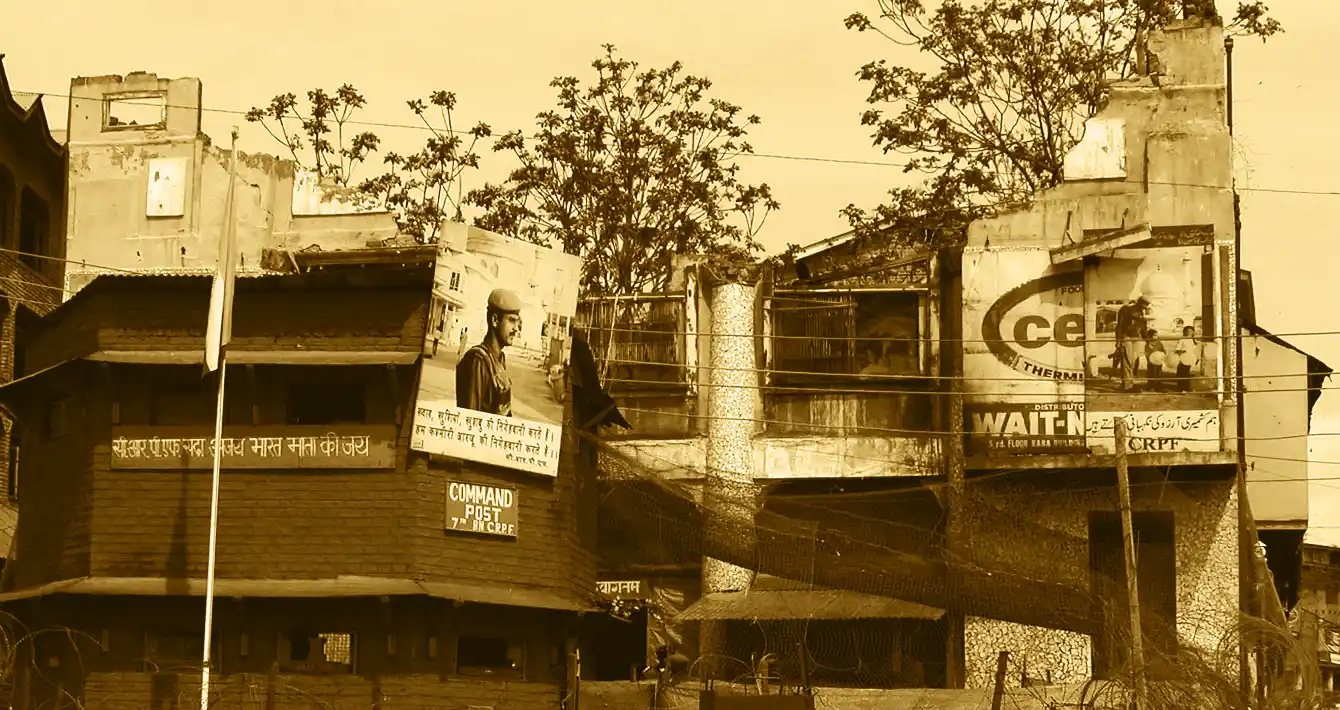 It's been 18 years since a film was last screened in Kashmir.
Courtesy: Faisul Yaseen
Sumaiya belongs to a generation of Kashmiris who have grown up without ever having watched a movie in a cinema hall. Theatres were the first casualty of conflict in the Valley. In 1989, Allah Tigers, the now-defunct militant group, issued a diktat for their closure: Films were branded "un-Islamic" soon after armed insurgency broke out in the region. They threatened to set cinema halls ablaze, prompting owners to shut shop.
Today, more than a dozen of Srinagar's famous theatres lie in ruin. Some have been razed to the ground. Khayam, the one Sumaiya imagined watching Haider at, had gone through several avatars. First it was used as a playground for cricket-loving children, then, a compound for military personnel to assemble suspects during crackdowns, before finally being revamped as the Khyber Medical Institute. Where once people lined up to be transported to other worlds, they now lined up for medical treatment.
As Sumaiya got up to pay her bill, she looked up at the facade of the hospital, imagining the grand opening Haider would have had and the conversations it would have provoked, had conflict not eroded their lives. But then again, she thought to herself as she left Khayam, there might not have been a movie like Haider in the first place.
***
It's been 18 years since a film was last screened in Kashmir. The state's efforts to revive the movie-going culture have flopped. In 1997, the re-opening of Broadway in the high-security zone near the Indian Army's Badamwari cantonment remained a non-starter. Three years on, a grenade attack ensured a no-show at Srinagar's Regal cinema.
The skeletal remains of several of these theatres now stand in desolation, many without the dignity of new avatars. Firdaus has been fortified with a razor-wire fence, and surrounded by bunkers – some lying vacant, some with soldiers keeping guard. Inside a large hall are vacant rows of broken chairs, a Kalashnikov left on one, a riot shield on the other. The theatre that once hosted the premiere of movies like Sholay has moved with the times, and transformed itself into a military barrack. A torn movie poster and memories of old-timers are the only reminders of its colourful, musical past.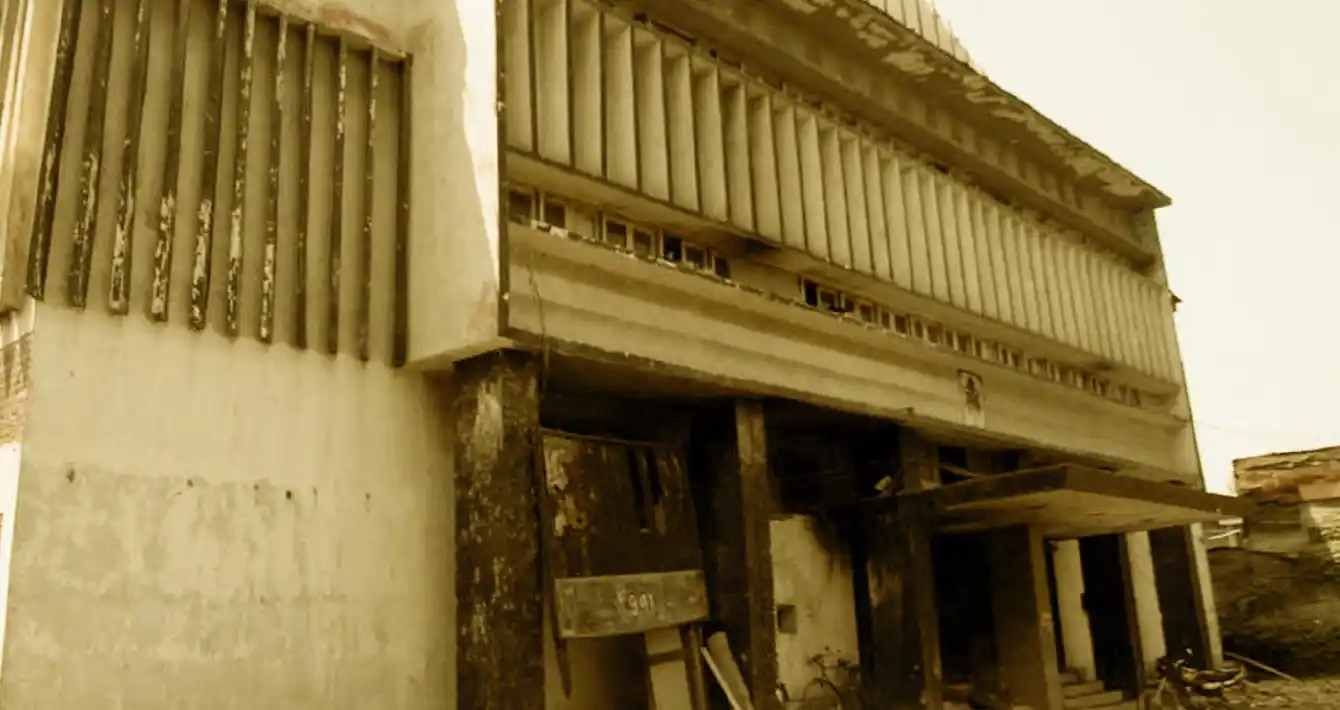 The skeletal remains of several of these theatres now stand in desolation, many without the dignity of new avatars.
Courtesy: Faisul Yaseen
The impact of a generation not reared on cinema is not as straightforward as one would imagine. For some of Kashmir's political leaders, the Libyan historical action film Lions of the Desert, became a turning point of rebellion. For others, especially the generation reared on the Internet, a lack of movie halls means democracy of content. They don't need the limitations of the box office. Sumaiya, like the rest of her generation, watches everything from Hollywood, Iranian, Spanish, and Italian cinema – especially these days when the box office is less about Lions of the Desert and more about Luv Shuv Tey Chicken Khurana. But Haider was different.
Back home, as she scanned through torrents for Haider, she overheard her brother saying the two words that made her eyes gleam. Business trip. A handicrafts dealer, he was heading to Delhi. Sumaiya was ecstatic. If Haider wasn't coming to the Valley, the Valley would go to Haider.
***
Today, two years later, Sumaiya can recall every detail of her first big-screen experience: the clothes she was wearing, the blast of air-conditioning in the multiplex, being surrounded by other fans, the supersized popcorn container, the unbelievably comfortable recliner seats. Nothing has escaped her memory of the event. Going to the theatre, for her, was no less exciting than attending a big, fat Kashmiri wedding. Her only regret? She didn't save the movie ticket. "I should have preserved it as a souvenir," she sighs. But she was lost in the moment – the movies, the magic, the madness.
As for Haider, Sumaiya, like most Kashmiris, loved every moment of the film. Two years after its release, it is still a rage in the Valley, the most downloaded and circulated film in the state. No other film deserves a 900-km trip. A simple download will do.
This is an updated version of an earlier article.
n of an earlier article.