The ideology of Savitribai Phule, whose birth anniversary we celebrate today, was very simple: To have people treated as equals. In a time when discriminatory laws are being passed and the definition of citizenship is being amended to suit the establishment's narrative, it's an ideology that demands our attention.
The end of the last decade marked the beginning of a modern Indian revolution. If in 2019, this revolution was still in its making, it goes without saying that the 2020s already feel like the decade that will be defined by its dissent. The year that started with protests against the Citizenship Amendment Act and the National Registry of Citizens, that further marginalised groups already deemed as minorities in India, ended with farmer protests. As citizens of India put their best step forward to fight against social injustice, it's hard to not invoke the memory of Savitribai Phule, a woman who stood for these very ideals.
Born on January 3, 1831 to parents who belonged to the Mali community – now regarded an Other Backward Caste (OBC) – Savitribai was married to a 13-year-old Jyotiba Phule at the age of nine. But Savitribai was more than just a child bride and a wife. Having been refused education due to her family's social status and her gender itself, Savitribai Phule went on to don the varied roles of a social activist, teacher, and poetess in the near future. Not only did she fight for everyone's right to education along with her husband Jyotiba, she also pioneered feminist movement in India at a time when such activism was punishable by law. But Savitribai was not one to be silenced as she championed the cause of women, widows and Dalits in 19th century India.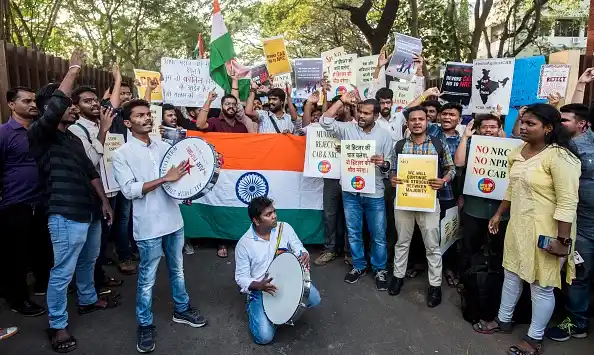 Students stage protest against CAA, NRC and Delhi police crackdown on Jamia Milia Islamia University in Delhi, outside the main gate of Mumbai Universitys Kalina campus, on December 16, 2019 in Mumbai, India.

Photo by Satyabrata Tripathy/Hindustan Times via Getty Images
In the environment that young Savitribai grew up in, public schools weren't a norm; Brahmins were the only caste group with the privilege to receive an education. There were only a few missionary schools which had been "open to all" at the time. Savitribai was homeschooled by her husband until she pursued a teacher's training course under an American missionary institute in Ahmednagar and then in Pune's Normal School.
Given the struggle that was getting an education for herself, Savitribai was determined to make it easier for other women. At the age of 17, Savitribai along with Jyotiba, who was 21 at the time, opened the country's first school for women back in 1848. In the face of caste-based hierarchy this was an act of rebellion. Her walk to school was met with people hurling stones, cow dung along with verbal abuses at her. It could not discourage the determined Savitribai who instead decided to carry an extra sari while going to work.
Besides striving to provide education to women and people of the backward class, Savitribai also worked towards stopping child marriages and sati.
Besides striving to provide education to women and people of the backward class, Savitribai also worked towards stopping child marriages and sati. She initiated the first Satyashodhak marriage in 1873 – a marriage without dowry, Brahmin priests or Brahminical rituals – providing a safe space for inter-caste couples willing to marry.
In that sense, Savitribai's ideology was very simple: To have people treated as equals. In the rise of the current conflicts and state of unrest nationwide, this ideology demands our attention. The anti-CAA protests that started at Jamia Millia Islamia last year and stirred a wave of campus protests across the country are after all, nothing but a fight for equality. In India today, the farmers are agitating for their right to livelihood and Dalit voices are demanding justice. Nearly two centuries later, a 34-year-old Bhim Army leader Chandrashekhar Azadpolitics can very well align with Savitribai's beliefs. Both Phule and Azad are not only Dalit crusaders but also as anti-caste reformers reflect the need of an India without the barriers of a social hierarchy. 
Today, it is time to remember the contributions of Savitribai Phule more than ever.
When Mavis isn't missing the sea, she cries over anime OSTs and decodes the Bangtan Universe.