Aamir Bashir has been around in Bollywood for two decades now. But it is only in the last two years, riding on the back of stellar performances in Gurgaon, Sacred Games and Inside Edge, that the actor is finally commanding attention.
Back in 2017, while watching Shankar Raman's criminally underwatched Gurgaon, a dark and disturbing tale of greed, I was equal parts moved and perturbed by Bhoopi Hooda, the gruff, husky-voiced Jat who arrives midway in the film. In it, shabby and dog-tired, Hooda, seemed fatigued yet cold-blooded. For several minutes, I watched, both fascinated and discomforted by the performance. Even in the presence of Pankaj Tripathi, Hooda held his own solemn self with a thick veneer of menace, aided and abetted by a dark beard. You probably cannot offer an actor a compliment bigger than the failure to immediately recognise them. Disappearance in plain sight is perhaps the greatest act in cinema. It took me several minutes to realise Hooda was being played by Aamir Bashir, an actor, who has at least, to the discerning viewer, left enough of a trail of excellence over the last decade to warrant more attention. After playing "Bhaisaab" in the second season of Inside Edge, a show about the dirty insides of T20 cricket, I can say, that moment has, if belatedly, finally come.
In the last two decades, Bashir has had a curious career. He is a Kashmiri, which means it is enough a feat that he can boast about escaping being typecast as "the native" in Bollywood's myopic films on Kashmir. Despite the fact that he has been around for a while, it feels as if he is debuting in the public consciousness only now. Back in 1999, the actor was given his break by Dev Benegal in the indie Split Wide Open, that went largely unseen, appreciated in retrospect for its earnest performances. Two years later, Bashir became the mainstay of the Zee TV serial, Sarhadein, centred around the novelty of a Pakistani boy falling in love with an Indian girl.
But it was after a decade of being in the industry that Bashir was able to truly command an average moviegoer's attention, on the back of his plain yet precise role in Neeraj Pandey's critically acclaimed A Wednesday. The decision to not cast Bashir as the  Muslim police officer (played instead by Jimmy Sheirgill) who is one of the suspects – be it by design or choice – feels inspired intervention on the part of the film's makers, given how quick the Hindi film industry is when it comes to reinforcing stereotypes. Instead, Bashir played a no-nonsense inspector. It was followed by arguably the most fascinating thread of the actor's filmography. In 2012, he returned home to direct and co-produce the National-Award winning Harud, the melancholic critique of the militarisation of Kashmir. Shot entirely in Srinagar, the Urdu film remains a significant cinematic accomplishment in how it empathises with the local youth who struggle for agency on atomic levels, right from getting a job to moving around freely.
Disappearance in plain sight is perhaps the greatest act in cinema.
Since then, Bashir took to playing bit parts in a litany of films (from Pyaar Ke Side Effects to Peepli Live) which did little justice to his talent. That is, until he found himself in another Kashmir film in 2014: Vishal Bhardwaj's Haider. In it, Bashir played Liyaqat, the bitter brother of Arshia (Shraddha Kapoor), who thinks her association with Haider's (Shahid Kapoor) distressed family means trouble. Though his outing has brief, Bashir did justice to a role that needed to embody both doubt and unease.
Then came Gurgaon but his bigger leap, however would be with Netflix's Sacred Games. Overshadowed by longer and more dramatic headlining acts in the first season, Bashir's Majid, a troubled Muslim police officer was perhaps, the only improvement in the second season. Bashir played Majid with open-chested bravura that must act as a shield for the character's perennially doubted loyalty. Although, here he was essentially cast as the troubled Muslim who ultimately becomes the sacrificial lamb, Bashir still managed to draw humanism out of a character that was essentially, a trope. It is a mark of a great actor if he can make the margins look wider than they are.
On one hand, it's hard to pinpoint why an actor of his calibre appears in films so irregularly. Not only does he have a godly deep voice but can also exhibit rage with such subtlety and lightness of movement that it feels genuinely unsettling. Look no further than Gurgaon to see how he manages to convey menace without actually even lifting his hand. As for why we see so less of him, if you look carefully, you might get a clue. Bashir is open about his politics. He regularly tweets about social and human rights issues and is unmistakably against the recent turn of events in his homeland of Kashmir, the abrogation of Article 370. To an unabashedly jingoist Bollywood that is churning patriotic films like it is butter chicken in a North Indian deli, Bashir is not only disingenuous to the setup, but he is perhaps, even radioactive.
It explains why Bashir's resurgence has happened on the web and not on the big screen. His two recent impressive forays into acting have come courtesy streaming platforms Netflix and Amazon, places where casting is presumably lax on all other agendas, except performance. That said, Inside Edge is perhaps only the first ensemble where Bashir has not been typecast as a cop or a Kashmiri, which comes with unexpectedly rewarding returns.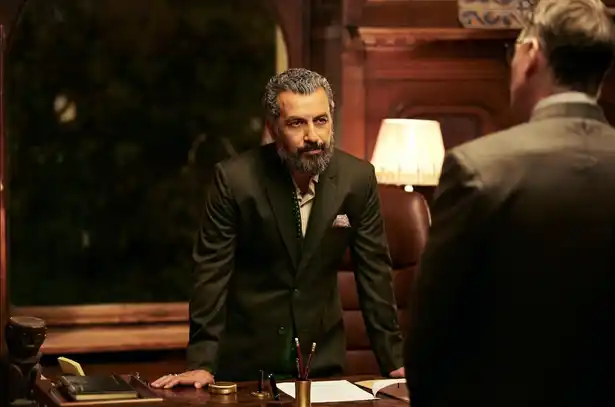 Inside Edge is perhaps only the first ensemble where Bashir has not been typecast as a cop or a Kashmiri, which comes with unexpectedly rewarding returns.

Amazon Prime Video
When the trailer for the second season of Inside Edge dropped a month ago, I could recognise Bashir from his eyes alone. He is introduced as the grey-bearded, intimidating Bhaisaab, the chief of one of India's most corrupt governing bodies: The Indian Cricket Board. Incidentally, Inside Edge built on the character of Bhaisaab for the entirety of its first season, even though he was absent on screen. This season, the show finally displays him. In the presence of some middling acting talents, Bashir feels like a sure-footed heavyweight. Confident, menacingly icy and to be honest, ruggedly sexy. He outshines his peers, delivering the kind of turn that makes it amply evident that his scattered, uneven output though, is our loss more than it is his.
Manik Sharma writes on Arts and Culture.
He tweets at @Manik1Sharma