Bikers, who take over the streets of Mumbai at midnight, are a nightmare for law-abiding motorists. But they say speed is an addiction, and the city needs to keep pace with them.
The origin of the term "buntai" is as unclear as its meaning. Over time, I've come to understand it as term of endearment used to address friends or people you aren't hostile towards. So, if there is someone buntai-ing me in a rough neighbourhood, at least I know I won't be toast.
Tonight, the guy at the other end of the buntai stick is Farid. He's got his name on a decal on the side of his Yamaha FZS, only here it's spelt as Far1d. The "I" is replaced by a "1" to emphasise on his need for speed. Farid is a friend of a friend and one of those hellboys you see zipping past you in a whir of black on the empty streets of Mumbai post midnight.
These bikers are the nightmare of law-abiding motorists. They ride together in a scene straight out of Sons Of Anarchy meets Dhoom, cut you off in traffic, zigzag like lunatics in the middle of the road, and by the time you've had the presence of mind to curse them and tell them to go fuck themselves, they're gone with the wind again.  
According to Farid, however, he's not going fast. "You're just driving too slowly." This elicits hoots and a chorus of "Ek Number" from the rest of his gang, which has gathered post sundown on Badi Raat, the 27th night of Ramzan, for some fun. I'm without a bike. The equivalent of a non-smoker in a smoker's circle, hanging around for the passive high.
The bikers usually meet every evening at a street corner in their neighbourhood, but today the entire coterie of speed freaks is out in force. There's just one problem though – the weather. It alternates between intermittent drizzles and a moderate downpour; the latter is not ideal when you're doing upwards of 120 kmph and slowing down only to pop the occasional wheelie or stoppie.
There are also "games" bikers play – riding from Fort to Kurla, without letting their feet touch the ground even once, which means no halts.
Case in point, Farid's younger cousin, Shabaaz. His arrival is announced by the halo-shaped headlight on his Honda Dio. As he slows down, he decides to do a wheelie. He nearly pulls it off, but the wet road turns into a wet blanket, as his rear tyre loses traction and he takes a spill. There are laughs and cheers, and nobody, not even Farid, looks the least bit concerned. Shabaaz walks it off, his black pathani now a mess. He excuses himself to go change, and we decide to duck under a kebabwallah's tarpaulin to escape the rain, which is getting progressively heavier.
Once under the tarp, Farid, the de facto head, introduces me to the others: Faiyaz is the eldest in the squad. He's 28 and is endearingly referred to as "chacha". Sohail, no relation to Salman, but he still sports Bhai's trademark silver bracelet. Rameez is the quiet one, who thinks I'm undercover, trying to glean information for the cops, and Shabaaz, 19, is the youngest. We sit down to grab some chai and kebabs.
Stories about these guys transcending time and distance are rife. There are tales of legends from the community, referred to as "kalakars", ranging from plausible – the guy who made the journey from CST to Kurla in 18 minutes – to the impossible – the guy who crossed the Bandra-Worli Sea Link, where bikes are banned, in three minutes, evading the toll guards at one end, and the cops at the other. I call bullshit on this story and Rameez tells me he's seen the selfie that proves it, apparently taken while the rider was speeding at 150 kmph. They tell me about one Salim bhai, who crossed JJ Bridge in less than three minutes on the day of a bandh on his RX100.
There are also "games" bikers play – riding from Fort to Kurla, without letting their feet touch the ground even once, which means no halts. Signals, traffic, and pedestrians are mere obstacles that need to be cleared. They mention the usual bike sprints, that occur in the dead of night, when traffic is scant. Back roads and promenades are ideal for this. They boast about stunts, simple wheelies, stoppies, and donuts, and daredevil tricks like riding into oncoming traffic for 100 metres or so.
Salim, they tell me, was a master at this. The boys tell this story in a slightly softer, reminiscing tone, rather than the brash, boastful one they were speaking in a few minutes ago. Salim bhai, Shabaaz's elder brother, was killed two years ago, when his bike hit a pothole. He lost control and his life; his friend, who was riding pillion, succumbed later. Salim was well within the speed limit, but as Rameez says, "Ek baar speed ki aadat lag gayi, to rasta apne ko bulata hai. Nahi suno toh phir woh apni baat sunata hai. (Once you're used to the speed, the road calls out to you. If you don't respond, the road makes its call heard.)"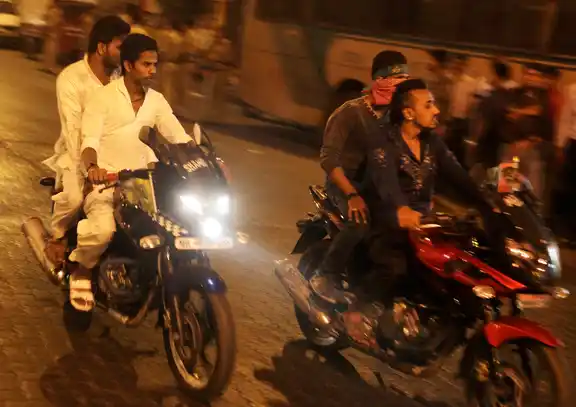 One particularly poetic driver calls the bike "do pahiyewallah kafan".

Hindustan Times / Getty Images
These biker bros have lost four friends in the past two years, yet the ride is romanticised. "Hawa se baat karna (Talking to the wind)," is how they describe it. Farid chips in, "Allah talah meherban hai, woh time se pehle aane nahi dega uske paas. (God is gracious. Nobody goes until their time is up.)"
Popular opinion paints a picture of these guys as addicts, addicted to speed and drugs, who often take to chain-snatching and other petty crimes to fulfil their need for speed. "Hum log sirf speed ka nasha karte, baaki sab haram hai. (We are only addicted to speed, every other addiction is forbidden.)," they answer in unison, when I try to figure out whether they partake of any drug milder than a death wish. But still the reputation sticks around. Of drugs, hit-and-runs, and chain-snatchings. "If anything goes amiss in the area, mama log (cops) come and question us," says Shabaaz, who  has been quiet ever since we talked about Salim.
The only law they claim to have broken are the speeding and safety laws – riding without helmets or riding triples occasionally. They tell me about an acquaintance, Jawid, who once chased a chain-snatcher on his bike and recovered the stolen goods. He was detained overnight for questioning even after the woman, whose chain was stolen, told the cops that he wasn't the culprit.
Religion plays a key role in this narrative. People are biased and believe that the only ones who speed belong to one religious minority, the bikers say. Taxi drivers, who have been cut off by these "goons", echo a similar sentiment. "Inke wajah se toh Musalman shabd jaise gaali ban gayi hai. (Because of these bikers, Muslims get a bad reputation.)," says a cabbie.
One particularly poetic driver calls the bike "do pahiyewallah kafan (a coffin on two wheels)" and curses the bikers, "Khud toh jayenge, saath me ek ko leke jayenge, (They will die and they will kill a few.)" His statements ring true.
My mother is deathly afraid of walking down the road when the biker boys are around. I ask Farid if Allah, who keeps them safe, also keeps pedestrians safe from them. He laughs and says, "Sarkar ne footpath kya gaand marane ke liye banaye hai? Tum footpath pe chalo, rasta humara hai. (Walk on the footpath, the road belongs to us.)"
***
Faiyaz, who works at a marketing firm, is about to take possession of a new bike on Eid. His wife gave birth to twins last month. He's showing me photos of his little girls when we're interrupted by Farid. "Chacha retire ho rahe hai, ghar me do pari hai to abhi usko bike ki nahi padi hai. (Uncle's going to retire. Now that he has two daughters, he doesn't care about the bike.)," says Farid.
Faiyaz nods in agreement. He can't focus on keeping steady while barrelling down the highway with the thought of his kids lingering on his mind. "Shaadi tak thik hai, baccha aane ke baad sab bandh. (It was fine until I got married, but with the kids at home this has to stop.)," says Faiyaz.
The non-essentials, which include safety features, are stripped away, making the bike lighter, faster, and deadlier.
He's getting a Royal Enfield to replace his Pulsar 220, which his parent's bought him five years ago. With the Bullet, he's giving a coup de grâce to his street-racing adventure. His life is about to enter cruise-control mode.
Most in the gang have received their first bikes as gifts from their parents, but after that the bells, whistles, and replacements come with their money. The modifications happen in small garages that dot Mumbai's Grant Road, Byculla, Dharavi, and Kurla pockets. The mechanics there have been described as nothing short of geniuses, often fabricating hard-to-find, expensive parts. The non-essentials, which include safety features, are stripped away, making the bike lighter, faster, and deadlier.
Shabaaz, who's a student of automobile engineering, tells me how he wants to take Faiyaz's old Pulsar and turn it into a bobber. With minimal design, stripped down to the bare essentials, along with a refurbished engine, mono-shock suspension, and a custom exhaust, it'll cost about a lakh. Faiyaz smiles and tells him to dream on. The bike has seen enough action and is being sold to offset the cost of the new one. "Bacche doodh pete hai, petrol nahi, abhi thodi saving karni padegi. (Children drink milk, not petrol. Now I'll have to save.)"
Just as Faiyaz finishes this sentence, a biker stops by. He slows down and revs his engine. It's a clear call for a challenge. Farid & Co are all on their feet. "Baarish nahin rehti to uski maar deta mai aaj. (If it weren't for the rain…," says Faiyaz. "Akkal nahi hai usko, chutiye jaisa chala raha hai baarish mein. (He's brainless, riding recklessly in the rain.)," adds Sohail. Did the suspension just call the exhaust black?
I decide to call it a night at 3 am. The drone of the rain is gone and the silence is broken by the sounds of engines revving. Each time the bikers hear it, their ears perk up. They are like dogs, when they hear other dogs bark in the night. I could call them wolves, but they're not savage enough. I get into the cab and the boys take off. Farid zooms past us, narrowly avoiding the side-view mirror; the high beam of the cab lighting up "Far1d" slate. The driver, an older man with a grey beard, lashes out the old refrain, "Gaand ke neeche bike aa gayi toh rasta inka ho gaya."
I plug in my earphones and settle in for the ride back home.

Damian loves playing videogames. If all the bounties he collected slaying zombies were tangible, he wouldn't need to write such bios. Seriously though, Damian used to be a cook who wrote, now he's just a writer who cooks.