As Sarkar 3 readies for release, it's time to investigate what is up with RGV. Is he a modern-day shit-talking, raving seer? Or has he turned into a character from one of his films?
The year 2024 will be the year of comeuppance. Climate change deniers will be eating crow because a large chunk of Mumbai will go back to the sea it came from, Kanye West will be the leader of the free world, and the debate over whether or not AI is superior to humans will be settled. And somewhere, from the darkened recesses of what once was a place filled with joy and trophies, Ram Gopal Varma will court controversy right before the release of his upcoming movie Sarkar 8, by calling everyone on Twitter an idiot.
As the third part of the Sarkar series – ingeniously titled Sarkar 3 – draws close its release date of May 12, 2017, the director has been in our thoughts and timelines with the persistence of a heat boil. Not because it is a seminal moment for Indian cinema, but because Ram Gopal Varma has singlehandedly decided to show the marketing guys at "Why-Do-We-Still-Work-For-RGV" Pvt Ltd how to promote a film that did not pique audience interest beyond standard exasperation.
This time though, the gimmicks hit a new level of crazy with the video titled "RGV calls Amitabh Bachchan a liar". In the video, AB and RGV sit, their mutual discomfort laid thick on every pixel. While Mr Bachchan seems to be his good-humoured, my-gravitas-is-better-than-yours self, RGV displays all the stability of a nuclear reactor gone wild. Of course, none of this is true; the video was edited to create drama that doesn't exist and Sarkar 3 was inconspicuously mentioned somewhere between the three times RGV jokingly called AB a liar.
Two National Award-winning pillars of the Indian film community resorting to the shock-and-awe antics that social media thrives on… truly depressing day for Bollywood. And a sure indicator that RGV is properly scraping the bottom of the barrel he once was at the top of.
Unfortunately for everybody, in the last few years, his failures have been a lot more consistent than his successes, while the density of his hubris simultaneously increases.
To those of us who grew up during the early 2000s, RGV triggers the mental image of a drunk has-been who singles out unsuspecting Bollywood colleagues and fires acrid tweets in their direction. Once though, this man was the most disruptive figure of Indian cinema. In 1990, with his very first Hindi film, Shiva, RGV introduced the Steadicam, realistic chase sequences, and slow-burning violence to an audience that was recovering from the garish antics of '80s pulp movies. He's the man who gave us Satya, Shool, and Company. These were such convincing portraits of the Mumbai underworld painted on a 70mm canvas, that even Danny Boyle was inspired to cast Mumbai in the same image. It's safe to call him a master of Mumbai Noir, a genre studied the world over.
He twisted and turned the histrionics of his muse, Urmila Matondkar and unleashed the full range of her potential – from a chirpy, wide-eyed starlet in Rangeela; to a runaway con-woman in Daud; to a manic, serial-killing psychopath in Kaun. He has also mentored some of the biggest names in the industry from Hansal Mehta to Anurag Kashyap and Madhur Bhandarkar.
But this filmography is redolent of a better time, of no drunken ranting and misplaced hate. The year 2005 was the last time RGV made decent movies with some semblance of consistency, with Sarkar, D, and Main Madhuri Dixit Banna Chahti Hoon. Because in 2006, social media coughed up its most delicious offering yet with Twitter, the microblogging mechanism to dispel hate in hashtags.
It's been 11 years since RGV and his talent have been gazing into this abyss, and the road is paved with evidence of how the abyss is gazing back at him. Hard.
A cursory glance at his Twitter page can tell you that he is in the throes of an epic unravelling. Whether it's wishing us a Happy Women's Day by saying that he hoped all women made men as happy as Sunny Leone; wondering aloud how Rajinikanth could have such a glorious career with his less-than-ideal looks; or telling off a female journalist that her bad review of his trauma-inducing Veerappan meant that "the film is as beautiful as her face". Show of hands: Who else feels incredibly what-the-fucked by this ever-growing instability and seemingly inexhaustible vitriol?
Experts at the Arré HQ argue that we should have seen this coming after Naach tanked, because nobody wants to see Antara Mali interpretive-dancing in the middle of a street. RGV, though, said he'd given "Ayn Rand to a Municipal School." Not only did Ayn Rand twist like a pretzel in her grave, but it first laid bare Ramu's inability to accept failure. Unfortunately for everybody, in the last few years, his failures have been a lot more consistent than his successes, while the density of his hubris simultaneously increases.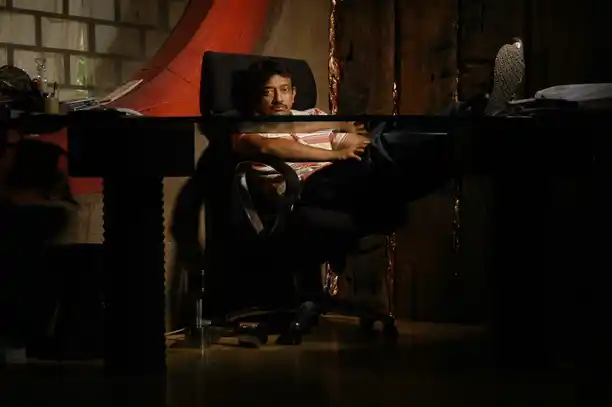 It's been 11 years since RGV and his talent have been gazing into this abyss, and the road is paved with evidence of how the abyss is gazing back at him. Hard.

Courtesy: India Today/ Getty Images
But maybe the joke is on us. Maybe we are the ones who can't follow RGV's character development from a meek, mild-mannered, but secretly fiery man to a raging loudmouth who is destructively confrontational. Maybe he is actually a raving seer, a Cassandra only future generations will have the hindsight to understand.
To his mind, when he says – "The guy who couldn't save his own head from being cut, how he will save others heads is my question? But Happy Ganpathi day to morons!" – he is pleading with us to reconsider our blind reverence for organised religion. Or when he says that the Swachh Bharat Abhiyan is worse than Aag, he is beseeching the government to reconsider the quality of their communication in a self-deprecating fashion. When he calls Tiger Shroff a great transgender woman and a bikini babe, he is likely promoting body positivity for the LGBTQ community.
It is a pattern we first saw in the '90s, in his Shiva, Satya, and Shool. The quiet underdog is compelled to channel his inner anger into very public outrage to be a catalyst for social change. RGV stopped making movies with those protagonists a while ago – but now, all the world's his stage. He is now embodying the hero he invented, changing the world and making India great again, one angry tweet at a time.
If the arc of his movies is to be believed, he will destroy or be destroyed in this noble quest. By the looks of the bile on RGV's timeline, this is the beginning of the end.

Nimisha likes ditching plans, drinking coffee and talking about Maynard James Keenan. She spends her free time silently judging everything and brushing her bitch face off as PMS.