Their eyes keep tabs on meat eaters and Muslims. Vigilante gaurakshaks are prepared to rape and kill to protect the cow.
Kapil Prabhakar was in his IP Extension office in East Delhi, sorting some papers related to his milk-distribution business, when his phone rang. He ignored it. It had been a busy morning; he was tired and hungry. He reached for the stainless-steel lunch box his wife had packed for him when the phone rang again. It was 1:50 pm. He answered it reluctantly. The lunch box remained unopened that day.
A volunteer from Punjab was on the line. Three truckloads of cows had left the state that morning. They had been driven through neighbouring Haryana and were heading towards East Delhi. Prabhakar was being called to the rescue.
Time was of the essence. Prabhakar knew that despite a ban on truck movement during the day, the Delhi Police allowed lorries to go through. He reached out to his core team, and about 37 swung into action. They asked volunteers to spread the word and get people out to Shastri Park close to the main road towards Ghazipur. In less than an hour, about a 1,000 people were squatting in the middle of the road.
Around 3:30 pm, the trucks were spotted. Two ambulances, fitted with cranes, were already in place. Nineteen cows and 12 bulls were "rescued". The police asked the crowd to disperse. The operation was a success, but Prabhakar was not satisfied.
"The police allowed the drivers and their helpers free passage," he said. "They should have been put behind bars." According to him, the truckers were armed with country-made guns, talwars, and knives. Prabhakar admits, sometimes the chase can be in vain, as the police may be on the take and allow drivers to get away. "We are getting them to co-operate more."
"The government spends crores on saving the tiger, why can't it spend that money on cows?"
The East Delhi head of the Vishwa Hindu Parishad's Bharatiya Gau Vansh Rakshan Evam Samvardhan Samiti (cow-protection and improvement organisation), is a man on a mission. The 52-year-old, self-employed graduate, who owns a Mother Dairy dealership and foundry, believes it's his life's calling to protect cows. Aside from a countrywide ban on cow slaughter, he also wants the cow to be declared India's national animal. His argument is flawless. "The government spends crores on saving the tiger, why can't it spend that money on cows," he asks. The idea of extinction has never crossed his razor-sharp mind. But then logic has never had any place in fanatical ideology.
***
Born into an orthodox Brahmin family from Himachal Pradesh, Prabhakar grew up in Delhi. His father, who worked for HSBC, was a devout Hindu, who ensured religion was an integral part of the upbringing of his six children. Although the elder Prabhakar wasn't a member of the Rashtriya Swayvamsevak Sangh, he believed in the organisation's ideology. As the youngest in the family, Prabhakar began visiting RSS shakhas when he was eight, playing around and observing the adults.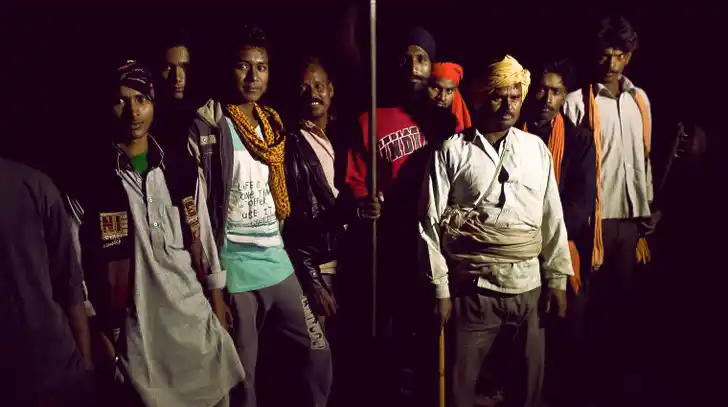 This group of vigilantes in Rajasthan's Ramgarh is just one of dozens of such groups that have emerged since the beef ban.
Allison Joyce/Getty Images
It's a tradition that's being passed on. One of his sons is an engineer, and his nephew is an aspiring model in Mumbai – they are both members of cow-protection groups. Prabhakar sees no contradiction between modern pursuits and traditional beliefs. "I have been to five-star hotels… also to discotheques," he says earnestly, sitting cross-legged at a temple in South Ganesh Nagar. "I was a good break-dancer in my youth."
Over the course of the evening, he spells out how groups like his are successfully rescuing ill and ageing cows across India, through a zealous network of volunteers and informers. They are ordinary people: shopkeepers, cobblers, house help. Women working in housing societies are especially valuable in keeping tabs on meat-eaters. "Close to 10,000 people have our numbers," Prabhakar says. "We take their call anytime of the day or night. We rescue 20-25 cows every month."
The demand for a ban on cow slaughter is not new. Soon after Independence, the first president Rajendra Prasad had made the same appeal to Mahatma Gandhi. Since the Narendra Modi-led BJP came to power in 2014, the cow slaughter issue reached a fever pitch with cases as extreme as the Dadri lynching.
But according to Prabhakar, Modi is not the reason for their pro-bovine activities. "The move began eight years ago when the VHP decided to take a decorated cow around localities on festive days, to promote respect," says Prabhakar. But he admits that it helps having a pro-cow government. "We have a cabinet where, from the prime minister downwards, all have a special place in their heart for cows."
Flattered by the interest in his favourite subject, he now launches into a listing of its virtues. "Every part of the cow is useful to us," he says, insisting high blood pressure can be cured if a patient runs his palms over a cow's body. "If that doesn't work, I'm ready to pay for doctors and medicine for a lifetime," he says grandly, sweeping modern medicine aside with one dismissive wave of his hairy hand.
And he is hardly alone. This line of thinking is embraced by the old, the young, the unlettered, and the highly educated. Akilesh Vishwakarma, for instance is a bright 34-year-old science graduate from Allahabad University, who uses science to justify politics. "All farmers believe that unless they use fertilisers and pesticides filled with chemicals, their plants will not be healthy," he says. "My mission is to teach them to use cow dung as fertiliser and pesticides made from cow urine." The East Delhi gaurakshaks are planning to promote soap, phenyl, and agarbattis made from cow urine and dung, under the brand name "Goband".
When asked about the violence vigilante gaurakshaks and self-proclaimed defenders of Hindu dharma have unleashed on Muslims, Akhilesh says blandly, "They are not true followers of religion. Many of them are uneducated and get misled. My religion respects every other religion."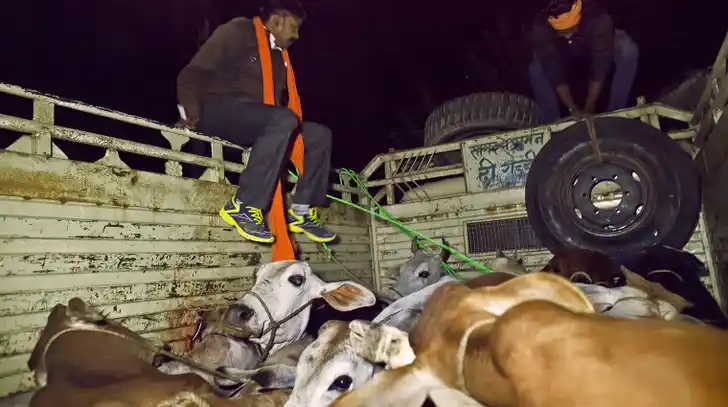 Members of a vigilante group try to free cows from the back of a truck in Ramgarh.
Allison Joyce/Getty Images
Prabhakar agrees, with the infallible logic and conviction displayed most often by right-wing bhakts on social media. "First, we Hindus don't want to kill. We don't want to hurt anyone. But please respect our sentiments. If you don't, we can't help some of the hotheads."
With this convenient "we-can't-help-it" disclaimer, Prabhakar signs off and gets back to work, glad to have delivered his views on the subject. The more people he converts, the higher the chances of his cows becoming part of currency, stamps, and maybe one day, the symbol of the Indian government. The sky is the limit.
Seema Guha is a senior journalist writing mainly on India's foreign policy. She has covered conflict situations in the northeast and has reported extensively on the ethnic war in Sri Lanka. She also contributes to openDemocracy, a prestigious international website.