At a fishing village in Mumbai's upscale Bandra, there is a Sulabh shauchalaya, where the neighbourhood queues up as early as 4 am. If you're lucky your "turn" may come by 6 or 7 am.
In August 2017, Twinkle Khanna aka Mrs Funnybones went for a walk by the sea from the porch of her million-dollar mansion in her million-dollar track pants and came across the sight of… morning potty. Having had access to her own million-dollar toilet before she embarked on her fitness routine, she was dumbstruck by the scene in front of her. How could this man simply be pooping on her beach? Especially since her husband had just eradicated the problem of open defecation in his own million-dollar movie Toilet: Ek Prem Katha? It seemed wrong on so many levels.
I agree with Mrs Funnybones. It is wrong and it does have the nasty habit of sending your lovely morning walk down the toilet. I had the exact same feeling when I, in my own cheap tracks, saw a 23-year-old on Carter Road one fine morning. He seemed to be a nice-looking chap, hair parted neatly down the middle, a diligently pressed set of work clothes in the form of a plain white shirt that has seen better days, and polyester blend pants that bulge at the pocket with the weight of a mobile phone. In fact, he seemed so much like our everyday man that he reminded me of office boys in corporate corridors who ensure that the coffee beans are in the percolator every morning and that the conference room AC is in working condition.
Why would he be taking dump on a public beachfront?
After walking past him for several days, I decided to talk to him one morning. I was curious to know that despite showing every sign of moving forward in life, he does something that he knows is patently backward. Naturally that conversation didn't go well. Nobody takes kindly to questions on their bathroom habits, but something in my genuine curiosity must have compelled him to open up.
We sat down on one of those uncomfortable stone benches that dot the promenade. Breaking into English every now and then, Manoj told me his life story. His parents came to Mumbai 25 years ago from a village in Maharashtra and worked their way through odd domestic jobs in and around Bandra to give him a decent education at one of the city colleges run by Jesuit priests.
They couldn't afford a flat anywhere in suburban Mumbai and ended up in a kholi, a one-room tenement, in the fishing village of Khar Danda. There are five of them who stay in the tiny kholi – Manoj, his two sisters, and his ageing parents. All of them have taken up odd jobs to make ends meet and somehow scrape through. Every month end is met by sagging relief, with the only consolation being the roof over their heads. And then there is yet another grinding month ahead of them.
Manoj has friends all across the neighbourhood and not just in the fishing village. Many of them are from Bandra, some even stay in tony Pali Hill. Manoj tells me earnestly that he is not embarrassed by his station or his address. After all, he earns his living just like any of them, goes drinking with them at old college haunts in the evening.
There is the ambitious Swacch Bharat movement sweeping the country and I wonder how it has left people like Manoj behind.
But it's the morning that sets him apart. Every morning, he has little choice but to stare at the open sky near the beachfront, as he squats alongside a hundred others. Every morning, he is assaulted by the terrifying fear that one of his friends will spot him.
Manoj doesn't have a toilet in his kholi… not many in the fishing village do. But there is a Sulabh shauchalaya nearby. It is, of course, woefully crowded and filthy but he says he doesn't mind the filth. "One gets used to anything. Aadat ho jaati hai," he tells me.
But what pushes him to the beachfront every morning is the informal "token system" at play for using the public toilets. The neighbourhood queues up as early as 4 am, and if you're lucky your "turn" may come by 6 or 7 am. And Manoj can't make the 4 am deadline. He returns home after a strenuous train and bus ride by 10 pm and hits the sack by midnight. So waking up at 4 am is not tenable. If he wakes up at 6 am, his turn won't come before 9 am, which means he will be delayed for work. The shore seems to be his only viable option.
On days it's raining relentlessly, he rushes to take a train to reach work early – only to use the office toilet. "But it's not possible to hold off for so long every morning," he says, matter of factly.
So for those crucial few minutes each day, Manoj divests himself of his ambition, his pride, and his goals of living a better life than his parents, and settles down on his haunches with the same set of people that he is struggling so hard to rise above. Manoj has worked hard to stand apart from the mass of illiterate slum dwellers, who have no qualms about using the seafront as their shauchalaya, but in the mornings, he is one of them.
I wonder how many Manojs live among us in India. A whole generation of young, fresh minds determined to break out of the lives they were born into, determined to claw their way up the social ladder. Manoj is not like his parents, who have come to terms with their low-income lifestyle. He will never work as a domestic help. His dreams are made of shiny, swank offices and unbroken sentences in English. And yet he must crap in public.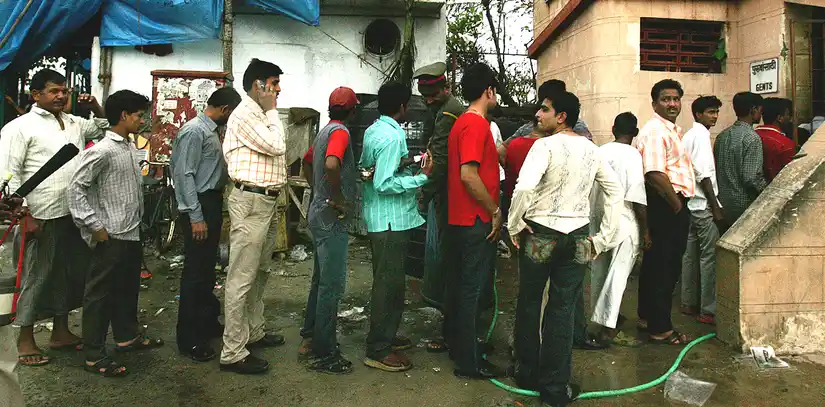 Manoj says he has to stand in line for at least two to three hours every morning to use the public toilet.

Soumitra Ghosh / Hindustan Times / Getty Images
The ambitious Swacch Bharat movement has been sweeping the country for a couple of years now. In fact, the PM has just declared India open defecation free. But despite his heroic efforts, it has left people like Manoj behind. After all, he lives on the fringes of an area where the real estate is one of the most expensive in the country. Maybe Manoj's problem is unique because his humble home falls under the CRZ (coastal regulation zone) or maybe it's because the old fishing village is now reduced to a slum with no space for construction. But elsewhere another Manoj may be stymied by a shauchalaya with waste piling up for weeks. And yet another Manoj is probably living in a ward that doesn't even come under the municipal corporation's ambitious 3,500-toilet project.
While the Prime Minister's pet project grapples with the problem of getting villagers to give up the age-old practice of open defecation, people like Manoj who live in the city, are desperate for accessible toilets. People like Manoj make up a significant percentage of the much-touted figure of 356 million youths, who, as they change their lives, will change the face of the nation. People like Manoj are the reason India is expected to shine in the future. And I hope the city gives him a place to take a fucking dump. One which he can access without waiting for three hours.
Ajay likes walking by the sea.