Hope and faith are the bedrock of lottery. Champaklal Patel has been buying bumper lottery tickets for the last 56 years, hoping to build a house in Surat – even though the retired peon with failing eyesight is yet to win a single prize.
Opposite Jambori Maidan, Worli, stands a four-storey building. It's grey and brown, like countless other buildings in the city that have been denied a paint job for years. With a silent prayer that the roof doesn't collapse over me, I walk through the rusty gate to be greeted by a wooden board on the lobby wall that lists the names of the residents – a study in Mumbai's diversity. There's a D'souza, a Qureshi, a Godbole, a Shah, and even an Arora. But the name I'm looking for is Champaklal M Patel.
Inside his dingy home, Patel is seated as if in a trance, on a small divan beside the door. I ring the bell and introduce myself again, and his wife has to tap him on the thigh to pull him out of his thoughts. At first, he is unable to recognise me, even though we met at noon. At 71, Patel finds it difficult to gather his thoughts.
Earlier that day, I was scouting Chembur's crowded back-alleys looking for a local paper lottery stall – located under some bridge, where else? That's where I met Patel, studying an array of gaudily coloured lottery tickets placed in equally spaced rows on a rickety table. He was there to buy five Surbhi Shukra tickets, each with a reward of ₹10,000, bought at a price of ₹10. The Shukra in Surbhi Shukra stood for Shukravaar, the day when the lottery's results would be printed in the papers.
Patel has been buying lottery tickets since he was 15 years old. That's an entire lifetime to expend, waiting for the capricious Lady Luck to smile at you. That's hundreds of tickets, and thousands of gambles, playing hide and seek with chance. What drives him to do it?
The entire lottery business is based on one life-altering factor. Luck. If you're lucky enough, a single lottery ticket could change your life forever.
An old friend introduced him to the concept in the early 1970s. Back then, one could acquire a few tickets for a few coins and wait for results to come out that very day. The 100-rupee windfall that his friend had experienced earlier encouraged him to try his own luck.
Patel's family then lived in a chawl in Goregaon's Jawahar Nagar, surviving on the meagre income of his father, who worked as a low-level government servant. When Champaklal was 19, his ageing father purchased a Maharashtra Lakshmi ticket and asked his son to check the results in the newspaper.
The entire lottery business is based on one life-altering factor. Luck. If you're lucky enough, a single lottery ticket could change your life forever.
On that fateful day when his father asked Champaklal to read out the results, luck sided with his family. As his eyes flitted from the page to the ticket while cross-checking the numbers, he realised his father had won a sum of ₹1,000. It was more money than the family had ever seen at once up to that point, and it reinforced the young Champaklal's growing obsession with the lottery. Thoughts about what he could do with a hefty sum that he might win flooded his mind.
From that point on, Patel has purchased tickets on a monthly basis.
His job as a peon left him with a crisp ₹500 note at the end of each month. Most of this would be handed over to his parents, while the rest would be spent on alcohol and lottery tickets. Over time, the lottery became an obsession. His colleagues at the government office would often speak of him running a fool's errand. Despite being surrounded by naysayers, Champaklal's habit wouldn't die – the textbook definition of addiction.
Years passed, he hadn't won a single lottery. But he still believed fate had something different planned for him.
In the early years of his marriage to Jamnabai, Patel managed to curb his habit and reduce his purchases. It was a difficult time in life, because his paltry salary was barely enough to purchase food and other amenities – that in turn fed his need to keep buying. As soon as he received a promotion and subsequent increment in his salary, Champaklal could focus on his life's dream. He wanted to win a bumper lottery.
The bumper lottery scheme finds its roots in the festive season. From the Diwali Bumper, to the Navratri Bumper, these lotteries bear prize money between ₹2.5-5 crore. Naturally, there is a massive demand for the tickets. Patel would save up each month and blow it on expensive bumper tickets during Diwali. "An auspicious occasion has the potential to turn your fate around," he tells me, "if you want it bad enough." He wanted it bad enough and he firmly believed in it.
Two children and four decades later, his belief hasn't lost its strength, even though Patel has no evidence. I suppose that is the bedrock of faith in the lottery – or any faith. Patel's god just happens to be the lottery prize.
When his passion for winning the bumper lottery faded, he and his wife clung to the hope that winning the lottery would help them buy them a house in their hometown, Surat. Over the years, he has continued to purchase hundreds of tickets. Today, as he sits before me in his cramped Worli flat, retired and with failing eyesight, he is yet to win a single lottery.
His hands shiver with age as he pulls out the same tickets he had purchased that afternoon. He places them in my palm and hopes that the printed numbers change his life. The wrinkles around his eyes seem to soften with hope. "Beta zara number padhkar sunaoge? Main chote akshar theek se dekh nahi paata," he asks me with a smile.
It doesn't matter that the results are not out yet. Patel just wants the reassurance of numbers. He only wants to be soothed by the idea that he still has a chance to hit paydirt. As I exit the old structure, I wonder if Patel's faith will ever pay off; whether he'll ever have the joy of holding the keys to his Surat house. I hope he does.
That afternoon, as a little tribute to Champaklal's dreams, I decide to pick up a lottery ticket on my way to the station. In the bustle of the crowd, a bubble of hopeful-looking individuals marks out where the tickets are being sold. The men selling lottery tickets are looked upon as dream merchants. With those gaudy tickets, they offer all the heart could desire. The price of the dream? A mere ₹10.
With the crumpled note in my hand, I see Champaklal Patels all around me. Maybe they just want to see a distant dream come alive. Maybe we all do.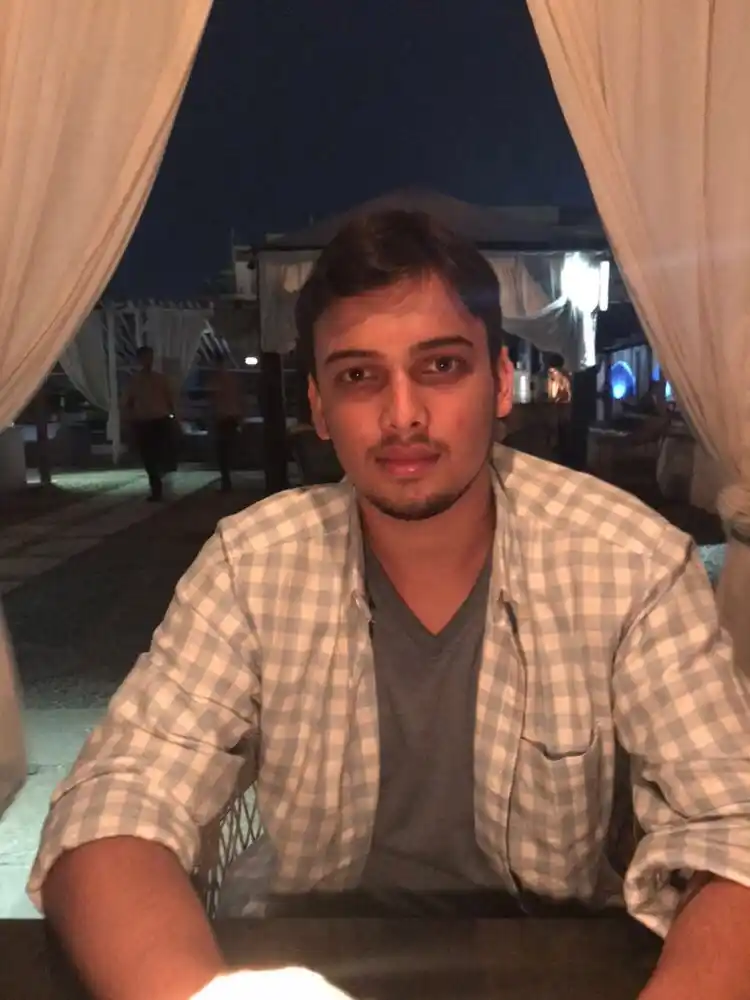 Nihal likes to believe that darkness is more beautiful than frightening. He likes to be called Bambi, a nickname, his friends gave him.