With gaurakshaks determined to stem the trade of beef at any cost, beef sellers like Quasim walk a fine line every day. Once wholly legit businessmen, they have now joined the ranks of my hash dealer.
It's a balmy Saturday morning. I walk up to a shady-looking bearded man dressed in a faded T-shirt that reads "Hollister Football Club Est 1847".
The location is a crowded street, outside a school, which is alive with the clatter of recess. On the side of the street is a cobbler who has been glued to this spot for as long as I can remember. The bearded man and I exchange nods as I hand over the cash – ₹1,800 in large bills. In one smooth handshake, he hands me the goods in a plastic bag along with some change. "Gin lo," I say. He doesn't. The goods feel heavy. "Maal accha hai naa," I ask.
Handing the money back, Quasim* retorts, "Paise wapas le lo. Pay me later, accha lage toh."
"Nahi Quasim bhai, paise rakh lo," I say. After all, Quasim risks a hell of a lot to deliver the stuff to me. Most other customers aren't as lucky. If you want what the bearded man has to offer, you got to make the journey. Good luck finding Quasim amid the slums and seedy alleys of Mumbai's Antop Hill, though, where you're most likely to get robbed or stabbed or both depending on whom you run into.
We part ways after what seems like half an hour, but my wristwatch tells me it's been just 10 minutes. Time moves at a glacial pace when you're scoring contraband. I rush home, a five-minute walk from the cobbler, looking over my shoulder to check if I'm being followed.
As soon as I get home, I call out to my mum. There's a look of anticipation and excitement on her face and I'm pretty sure, the look on mine isn't all that different. We unwrap the package on the table in front of us – three glistening tenderloins in all their glory. We prattle on about the excellent quality and proceed to clean, trim, and cut them into manageable steaks, grind some into mince, and slice some into wafer-thin slices for a quick stir-fry.
As my mom cooks an authentic Goan roast, from a family recipe that my late grandmother protected with her life, I wonder when buying beef became such an exercise in subterfuge? Why do I feel like a junkie who just got his fix of the H? A government desperately in search of a divisive agenda enforced the archaic Maharashtra Animal Preservation (Amendment) Bill in 2016, nearly 21 years after it was first passed in 1995, thus putting a beef ban in place. The bill bans the slaughter of cows and bulls. It does, however, allow for slaughter of water buffalo aka carabeef aka not real beef, which constitutes 25 per cent of all bovine-origin meat sold in the state.
And people like Quasim bhai, once wholly legit businessmen, have now joined the ranks of my hash dealer.
***
Quasim bhai is 35, short, and is missing the top part of his left pinkie, lost no doubt, while cleaving quarters of beef into smaller, manageable parts. Three generations of his family have lived in the city. His grandfather migrated to erstwhile Bombay from Lucknow in 1925 and set up a small butcher's shop, catering mainly to the British. Quasim narrates how the best parts of the animal would be sold to the "angrej" and how the remaining haddi, offal, and miscellaneous animal parts were sold to Indians. Even in those days, the prejudice against beef would raise its ugly head, but never had fault lines been drawn on religion. He tells me that even back in his grandfather's time there were fights over cow protection but, "Ab baat sirf gaurakshan ki nahi rahi, baat jaativaad pe utar aayi hai."
Quasim belongs to the Qureshi community, which has traditionally been associated with animal slaughter. Post-Independence, their business boomed. Quasim's father and his two uncles followed in their father's footsteps and became kasaais themselves. Quasim and his brother joined the business voluntarily. But they no longer command the respect they once did.
Quasim's son Aftaab will be the first in three generations to break away from the family trade thanks to the beef ban. He is studying automobile engineering. "Being a butcher isn't glamorous," the 20-year-old told me during one of my many visits to Quasim's shop. "I'd rather work nine to five in an office and take up a job that does not involve getting bloodstains on your body."
The beef ban, of course, was a further deterrent. Overnight, Quasim became the enemy of the state, and today goes about his business stealthily. He has little choice but to source his meat from illegal slaughterhouses in Thane, on the outskirts of Mumbai. He is hush-hush about the coordinates of the slaughterhouse. "It's far from the city, almost inside the jungle."
The animals arrive from outside the state, especially Kerala and Karnataka. The cows are offloaded and later taken to the slaughterhouse, where they are kept muzzled, except at feeding time. They are slaughtered at night, held for about 24 hours in order to allow the rigor mortis to pass and then dispatched to sellers like Quasim between 2 and 3 am.
But despite the heat being turned up on butchers, Quasim estimates that about 900 to 1,200 kilos of beef is sold every day in and around.
A 2016 high court order that allows people to consume beef imported from other states hasn't helped their cause. "What difference does it make if I kill the cow in Maharashtra or MP?" Quasim tells me. "These are just ways to harass us further."
Quasim sells the beef at ₹350 a kilo, the veal goes for ₹500. "Bas aapko delivery deta hu mai. The other customers have to come to the shop," he says. But courting danger is unlike Quasim bhai. During my last visit, I spotted a freshly slaughtered goat carcass hanging at his shop's entrance. He doesn't want a brush with the law even if it means quitting his ancestral profession of slaughtering large animals. "I want to run a business which does not involve any illegalities. How long can I continue hiding the 'big meat,'" he asks.
With the ever-present danger of raids by cops and self-appointed gaurakshaks determined to stem the trade of beef at any cost, Quasim walks a fine line every day. He has never been under the scanner, but butchers in the neighbourhood have been raided, during the early days of the ban in 2016 by overzealous cops. Most of these butchers were selling carabeef and weren't flouting norms. The raids were long, protracted affairs featuring cops, usually some right-wing social activists, the FSSAI and some expert in veterinary science.
But despite the heat being turned up on butchers, Quasim estimates that about 900 to 1,200 kilos of beef is sold every day in and around. This figure, he tells me, is independent of carabeef sales. "Pay the bribe and continue your business," he says. Earlier, he would pay the cops the customary hafta either in cash or in meat, but now only cash changes hands. No policeman wants to be caught with contraband.
I asked him about the recent lynchings by gaurakshaks and whether he is afraid for his life. Wasting no time, he divulges in technicalities. The musculature of a buffalo and a cow are more or less similar, so the only way to tell them apart is to run lab tests and DNA sequencing. This takes inordinately long because the labs are overloaded with other unrelated tests. "You have seen how long it took to determine whether the meat in the Dadri case was beef. Until then shop owners like me are given a clean chit," he says, keeping his fingers crossed.
And then he adds quietly, "Whether beef or mutton or some other meat. It is not something you kill a person for."
*Name changed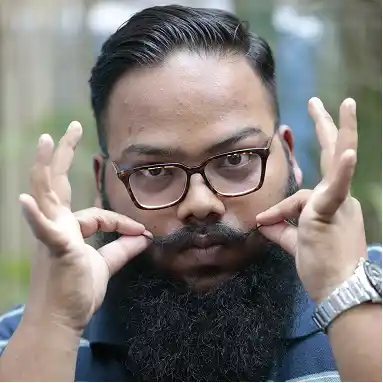 Damian loves playing videogames. If all the bounties he collected slaying zombies were tangible, he wouldn't need to write such bios. Seriously though, Damian used to be a cook who wrote, now he's just a writer who cooks.