The controversial Citizenship (Amendment) Bill seeks to provide citizenship to persecuted minority refugees from Pakistan, Bangladesh, and Afghanistan. Meanwhile, thousands of Rohingya Muslims, a minority in Myanmar who've fled genocide, continue to live in inhuman conditions across the country.
The road to hell, they say, is paved with good intentions but eventually leads to eternal damnation. If you look hard enough, you can find that road between South Delhi's urban villages Mandanpur Khadar and Jasola. The road — partly tarred and fully broken — is covered in dust, and soot is rising from the metro construction work nearby. At the end of the road lies a cluster of kacha houses made of wood and brick, providing temporary but inadequate relief to 75 Rohingya families against an uncertain future.
The Rohingyas are the nowhere people. They don't belong in Myanmar and they certainly don't belong in India… perpetually stuck in Limbo, the First Circle of Hell. Historically referred to as Arkanese Indians, the Rohingyas are a stateless people from the Buddhist-dominated Rakhine State in Myanmar. They've been persecuted in the country ever since they were denied citizenship under the 1982 Burmese Citizenship Law, which was followed by state-sponsored ethnic cleansing of the community. Of an estimated 1.2 million Rohingyas in 2015, 9,00,000 now reside in neighbouring Bangladesh, and thousands have been killed. Their villages are being burnt by the Burmese army, which is planting landmines along their road to freedom. But the gravest travesty is that it is all taking place under the watchful eye of Nobel Peace Prize-winner Aung San Suu Kyi.
Mohammad Shakir is one of the nowhere people. The crown jewel of his family, he is studying Commerce in nearby Noor Nagar's government school. He hopes to become an English professor some day. Whether he will achieve his ambition, though, is anyone's guess.
Like several other Rohingyas, Shakir's family came to Delhi around 2012. The Rohingyas, who were able to escape the violence, entered Bangladesh, while some crossed over the border to enter India via West Bengal. Three hundred and seventy-five of those built the Jasola settlement. Multiple protests and demonstrations from the community have not really had an effect on the Indian government that chooses to leave them alone, owing to their UN refugee visas. But without any semblance of a structured camp and lodgings, the Rohingyas have been left to fend for themselves.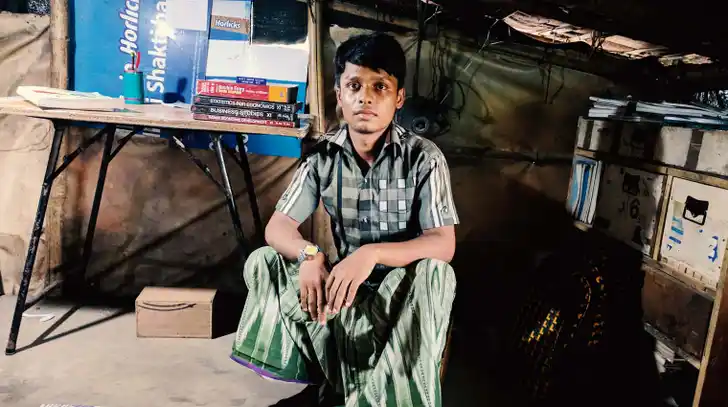 Mohammad Shakir in his attic near Delhi's Sarita Vihar.

Parthshri Arora
Shakir's father, Mohammad Tahir, is a casual worker in the unorganised construction business. His work these days involves covering up the nearby sewer for ₹350 a day. His youngest son, aged five, goes to the village madrassa  because the fee is a low ₹50 a month. But he did manage to admit Shakir, his eldest in the municipal school. "At first, the headmaster wanted an Aadhar card," Tahir tells me, sitting on a wooden platform outside his house, "but all I had was my refugee visa and UN refugee identification. After one year of trying, the headmaster gave Shakir a chance."
Shakir is cooped up in an attic room above his family's one-room house. To keep him free of distractions, his father built a bamboo cove, just four-feet high, so he will have some space to study. Shakir scored a 6.6 CGPA in the tenth grade, and was named class monitor. Tahir understands the magnitude of his son's ambition, and in a cluster where most children help out their fathers in the construction work to supplement their family's income, Tahir sends Shakir to accounts and business studies tuition, for ₹12,000 a year.
I climb up the four creaky wooden steps inside the house, under the watchful eye of his wife and their new three-month-old. I keep my head down to avoid bumping into the low ceiling and to couch my embarrassment. Shakir's study — little more than a holey tarpaulin sheet — is filled with 11th-grade CBSE textbooks.
"English is my favourite subject," he tells me, "because it's the only way I can tell the whole world about what's happening with my people. I don't want to fight with weapons, I want to fight with education."
"English is my favourite subject," he tells me, "because it's the only way I can tell the whole world about what's happening with my people. I don't want to fight with weapons, I want to fight with education." I smile at Shakir's naivety, and listen to him tell me about Khushwant Singh's "Portrait of a Lady", his favourite short story. "It reminds me of my grandmother," he says. "She used to bathe me in the morning, prepare me for school, and feed me when I came back. She is still stuck in Burma and we haven't heard from her in three months." And after a pause, "I don't even know if she's dead or alive."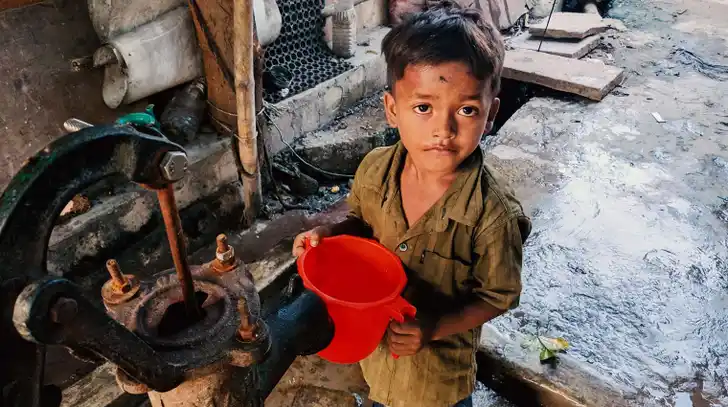 A young Rohingya boy fills water from the only hand-pump in the settlement.

Parthshri Arora
Shakir and his family have been marginally fortunate. Luck is a changeable mistress around these parts, and they at least have a roof over their heads.
I watch a tiny girl of about eight, using her entire body weight to pump water out of a hand pump as her two younger brothers bathe in the open. There are mosquitoes flying everywhere, on their faces, on their clothes, on their bare buttocks.
I am reminded of a comment by Home Minister Rajnath Singh, who recently labelled Rohingyas a terror threat. People in this settlement make below ₹10,000 a month. They have no access to electricity, clean water, and are dependant on the local anganwadi for regular supplies. How a people struggling to keep their heads above the water, could be considered terrorists is beyond me.
Yet, there is a heartbreaking hope that somehow, India will come through. It permeates throughout the village. One of the first settlers here, 60-year-old construction worker Naroon Amin, tells me that their "lives are stuck in a small boat in the middle of an ocean". But he believes with his heart that they will not be deported because India won't let it happen. "I don't think a country with aspirations of wanting to be a superpower will send us back," he says. There are already 125 crore people here, he says, how can a few extra thousand worry them?
Shakir understands his murky future though. "The Indian government has given us so much, but going back means certain death." He's concerned about his education getting interrupted, but there are bigger problems to worry about.
For this new road to perdition, is paved with bad intentions. It does not even allow for eternal damnation. All that there is, is just an unending tightrope.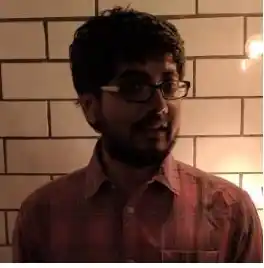 Lover of baby animals, Arsene Wenger, Damien Rice, Peggy Olsen and overly long podcasts. Tweets at @parthsarora.
Confused about most stuff. Writes things.