Sushil Mahla and Neelam Rani are hearing- and speech-impaired, but are grateful for their disabilities. In Haryana, their relationship wouldn't have transcended the fiercely defended boundaries of caste had they been "normal".
Haryana is a tough place for any kind of young love. A brood of self-appointed village elders watches over the movements of anyone over the age of 14, scuttling the prospect of romance even before it can spring. Two lovers from the same community shouldn't choose each other. Two lovers from different communities had better not choose each other. Especially if they can't speak.
The odds were never in favour of Sushil Mahla and Neelam Rani. Both are hearing- and speech-impaired. Sushil, born into a Jat family in Bhiwani district's Garanpur village was eight months old, when he lost both hearing and speech to high fever. Neelam's story is even shorter; she was born with these disabilities.
Every once in a while, Sushil's parents would raise the issue of marriage. He was 23, they'd tell him, and had completed high school. He was fair and handsome; any girl would be willing to overlook his disability. Sushil's only response to this would be to raise his open palms to the sky, indicating that he was going to leave it to the heavens. Thirty kilometres away in Siwani city, Neelam, 21, a school dropout, was making exactly the same gesture whenever her mother broached the subject of her wedding.
As fate would have it, the two would cross paths. It was at a meeting for the hearing- and speech-impaired in Hisar this February, that the two first met. Red Cross Society and Hisar administration organise these meetings to impart skills to the differently abled every month. Neelam and Sushil had been involved with the organisation for long, but February was the first time they met. They hit it off immediately and spoke with each other in sign language for close to 20 minutes.
So intense was their first meeting that when they returned home, Sushil turned to the first port of call for budding lovers: Facebook. He found Neelam and sent her a friend request. Now without the constraints of sign language, the two started chatting, communicating in Hindi and Haryanvi.
Sushil told Neelam about his love for bikes, travel, and homemade food. Neelam, on the other hand, spoke about a solitary childhood, and how it took her a long time to overcome her shyness, and her mother's travails after her husband's death. The two spoke for a month as their bond continued to grow.
One day, Neelam dropped Sushil a message and asked him to meet her at the Agroha Temple for something special. She was not alone: Neelam had asked him to come so that she could introduce him to her mother, Channo Devi, as "my life partner". The three struck up a conversation and Channo Devi signed to her daughter that she approved of Neelam's choice of the handsome young man. But she went silent when she was told that Sushil is a Jat. Channo Devi's family is Dalit and aware of years of caste violence that greets anyone who dares to overstep its boundaries. For in Haryana, those lines are all but set in stone.
In a state where honour killings are rife and legitimate inter-caste marriages are routinely written off as rape, this was going to be well-nigh impossible. For a Jat marrying a Dalit was akin to inviting chaos and disrupting the order of the universe. First, the families wouldn't agree. Then, even if the families could be persuaded, would the communities allow their union?
Every once in a while, though, Haryana has the ability to surprise you.
That evening when Sushil returned home, his father Dalbir Mahla, a former army man, asked him why he was grinning from ear-to-ear. Sushil wouldn't tell him, but later that night, the lovebird let the secret out to his mother. All his silent prayers had been answered: He had found the girl he was going to marry.
On both sides, the families convened. Some panicked, wondering what the neighbours would say. Others spoke of the dreaded repercussions. It finally came down to Dalbir Mahla. "I'm a fauji," he told his family. "And in the army, everyone is equal." And so must it be in his life.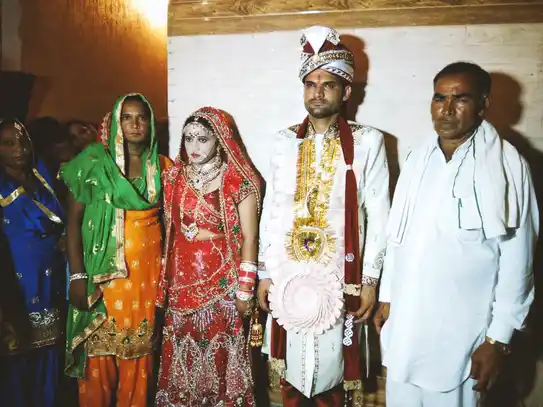 The young lovers finally tied the knot at Siwani temple with a simple ceremony.

Image Credit: 101 Reporters
Dalbir called Channo Devi and assured her that Neelam would be treated like their daughter. The young lovers finally tied the knot at Siwani temple with a simple ceremony.
Sushil and Neelam are now over the moon – life was kind to them when it mattered the most. Through a sign-language interpreter, Sushil expressed how grateful he is to have found Neelam. But his beaming face communicated so much more.
The young couple knows it is a miracle that their relationship has been able to transcend the fiercely defended boundaries of caste and social hierarchy. Sushil said he has never met a couple in their village or any nearby place where two people madly in love were allowed to get married with their parents' permission with such ease.
"I sometimes thank God for making me disabled," he said. "Otherwise our relationship would never have been accepted by society."
With inputs from Gulshan Popli