The implementation of the GST has turned into a nightmare for small traders. As the government focuses on the big picture, the small man on the ground is edged into the margins.
Ilive in Gurgaon, where politeness is… let's say, an acquired taste. In keeping with the tenor of the city, people everywhere are a little rough around the edges. It isn't as if everyone is outright rude – it is a peculiarity of the dialect, the guttural tones of north India's languages, delivered with such a punch that it makes everything sound like a threat.
So I was pleasantly surprised when Dilvinder, in the most polished syllables, informed me that he had reached my location. I told him I'd be outside my door in two minutes. And he, like an English gentleman sitting by the fire and sipping tea, replied, "Take your time, sir."
I was thinking exactly what you are right now: Blue-collar workers are not supposed to sound and behave like the rest of us. When this stereotype is broken, it piques the curiosity.
Dilvinder, who was driving a citrus-y-smelling Swift Dzire, must have been in his late forties. He was dressed simply – smartly – in a well-creased shirt and pair of trousers. Thin, rectangular-framed spectacles were balanced precariously at the bottom half of his nose. He looked more like an accountant than a cab driver.
We drove silently for a while, as Dilvinder expertly negotiated the testosterone-fuelled Gurgaon traffic. But curiosity got the better of me and I finally asked him, "How long have you been driving a cab sir?"
GST had been in the news for so long that it had stopped meaning anything.
Dilvinder looked at me through the rear-view mirror, smiled, and said, "I have been driving this cab for five months. It is my part-time job."
"And what were you doing before this?"
"I was, and still am a scrap trader. But ever since the GST has come, my business has been doing badly."
I was taken aback. The nature of TV debates in our country is such that it lends an air of fantasy to the most pressing issues we face. GST had been in the news for so long that it had stopped meaning anything. It had been relegated to a war of narratives between the government and the opposition, a caricature created by cartoon-like anchors.
"Achha, I did not know it was this bad," I told Dilvinder, hoping he'd elaborate.
"It's bad sir. There are no buyers, there are no sellers. The scrap business is one of trust – zubaan ki baat hoti hai. It is a cash-intensive business. But the tax structure is so complicated that nobody understands it. As a result, everything is on hold."
It must have been a double whammy, I prompted Dilvinder, with demonetisation followed by GST. Dilvinder shook his head and surprised me with his next statement. "Demonetisation was not much of a problem," he said. "We managed that fairly well. But this GST is a real problem." Traders like Dilvinder were given three months to get rid of their existing stock, and the companies they sell their scrap to – the ones that make sariyas (iron rebar) – knew this and had the upper hand. They had no choice but to sell their stock at the rate which the buyers quoted. "Which was ridiculously low."
By this time, Dilvinder was in the flow of things – his voice tinged by sadness and resignation. "The real bad thing is, now that there is no work, the scrap dealers I know get bottles of cheap whisky and sit in the scrapyards and drink," he told me.
I said that I'd been hearing that the situation was bad for small traders, but also that it sounded like a temporary phase.
"Sir, the media is all sold out," Dilvinder said. "Nobody cares for GST; all they care for is TRP. You ask any small businessman, they will tell you how GST has cost them."
The tax has proved to be so divisive, that its staunchest critics are from within the BJP
I remembered the GST announcement, which was made at midnight, likely an attempt to channel "tryst with destiny" vibes. But for people like Dilvinder, the days following it have been chaotic, prompting many to take to the streets opposing its multiple facets. High on that list was the multiple filing of returns, which in some cases, was thrice a month – although that might change after yesterday's GST Council meeting. But there is a bigger problem than the filing: Most small traders have no access to computers. Even though thousands of centres have been set up by the government to tackle this, there are fears that there will be a repeat of the long, winding queues we witnessed during demonetisation.
The tax has proved to be so divisive, that its staunchest critics are from within the BJP (not that anyone expects this opposition to do anything). Yashwant Sinha's incendiary piece in the Indian Express – titled "I need to speak up now" – pointed out the mistakes made by the government. "A badly conceived and poorly implemented GST has played havoc with businesses and sunk many of them and countless millions have lost their jobs with hardly any new opportunities coming the way of the new entrants to the labour market." This sentiment was repeated this week by Arun Shourie, another former BJP minister.
The current government, according to several sources, is visionary, no doubt. The trouble is that some of its visions have often turned into hallucinations. For the ruling dispensation, the bigger picture is more important than the small man on the ground, the hordes of Dilvinders edged into the margins. If there is some collateral damage on the path to progress, so be it. Yet, there is a hope that the GST Council will continue to meet to take stock every few months and apply a much-needed balm to the economy.
As we reach our destination, Dilvinder thanks me, "It was lovely talking to you."
"The pleasure was all mine," I reply.
The app asks me to rate Dilvinder and I promptly give him a five-star rating. I am reminded of that other app, which rates the government. It sends you a prompt every five years. It is the Indian election. It rarely matters to people like us – for things rarely change for us and we will find something to complain about with every government. But for people like Dilvinder, it is an entirely different story. They are the ones who will decide whether the current government gets stars – or sees them.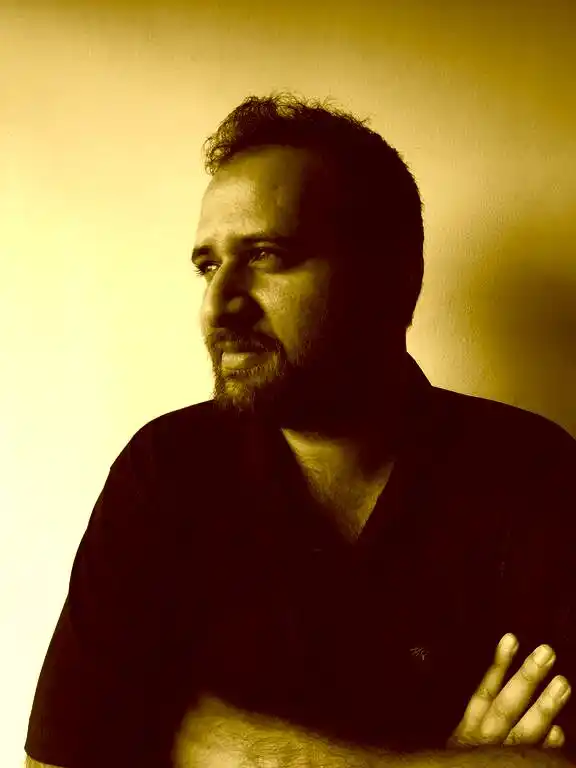 Karan Mujoo is a writer currently living in New Delhi.