Indian men do not usually indulge in pedicures and facials. Who and what then gives us succour from the relentless onslaught of life? The answer, my friends, is in the strong, virile, and skilful hands of the neighbourhood barber and his vigorous champi.
When it comes to pampering themselves, Indian men do not have too many options. They don't have spa days; they don't opt for a feel-good facial to take the edge off a rough day. Sure there are some among us who go in for the occasional pedicure, but for the majority of us it is a great achievement if we cut our nails before we turn into a poor man's Wolverine.
How, then, do we face this world and its accompanying trials and tribulations. Who and what will give us succour from the relentless onslaught of life? The answer, my friends, is in the strong, virile, and skilful hands of the neighbourhood barber and his vigorous champi. Every man has is go-to guy for some soothing man-on-man action, and mine is Prince of Prince Unisex Salon in Sector 38, Chandigarh.
Though Prince has declared his openness toward both men and women in the shop's name, I have never seen a woman grace his humble establishment. The usual sight when you enter, is that of a 45-year-old Punjabi man getting the dense foliage under his arms shaved. If you are lucky, one of the chairs is empty and you can quickly settle in. But more often than not, you have to sit on a thin bench and leaf through the latest Grihshobha for 15 to 20 minutes. If you are not the sort of man who wants to read sexual Q&As, you can entertain yourself by watching whatever is playing on the small television perched atop an impossible corner of the shop. The entertainment on offer is usually Sanjay Dutt singing "Bahut Pyaar Karte Hain Tumko Sanam" and other assorted hits from the golden era of Bollywood.
The shop is littered with paraphernalia ranging from blackhead-removal creams, magical fairness potions, shaving foams, facial packs, the water spray bottle (which always manages to surprise you with its sudden bursts), hair colours, shaving brushes, and many other mysterious boxes and bottles. But reigning among them all in every barber shop is a filmy poster of a young hero (from the '70s usually), sporting various outlandish hairstyles. Hairstyles, which to my knowledge, no one has ever asked for. When my turn comes, I slide into the comfortable chair and Prince knows better than to ask me if I like Dabur Amla, Navratan Tel, Bajaj Almond, or  Patanjali for my oil. He has already poured out generous quantities of sarson.
I always feel that rivulets will overflow and run down my face, but Prince manages to check them in time.
Tall and lanky, with flowing blonde locks, Prince gets to work. He fixes a cloth around my neck and pours the oil over my head. I always feel that rivulets will overflow and run down my face, but Prince manages to check them in time. With his steady, experienced hands, he works on my head in a variety of ways. The first round usually involves the tips of his fingers vigorously massaging my scalp. I close my eyes and let all the wars and worries of the world melt away. I submit to those hands unconditionally. In the next few minutes, karate chops, punches, slaps, and many other forms of carefully orchestrated blows will land on my head. But we are men… we revel in that pain.
For the coup de grâce, Prince heads toward the drawers which are filled to the brim with various potions and devices, and extracts the salvation machine. A handheld deep-tissue massager. The device which breaks the illusion that vibrators can only bring pleasure to women. Prince dons the vibrating massager on his hand like a mechanical glove, transforming from a mere barber to a cyborg. He places his hand on my head and the machine rumbles to life, sending waves of pleasure through my scalp into the deepest recesses of my brain, lighting up pleasure points I did not know existed. I close my eyes and go limp.
If you haven't experienced the vibrating massager then you should know that your barber will most certainly violate you with it. The first time Prince used the it on me, I was in heaven, until his hand came around my ear and quite suddenly, out of nowhere, he inserted his vibrating finger into my ears. It shook up my brain and reoriented my worldview. I felt my brain hop, skip, and jump. No amount of MDMA can recreate that experience.
It took me a moment to settle in and get used to the sensation. Now when I visit Prince's salon, I compose myself and wait for the insertion into my cavity with the same sense of anticipation and dread which I reserve for unfamiliar to sexual acts. Though the etymology of head massage suggests it is only the head which will be taken care of, Prince throws in the back, the arms, and the fingers massage for free. After the machine has been put back into the drawer, Prince bends my shoulders forward and proceeds to take out all his frustration on my back. He cups his hands and lands booming slaps on my back. Then he comes in the front and places my arm on his shoulder. He kneads my arm like it is a particularly obstinate dough. When he reaches my fingers, he tries to snap them into life, but mostly fails. The same procedure is applied to the other arm.
The final act of this drama is a rather simple one. Prince takes some tissues and cleans up the small tributaries of oil which have formed on my forehead. At this point in the proceedings, I am barely even human. I am a cloud of lightweight happiness that will float out of the salon and do good in the world. Maybe I will end global warming. I tip Prince generously and step out into the harsh city, which will take only seconds to destroy my sangfroid. But I don't care. As long as I present myself to Prince regularly, he will preserve my sanity.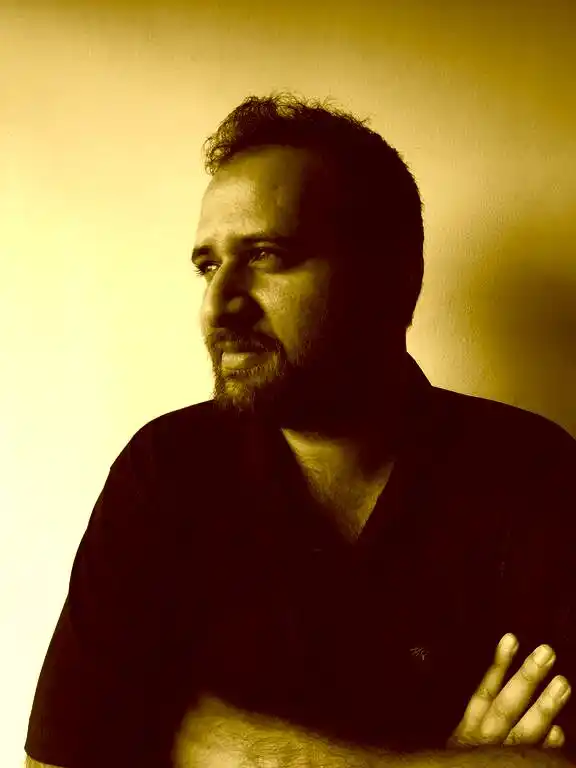 Karan Mujoo is a writer currently living in New Delhi.