Major Anuj Sood was killed in a counter insurgency operation in Kashmir's Handwara. His friends and family remember him fondly, saying that it was his childhood dream to join the army.
It's always painful to read stories of soldiers who died in the line of duty. Over the weekend, India lost five bravehearts in an anti-terror operation in Jammu & Kashmir's Handwara. Among those who were martyred was Major Anuj Sood, a 30-year-old brave army man, who was cremated with full military honours on Tuesday.
Photos of his wife Akriti Sood seated next to his coffin and quietly looking into it with remorse has moved many to tears. She threw her arms around the coffin, as it was put on an army vehicle decorated with flowers.
This picture left me speechless!

She's Akriti Singh, brave wife of Major Anuj Sood, who was martyred in #HandwaraEncounter.

They just got married 3-4 months back. 😢@Tiny_Dhillon @ShivAroor @SinghNavdeep @gauravcsawant @smitaprakash @ActorMadhavan pic.twitter.com/vfHjdOMXYH

— Anita Chauhan (@anita_chauhan80) May 5, 2020
Family and army personnel gathered to bid adieu to the young Major Sood; wreaths were laid on his coffin by the serving and retired officers. Major Sood's father Brigadier CK Sood (retd) lit the funeral pyre. While the news of his son's death initially left him shocked, he said that he was filled with pride over his son's selfless sacrifice in line of duty. "He was a true son of the nation," he told NDTV.
Friends and classmates fondly remember Major Sood, who was passionate about the army since he was a child. "He was always very clear that he wanted to join the army,"' his classmate and close friend Manjot Singh Chadha told The Quint. "He had that aim in the back of his mind and which is why when he was in Class 12 he cleared the NDA exam." Major Sood passed out from Punjab Public School, Nabha, also his father's alumni, in 2008. Soon after he joined the National Defence Academy, Khadakwasla to no one's surprise.
Sood spoke about his dream passionately. "'One thing missing from my life… my NDA joining letter in my hands!! (Not far off). I dream of becoming an army officer," he wrote in Chadha's diary.
Friends were convinced that he [Major Sood] was already half a fauji in school. "We used to tease him in school by calling him a 'fauji'," his childhood friend Raghav Verma remembers .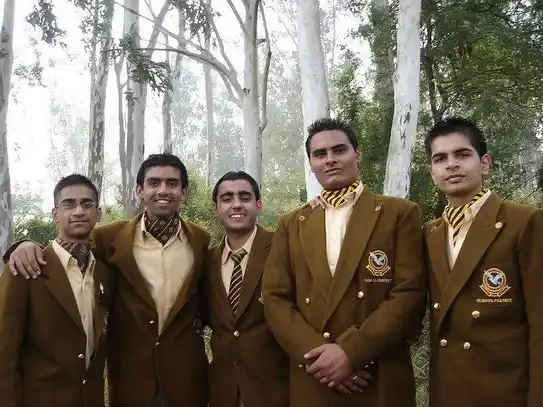 Major Anuj Sood with his classmates.
Major Anuj Sood's Friend
But beyond his dream of serving the nation, Sood was a teenager who liked Angelina Jolie and John Abraham, as a diary entry published in The Indian Express reveals. His favourite films were Lakshya, Om Shanti Om, and Die Hard.
His untimely death comes as a shock to his classmates and teachers. "We are proud of our students like Anuj who make the ultimate sacrifice for the country. Love for the nation transcends love for yourself and your family," Jagpreet Singh, the headmaster of Sood's school told the newspaper.
Courage and honour, these were the sentiments the late major held on to the closest, as his Instagram post, screenshots of which are now being shared, reveals.
View this post on Instagram

The Arré bench delivers stories that mattress. It hasn't achieved much sofar. But it's getting bedder.

Your weekly dose of Arré

Get the best from arre.co.in, straight to your inbox!