Every year, a brood of my relatives descends on our ancestral house in Mangalore to meet my great-grandaunt. The 102-year-old woman in the wheelchair is a wrinkled pot of gold.
I'm in my hometown of Mangalore and in a terrible mood. I've been called upon to fulfil my familial duties and attend – against my wishes and better judgment – my mum's grandaunt's birthday. She's 102 today. This is a big shindig, with her seven surviving kids and their extended families flying in from all corners of the globe: People from the west, east, Down Under…
Ever since she turned 100 a few Augusts ago, her children forsake work and school and spend a tidy pile on long-distance flights for the sake of spending a precious few weeks with a stubborn old woman who flirts with the grim reaper on a regular basis.
The game is big. The 102-year-old woman in that wheelchair is a wrinkled pot of gold.
There is a lot at stake and this extended family of vultures has to ensure that they stay within the old woman's line of hazy vision – or at least in her mind, when she divvies up her large estate. They must get a share before she pops it, a possibility hanging from a frayed thread. Yet, the final hour never seems to arrive.
Last year, the old biddy survived a bout of pneumonia. Apparently, when she was being wheeled out of the hospital, she told the doctors that death won't be able to take her that easily. Her children tell tall tales about how she would still milk their last remaining cows until she was 90, before her arthritis twisted her fingers into permanent gang signs.
There she sits in her wheelchair, surrounded by an assortment of 30 grandchildren, most of whom are CAs, engineers, doctors and other white-collared stiffs, and a gaggle of blabbering great grandkids, who are chasing confetti and balloons. All of them are in their finest threads, boasting about recent achievements (this is Mangalore after all, where academic accomplishments are even part of wedding toasts) as they smile through gritted teeth at family they haven't seen in years. But they do what must be done.
The bar is my oasis of calm in the midst of such fuckery. It's here that I'll usually chat up long-lost inebriated uncles and cousins and bug out periodically to smoke a cigarette. I'm on my fourth Blue Label of the evening – thank Jesus for duty-free alcohol – and comfortably self-sedated enough not to sucker-punch the next dolt oiling his way around my great-grandaunt.
***
The old lady and her husband owned significant tracts of land all over Karnataka. Over time, as development caught on, these orchards, plantations and fields, became prime real estate, which was sold off to a slew of developers, making the old lady very, very rich.
Her net worth is always a topic of drunken speculation at every bash, with different people making tall and downright absurd claims. The most reliable of these, her eldest son, a CA, tells me over scotch, "Mai (mother) has listened to me and invested most of the money she made from selling the coffee plantation," he says. "We now have around 15 crores plus some property." I'd simply asked him whether he liked coffee.
He isn't the only one. The only thing that every member of this greedy family cares to talk about is the latest valuation of the estate and their mother's reluctance to sell everything and divide the estate among her children. Her children don't trust their own siblings, making regular incognito trips from wherever they live, to consult with lawyers and to survey the goings-on.
I walk up, Scotch in hand, and ask whether she'd like to dance. She gets the joke, but her nurse who just gave me a stare that says, "Fuck off", clearly doesn't.
This insatiable longing is the stuff that family gossip thrives on. The hushed conversations about the estate, the frequent trips to ensure that nobody is going to take their hissa, their insane jealousy of the nurse and the maid who have taken care of Mai for eight years, and the constant fear that she will cut the children out and leave it all to the caretakers.
As I sit nursing my drink, I wonder if the grand old lady knows how desperately the people in this room wait for her to die. She must. Her body is all decrepit and wrinkly, but her eyes are surprisingly alive and bright. On her last birthday, she sat wisecracking with me. "I'm the oldest piece of furniture in this house," she said. "These guys wheel me into a corner and forget me there for a while."
In the middle of my dark ponderings, the room erupts into a wonky chorus of "Happy Birthday" followed by "May you live forever more," delivered through gritted teeth. We obediently line up to wish the lady. One of her sons goes in first. He grabs her arthritic hands, gives them a fervent kiss and holds up the line by whispering long sermons on how he loves her the best. Up next is his granddaughter, my cousin from Birmingham who gives the old lady an air kiss with an audible "Muah". Later, I overhear her tell an aunt that grandma would be better off in an assisted living home, rather than at home in front of the TV.
When it's my turn, I plant a gentle kiss on her crinkled forehead and tell her in chaste Konkani that she doesn't look a day over 50. She breaks into a chuckle.
***
The party continues long into the wee hours. It's that time of the night when inheritances have been momentarily forgotten and only inebriation has taken over. The children and their offspring are furiously making merry and the birthday girl is nowhere to be seen. I spot her later, surrounded by her beloved nurse and maids and a few relatives who've been relegated to the fringes because of their seemingly lower social standing. I walk up, Scotch in hand, and ask whether she'd like to dance. She gets the joke, but her nurse who just gave me a stare that says, "Fuck off", clearly doesn't.
Does this wise old lady know that there's hushed talk about cornering her tomorrow? The agenda is to get her to put her mark on documents that would divide her eight-figure estate into seven even shares.
Will she succumb or leave her coffee plantations, palatial six-bedroom home, and various bank accounts to the nurse, thus presenting her avaricious brood with a giant middle finger?
I look at her and she winks at me. Then she signals to the nurse to turn her in for the night. I look at the retreating figure of the wily grey fossil. She knows this is not her birthday party. It is a circus of hungry monkeys – and she is the ringmaster.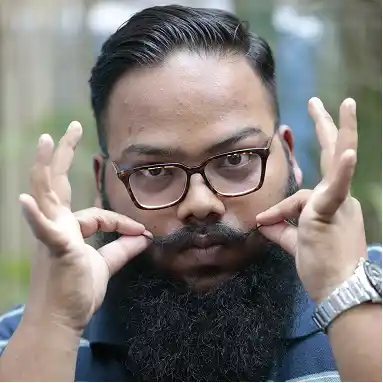 Damian loves playing videogames. If all the bounties he collected slaying zombies were tangible, he wouldn't need to write such bios. Seriously though, Damian used to be a cook who wrote, now he's just a writer who cooks.