Law professor Anup Surendranath started the Death Penalty Project to understand how prisoners are sentenced to death. His interviews with death row convicts might have changed him forever.
Anup Surendranath's first interview was with a boy who would keep telling him that he was looking after his friend, a little bird. Although the boy couldn't tell him how old he was, Surendranath was sure he was a juvenile. The boy said he had travelled by a jahaaz to Assam, and that he didn't know where he was. All he knew was that he was waiting to be executed.
The boy with the avian friend was only the first of 150 death row convicts that Surendranath would interview. Triggered by the secrecy surrounding Afzal Guru's execution, Surendranath, who teaches constitutional law at the National Law University Delhi set off on a mission to uncover what goes on in the death barracks of India with The Death Penalty Research Project.
The Death Penalty Project is not an easy undertaking, but it is an important one: the first of its kind in India which attempts to understand how prisoners are sentenced to death and how they are treated in jail in the months leading up to their final punishment. Surendranath has dedicated two years of his life to meeting prisoners all across the country, from Bihar to Karnataka to Kerala to Delhi, collecting the kind of information that resides uncomfortably within him, ageing him beyond his 35 years.
Surendranath has learnt how every jail has different cells for people on death row and each state has its own particular brand of cruelty. In Bihar, the cells are in a row leading up to the gallows. The person closest to execution is kept closest to the gallows, which are always visible from every cell. In one prison, the lights were always left on, even at night, to ensure that the convicts do not sleep. In another, the guards take every new prisoner to the gallows, just to tell them, "This is where it's going to happen." These seemingly small details take on massive proportions when they become the everyday realities of people waiting for their deaths.
Death row is the one place where you're forced to confront your mortality every single day. Life and death are weighed on a scale daily.
One of the men Surendranath interviewed had jumped jail twice out of desperation. Small businessmen in his town had been going to his wife and elder daughter, demanding money and sexual favours. The two women had approached the police but – unsurprisingly – no help was forthcoming. When the man escaped the first time, he was arrested. But after his second attempt, he was put in solitary confinement where he has been for three years. Prior to solitary, he would be allowed outside his cell for an hour every day; now he is allowed outside for three hours. He says he has developed a relationship with a lizard that comes to him for food, and that once he feeds it, it makes sounds as though it is grateful.
When Surendranath told him that they could attempt to get him out of solitary confinement, the man said he had grown used to it and insisted on being left there. In fact, he preferred it because he said he could spend a lot of his time reading.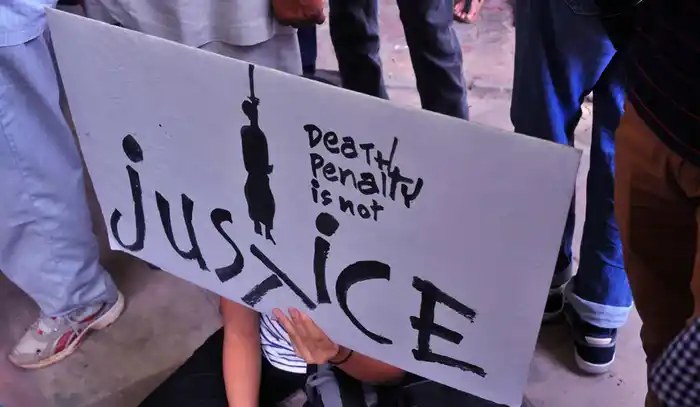 Every jail has different cells for people on death row, and each state has its own particular brand of cruelty.

Getty Images
As Surendranath retells these stories, he pauses for a moment. "From the outside, you have these notions of what people would want," he says. But reality is different. Death row is the one place where you're forced to confront your mortality every single day. Life and death are weighed on a scale daily. The more you do it, the more it changes how you view the idea of living, and how it can sometimes appear counter-intuitive.
This understanding has been Surendranath's biggest learning over the past two years. "You are forced to question the unquestioned value we give to life," he says. Most of the men (and they are mostly men) live with the everyday uncertainty of not knowing whether they'll live or die the following day. They also grapple with the certainty that this decision is in someone else's hands. If they were suddenly informed, almost benevolently, that their death sentences had been commuted to life imprisonment, most would choose death.
It would surprise no one that after the first few such interactions, Surendranath began to slow down his interviews. He found it difficult to keep hearing the stories of desperation, of being asked by the prisoners to look at the marks of torture on their bodies. He knew a man who couldn't wear his pants because his skin had started to peel off from the torture by his jailers; whose son had been forced to drop out of school because he was continuously taunted by his teachers and classmates. He knew other men who found it immensely difficult to talk about how, in the process of collecting their semen as evidence, they were either forced to masturbate, or had their wives brought in for them to "indulge in sexual acts". But for most men on death row, the biggest worry was that they were a continuing emotional and financial burden on their families.
One of Surendranath's most disturbing interviews was with a man who had been convicted of murdering a child. The man told him that he had only wanted to rape her. But when the girl kept crying, he changed his mind, took a boulder, and smashed her head. Surendranath had trained himself not to ask the prisoners why they committed the crimes they did, but says that this time, he nearly did.
It's a difficult task, to travel deep into the psyche of men whose humanity has been completely rejected by the law and by the state; to confront abject acts that plumb the depths of civility daily. And to still be able to look upon these figures with compassion afterwards, and understand that even at the heart of all this malevolence and brutality, is a human being. Surendranath might be the only one attempting to understand this delicate equation.

Ila Ananya is a staff writer at The Ladies Finger.