Every time a Chinese dignitary arrives in India, I attempt a protest against the occupation of Tibet. My last demonstration landed me in a smelly Goan marsh – for 20 hours.
I've been sitting in a Goan marsh for the last 20 hours, waiting to enter the Taj Hotel on the sly. I had planned to enter from the beachfront, but as I approached the hotel the night before I'd been chased away furiously by a pack of dogs and had instinctively jumped into a paddy field nearby. Wading and crawling through the wet rice field, I knew I would have to just bide my time in the marsh until it was the right moment.
I'd found a small spot where there was a heap of old leaves and plastic bottles, and made it my seat. I sat in the undergrowth, leaning against a wall, hiding under a small canopy of giant frog umbrella leaves (that I later learnt are called Elephant Ears.) My constant routine was to smear Odomos all over myself, again and again, to avoid getting nibbled to the bone by mosquitoes and other insects. During that 20-hour wait, I swung between sleep and wakefulness. Sometimes I would doze off, but I must have woken up at least a 100 times.
Those 20 hours were long, but they were nothing compared to the more than 60 years the Tibetan people have spent, fighting the occupation of our nation by China. And at the BRICS Summit in Goa in October, I knew I'd have to slip in like the wind and stand up like the flag to protest Chinese President Xi Jinping's arrival. I had to give him the unequivocal message – as I have attempted every time a Chinese dignitary arrives in India – that we Tibetans will keep fighting until Tibet is free.
I have been involved in Tibet's independence movement since I was a student. When I graduated, I crossed the Himalayas on foot and went into forbidden Tibet, to join the struggle inside and face the real Chinese occupation. But I was arrested by China's border security forces and got locked up in a Lhasa prison for three months before being pushed back into India.
My first major protest was in 2002, when I climbed the scaffolding outside the 14th floor of the Oberoi Towers in Mumbai, where Zhu Rongji, then the Chinese Premier, was addressing Indian business tycoons. I unfurled a banner saying "Free Tibet" along with the Tibetan flag, and shouted freedom slogans before I got arrested. It had caused a major traffic jam at Nariman Point, but this protest got international attention. I followed this up in 2005, at Bangalore's Indian Institute of Science, and another foiled one in Ahmedabad in 2014.
To protest Xi Jinping's arrival, I'd landed in Goa a couple of days prior. There was heavy bandobast around: 6,000 Goa policemen plus the NSG, ITPB, and the Central Reserve Police. There was going to be no space to slip through security to the summit's venue. I had to look for something beyond just a crack in the security wall.
I didn't know this then but all the cops had already been briefed about my previous protests and that they all had my photo with them. I was a wanted man before I even started out this time.
This was it. The final showdown. I scrambled out of the marsh and ran out straight into the open, proudly holding up the Tibetan national flag.
In the weeks leading up to my 20-hour vigil, I lived in the same clothes. I shaved my facial hair, wore a fake Nike cap, cringed into my shoulders, and acted like a loser. I starved myself on the last two days so that there would be no toilet issues.
During the days I slept on the roadside, at night I walked. I saw in the newspapers that 10 Tibetan protestors had been arrested already, and then another 21 were arrested the next day. I read media updates about road diversions, the venues, the event's timings. Be calm, stay alert, be ready to face anything, I told myself.
In every protest the basic strategy remains the same, but I always maintain tactical flexibility.
Back in the marsh, my only real worry that had stayed with me like a ghost, would rear up every few minutes. Would I get caught before I'd had a chance to protest? For weeks, I'd lived with this anxiety, losing my appetite and sleep.
Around 10 am (looking at the position of the Sun, not having a watch or a mobile phone with me), I could hear that all traffic on the nearby road had been stopped. Security personnel were blowing whistles, shouting at each other to get prepared. That's when I heard someone shout about the approaching motorcade.
This was it. The final showdown. I scrambled out of the marsh and ran out straight into the open, proudly holding up the Tibetan national flag. A gun-wielding woman commando rushed from behind me, shouting "Ruko, ruko!" I stopped. I could see her shouting on one side, the motorcade on the other. I turned to give the commando a sweet smile and said "Free Tibet, Free Tibet!" gesturing that this was all I was doing. In hindsight, it was probably the most sensible thing I did; the commando could have shot me in such fuzzy moments of emotion and duty.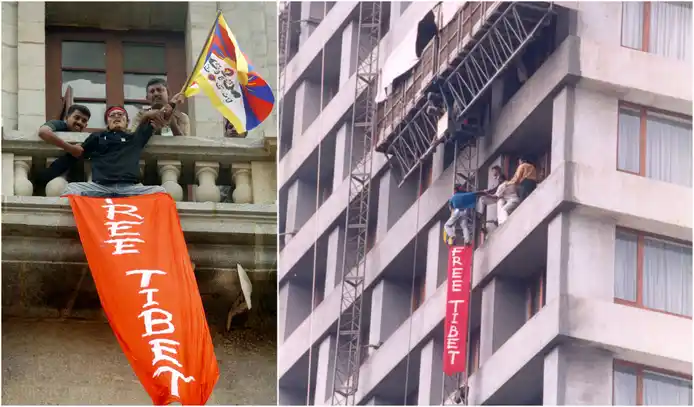 The IISc building climb-protest of 10th April, 2005, Tsundue protested the visit of Chinese PM Wen Jaibao. (Left) The Oberoi Hotel tower climb protest, 16 January, 2002. (Right)
Once the 20-odd cars of the motorcade went past, I turned to the the commando who was by then infuriorated and ordered me to step up onto the road. I did. I raised my hands surrendering myself, and said, "Mera kaam ho gaya." I had been successful.
A swarm of police personnel jumped at me from different sides, and grabbed and pushed me against a wall. Then they dumped me in the waiting police car and we sped off to the police station.
The police didn't allow me to wash throughout the day. All the muck and swamp-water dried up on my body. I stank of dead insects; everything in that marsh had bitten and crawled all over me. I just sat at the Margao police station with a man with a huge gun next to me, guarding me so that I wouldn't run away. That evening, I was taken to the Deputy Collector's office, the bearded officer was pretty angry because, according to him, my protest had now spoilt the possibility of Goa getting perks from the BRICS Summit like road repairs and Chinese lamps for their streets. He remanded me to three days in jail. I said: "It's because we are divide by our own benefits that our enemy prevails. Indians and Tibetans should be working together."
I spent the next three days in police custody at the Vasco Sada jail, bundled along with several other Tibetan protestors. Eventually, two lawyers from the Human Rights Law Network showed up and helped free us.
I will never forget how the DC scolded the cops, "Tum log itne hazar log ho aur ek chote se patle bande ko nahin pakad paaye?" [you are thousands of police and you couldn't catch this one tiny lonely guy?] The officers only complain that I looked nothing like the man in the photos.
The DC had a point. My protests are always one-man, non-violent stunts. (Even my friends in Goa didn't know I was in their state until my arrest.) My constant companions are strategic planning and a calm and collected mind – but fear is not one of them.

Born and brought up in India, Tibetan writer and activist, Tenzin Tsundue has a BA from Loyola College, Madras and an MA from Bombay University. He is an important leader belonging to the more
confrontation voice, demanding Independence of Tibet; unlike the
compromised position of the Tibetan leader, His Holiness the Dalai Lama who has been seeking autonomy within People's Republic of China.