While India's early struggle for Independence hardly ever, if at all, reflected in Mirza Ghalib's mainstream poetry, he recorded the events in his Persian diary Dastambu (bouquet) and the letters he wrote. He was dependent on the British for his income, but at the same time he was sympathetic toward his countrymen. In today's times, he would be labelled a fence-sitter.
"Chowk jisko kahein, woh maqtal hai, aaj ghar bana hai namoona zindaan ka" 
(The road crossings have turned into guillotines, each house has become a replica of prison)
– Mirza Ghalib. 
The mention of Ghalib conjures up an image of a soft-spoken and well-liked – if slightly frivolous – Urdu poet who has written some of the world's most revered couplets about love, heartbreak, and despair. The poet extraordinaire was known for his love for experimentation and had a penchant for delving into new styles of expression.
Born in Agra, at a time when the British were strengthening their hold over North India, Mirza Asadullah Khan Ghalib moved to Delhi when he was 13 years old and in time became the court poet of Bahadur Shah Zafar, the last Mughal king of Delhi, a title he enjoyed until 1857. As the rebellion of 1857 broke out, Ghalib found himself caught between the Mughals and the British, the former quickly losing power and the latter gaining every bit of it.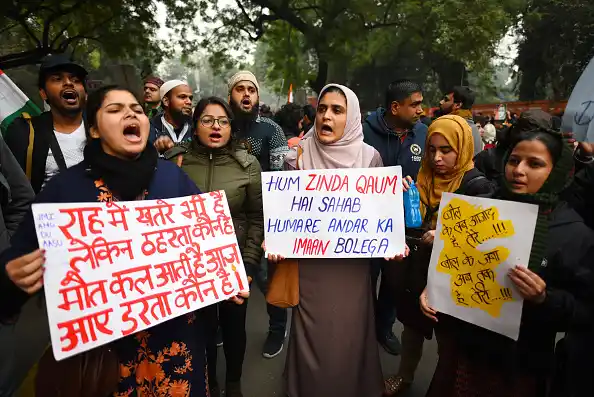 Demonstrators protest with posters and banners against the Citizenship Amendment Act (CAA) and National Register of Citizens (NRC) at Jantar Mantar on December 19, 2019 in New Delhi, India.

Photo by Sanchit Khanna/Hindustan Times via Getty Image
The rebellion of 1857, which began as a revolt of sepoys of the East India Company's army against its British officers, has gone down in history as North India's first war of independence. Although ultimately unsuccessful, the revolt is an important milestone in India's struggle for Independence. As someone who was stationed in Delhi, the epicenter of all activity, during these turbulent times, Ghalib astutely observed the ongoing events. While it hardly ever, if at all, reflected in his mainstream poetry, he recorded the events in his Persian diary, Dastambu (bouquet) as well as many letters he penned in a personal capacity. This is because Ghalib, a smart and pragmatic man, knew that he was now dependent on the British for his income and subsequent pension, which meant that he couldn't risk offending the new masters of Hindustan. However, the writer in him, a true Indian and arguably a patriot, couldn't let things go unrecorded.
In this dichotomy, Ghalib has managed to emerge as perhaps the most honest metaphor of a politically changing India. Today, 222 years after the birth of the poet and 162 years after the first Indian revolt against the British, the country seems to be caught in an eerily similar situation as protests against the Citizenship Amendment Act and the National Registry of Citizens mount across the length and breadth of the country. Once again, loyalties are divided; one section is with the establishment and another is on the streets, protesting against it. Once again, the anti-establishment voices are fiercer and louder. In more ways than one, the past that Ghalib recorded, is being echoed in the current political agonies.
By his own admission, Ghalib was a "namak-khwar-e-sarkar angrez" (a servant of the British government) and the fact that he continued to live in Delhi when the British had driven out almost the entire Muslim population after suppressing the revolt speaks volumes. In a way, it also allowed him to witness everything and offer a firsthand record of what went on in the streets of his beloved city as a reference point for the future generations. Dastambu and his letters recorded the pain and sorrow he felt at the mayhem being unleashed, but he was conscious of not being acutely political, lest it offend the British. On the surface, it might seem like Ghalib's attitude toward the rebelling Indians wasn't sympathetic but a thorough reading of his work, particularly his letters, shows that he had a soft spot for his countrymen. It is interesting to note that in today's times, he would be labelled a "fence-sitter," quickly earning ire from all sides.
While Ghalib's writings only chronicled the time he was living in, his words have managed to transcend time and find relevance even today.
While Ghalib's writings only chronicled the time he was living in, his words have managed to transcend time and find relevance even today. The India and Delhi of Ghalib was a metaphor of change and growth, the end of an era and the beginning of a new one. The rebellion of 1857 was brutally suppressed and in its aftermath, the British took it upon themselves to ensure such an act is never repeated. However, the brutalities only brought Indians closer and paved the way for future, more successful rebellions. In the aftermath of the revolt, Ghalib couldn't help but chronicle what was happening as he wrote:
"Likhte rahey junoon kee hikaayat-e-khoon chakaan
Harchand iss main haath hamaare qalam hue"
(We kept writing the blood drenched narratives of that madness
Although our hands were chopped off in the process)
As we witness a similar uprising in India today, one that has gone beyond Delhi and is steadily becoming global, we see similar patterns too. Some of us are like Ghalib, trying to balance things and be politically correct, while some others are diving headfirst into the struggle and paving the way for a new order. In these times, going back to Ghalib's record of the aftermath of a revolt might just be the direction we're looking for.

Lover of all things Bollywood, Ghalib, Delhi and Punjab, Shakun is happiest when watching old Hindi films. An erstwhile copywriter, she now spends time taking pictures of her cat, walking the streets of Puraani Dilli and collecting screenshots from black and white films.