Asia's biggest vegetable mandi is at the centre of a sprawling drug trade. It's a natural match, considering the market's life of hard knocks and harder labour requires some relief.
Azadpur Mandi in North Delhi is a beehive of activity at 4 am.
At the stroke of the clock, thousands of migrant labourers descend on this 76-acre sprawl to unload tonnes of produce, which starts arriving here around 2.30 am from farms across the country. Housing nearly 2,000 wholesalers and 2,500 commission agents, the mandi has been Asia's biggest fruits and vegetables marketplace for nearly 40 years now.
These four blocks of concrete and metal-roofed structures tend to sneakily make news for another opaque reason: A sprawling drug trade which transcends its not-so-modest boundaries. It's a natural match, considering the market's life of hard knocks and harder labour requires some relief, some forgetting, some taking the edge off.
The walk from the mandi to nearby Mahindra Park cracks its secrets wide open. The smell of hashish – an earthy combination of sweetness and wet mud – engulfs the metro rail, bus stops, and even overcomes the stench of an open sewer nearby. A litany of small chemists line the dingy streets, including one where I see the owner lighting up a beedi while selling an elderly woman cough medicine.
A panwaadi named Suman is stationed near the entry lane of K-Block, one of the most populated areas in Mahindra Park. The lane's entrance leaves nothing to the imagination: A grubby, seemingly lonely track, dripping with the dread of worn-down kirana stores.
My new friend Suman isn't deterred though, and tells me to just walk up to the chemists and ask for a "sheeshi", which will just cost ₹50. While we are speaking, a man north of 60, with frazzled hair and a tattered brown shirt walks up to Suman and asks him for some tobacco. He places the wrapper in his pocket and walks away to about five feet. He then pulls a plastic ziplock from his other pocket, takes out a syringe and a sheeshi, loads it from the vial and injects it into his left forearm. He closes his eyes for two minutes, then ambles to K-Block's main lane.
A Statesman report from last year found out that entire sheeshi apparatus, excluding the syringes can be procured from chemists for as little as ₹150-200.
The sight is normal, the panwaadi tells me. The deeper I go into Mahindra Park, the more hashish-loving labourers are replaced by residents injecting Avil (pheniramine maleate), readily available at their friendly neighbourhood drug store. Looking down the street, I see a mass of human bodies: Slumped against the concrete wall, leaning against shop shutters, sitting around the pavement, each in their private version of heaven or hell.
I first meet 16-year-old Rajat, wearing a shirt best described as formerly white, sitting on a pavement rolling smack and tobacco in a cigarette. There is Madhup close to him, lighting a pipe with a match through silver foil, smoking a cheapened and readily available variation of heroin. Any attempt at conversation with the two – or any of the other high residents of the area – is shooed away by a flick of the wrist.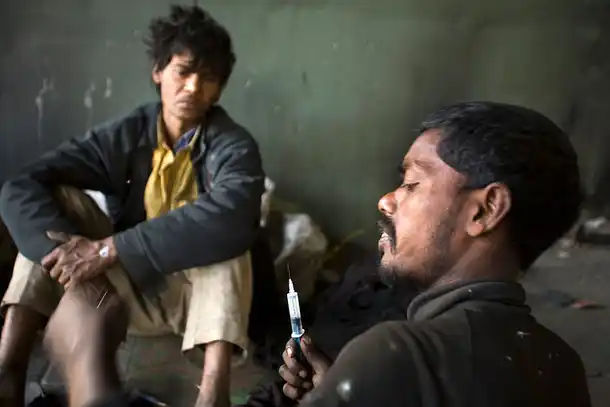 Homeless addicts prepare and inject heroin under a flyover in New Delhi

Stuart Freedman / Getty Images
A Statesman report from last year found out that the entire sheeshi apparatus, excluding the syringes, can be procured from chemists for as little as ₹150-200. The vegetable and fruit truckers are the main carriers in the channel of drug trade, and are sometimes paid close to ₹40,000 for one shipment. The long hours on the road force many to also turn into users of hashish and opium. The hash and opium are procured from dhabas and hotels along the highway. The Avil, meanwhile, transcends the truck trade and infuses itself in the blood of Mahindra Park.
Mahindra Park, for whatever it is worth, understands the problem on its streets, and has more de-addiction centres than hospitals. One of them in K-Block, is called Aayan, right next to the chemist selling sheeshis; it has the appearance of a kirana store.
Aayan is run by Ashok Kumar, 46, who is a former "everything" addict from the area. His centre, now eight years old, has only two rooms: One 6×8-feet reception where four of his assistants are sleeping, and another at the back guarded by a tall steel door. This 150-square windowless space houses 43 people, packed like sardines, lying on the beds and the floor. A CCTV camera keeps a close check on their movements.
It's a jarring sight, seeing them through the small opening in the door. But my concerns about their comfort are readily dismissed. In Mahindra Park, these guys are probably doing better than their peers. The men – and they are mostly men – are either brought here by their families or admit themselves voluntarily.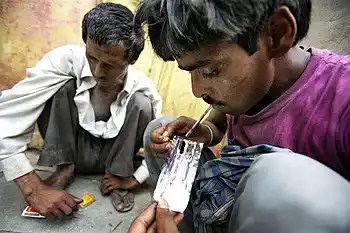 Drug addicts use smack in the slums of New Delhi.

Brent Stirton / Getty Images
"We have addicts from all age groups, hooked to hashish, smack, Avil, and even alcohol," Ashok tells me. He has no professional education or background in rehabilitation, but he has what many others don't: He understands the lie of the land and he is the one that got away. For the no-hopers of Mahindra Park, Kumar is an example of what life without addiction can be.
Aayan is doing better than Sharan, the only government run de-addiction centre in the area which shut down last year due to lack of funds. The centre was primarily dedicated to the HIV epidemic in the area, which was in turn caused by the rampant use of used syringes; a vicious cycle that ends only with death.
As I venture further in, the houses keep getting smaller and rundown, and the bodies with black veins lying by the side of the roads start increasing in number. There are people walking past them without a care in the world, looking at me more suspiciously than Rajat or Madhup. Aayan, then, might be a small beacon of hope in a neighbourhood which has broken bad. But the hundreds who can't get past their steel door are walking aimlessly outside, with one foot in a casket and the other outside a pharmacy, losing life force with each dip in the sheeshi.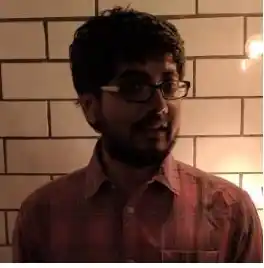 Lover of baby animals, Arsene Wenger, Damien Rice, Peggy Olsen and overly long podcasts. Tweets at @parthsarora.
Confused about most stuff. Writes things.